You are here
News Release
Tuesday, August 13, 2013
NIH funds research to explore a cell communication process
Researchers will investigate the emerging field of extracellular RNA and its role in human health conditions.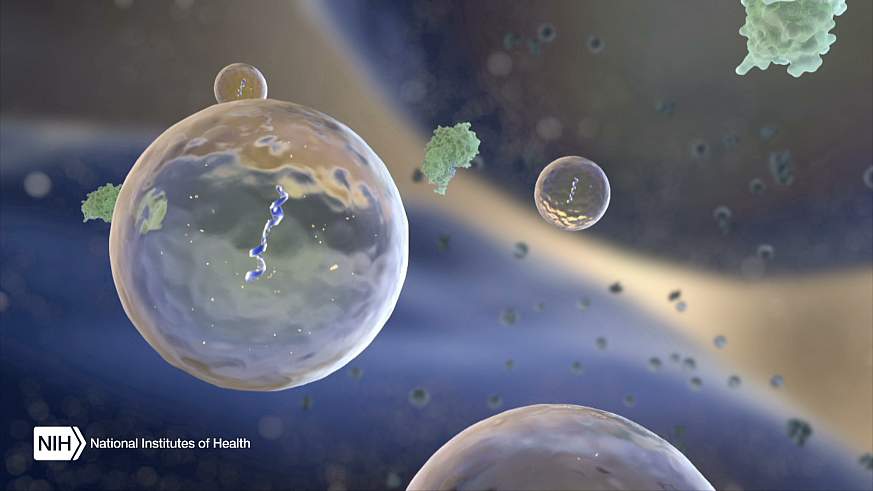 NIH Common Fund
The National Institutes of Health announced today it will award $17 million this year for 24 research projects designed to improve scientists' understanding of a newly discovered type of cell-to-cell communication based on extracellular (outside the cell) RNA, also called exRNA. Through these awards, scientists will explore basic exRNA biology and develop tools and technologies that apply new knowledge about exRNA to the research, diagnosis and treatment of diseases. To unlock the potential of this new scientific field, the awarded research projects will address conditions in which exRNA could play a role, including many types of cancer, bone marrow disorders, heart disease, Alzheimer's disease and multiple sclerosis.
The collaborative, cross-cutting Extracellular RNA Communication program is supported by the NIH Common Fund and led by a trans-NIH team that includes the National Center for Advancing Translational Sciences (NCATS); National Cancer Institute (NCI); National Heart, Lung, and Blood Institute (NHLBI); National Institute on Drug Abuse (NIDA); and National Institute of Neurological Disorders and Stroke (NINDS).
"We have a tremendous opportunity to explore a recently discovered novel way that cells communicate," said NIH Director Francis S. Collins, M.D., Ph.D. "Expanding our understanding of this emerging scientific field could help us determine the role extracellular RNA plays in health and disease, and unlocking its mysteries may provide our nation's scientists with new tools to better diagnose and treat a wide range of diseases."
Scientists think exRNA can regulate many functions in the body and may have an important role in a variety of diseases, but they still know very little about basic exRNA biology. Most RNA works inside cells to translate genes into proteins that are necessary for organisms to function. Other types of RNA control which proteins and the amount of those proteins the cells make. Until recently, scientists believed RNA worked mostly inside the cell that produced it. Now, recent findings show cells can release RNA in the form of exRNA to travel through body fluids and affect other cells. ExRNA can act as a signaling molecule, communicating with other cells and carrying information from cell to cell throughout the body.
Researchers hope to use some kinds of exRNA as biomarkers, or indicators of the presence, absence or stage of a disease. These biomarkers may enable scientists to understand and diagnose diseases earlier and more effectively. Scientists also will use exRNA to develop molecular treatments for diseases.
"To harness exRNA's enormous potential for diagnostics and therapeutics in a broad range of diseases, we first need to understand more about different types of exRNA, how cells make and release it, how it travels through the body, how it targets and affects specific cells, and how the amount and type of exRNA can change in disease," said James Anderson, M.D., Ph.D., director of the Division of Program Coordination, Planning, and Strategic Initiatives, which oversees the NIH Common Fund. "Awards in this exciting new field will help advance our collective understanding of exRNA communication and will enable research in many biomedical research fields."
Multidisciplinary teams of investigators will carry out research projects in a number of critical scientific areas. NCATS will administer 18 awards through which researchers will develop biomarkers from exRNA and design new ways to use exRNA in treatments. NCI will oversee five projects that address how cells make and release exRNA (biogenesis), how and where exRNA travels through body fluids to other cells (biodistribution), how cells take in exRNA that is traveling through body fluids (uptake), and how exRNA changes the function of cells (effector functions). NIDA will support a project to develop a Data Management and Resource Repository that will house all of the data generated by these projects, including a public ExRNA Atlas website to serve as a community-wide resource for exRNA research standards, protocols, data, tools and technology. Scientists working on these projects will form an ExRNA Consortium to collaborate, share information, and spread knowledge to the larger scientific community and public.
"NCATS develops, demonstrates and disseminates new technologies that catalyze improvements in human health" said NCATS Director Christopher P. Austin, M.D. "These awards epitomize that mission, delving into a brand new area of science to discover new targets for interventions, diagnostics, biomarkers and therapeutics — all of which will speed the path from discovery to improved health."
The 24 awards are milestone-driven cooperative agreements. Individual projects will be supported for up to five years, except for the Data Management and Resource Repository, which could be supported longer. To learn more about the research projects, visit http://commonfund.nih.gov/exrna/fundedresearch.
Later this year, NIH plans to issue a request for applications to develop an exRNA reference profile, which is a catalog of the types of exRNA found in various body fluids from healthy humans. NHLBI will lead this effort to enable studies on how exRNA profiles of people with diseases differ from those of healthy people.
For more information about the ExRNA Communication program, visit http://commonfund.nih.gov/exrna.
The NIH Common Fund encourages collaboration and supports a series of exceptionally high-impact, trans-NIH programs. Common Fund programs are designed to pursue major opportunities and gaps in biomedical research that no single NIH Institute or Center could tackle alone, but that the agency as a whole can address to make the biggest impact possible on the progress of medical research. Additional information about the NIH Common Fund can be found at http://commonfund.nih.gov.
The National Center for Advancing Translational Sciences (NCATS) is a distinctly different entity in the research ecosystem. Rather than targeting a particular disease or fundamental science, NCATS focuses on what is common across diseases and the translational process. The Center emphasizes innovation and deliverables, relying on the power of data and new technologies to develop, demonstrate and disseminate improvements in translational science that bring about tangible improvements in human health. For more information, visit www.ncats.nih.gov.
The National Cancer Institute (NCI) leads the National Cancer Program and the NIH effort to dramatically reduce the prevalence of cancer and improve the lives of cancer patients and their families through research into prevention and cancer biology, the development of new interventions, and the training and mentoring of new researchers. For more information about cancer, please visit the NCI website at http://www.cancer.gov or call NCI's Cancer Information Service at 1-800-4-CANCER (1-800-422-6237).
About the National Heart, Lung, and Blood Institute (NHLBI): Part of the NIH, the NHLBI plans, conducts, and supports research related to the causes, prevention, diagnosis, and treatment of heart, blood vessel, lung, and blood diseases; and sleep disorders. The Institute also administers national health education campaigns on women and heart disease, healthy weight for children, and other topics. NHLBI press releases and other materials are available online at http://www.nhlbi.nih.gov.
The National Institute on Drug Abuse (NIDA) is a component of the National Institutes of Health, U.S. Department of Health and Human Services. NIDA supports most of the world's research on the health aspects of drug abuse and addiction. The Institute carries out a large variety of programs to inform policy and improve practice. Fact sheets on the health effects of drugs of abuse and information on NIDA research and other activities can be found on the NIDA home page at www.drugabuse.gov, which now is compatible with your smartphone, iPad or tablet.
The National Institute of Neurological Disorders and Stroke (NINDS) is the nation's leading funder of research on the brain and nervous system. The NINDS mission is to reduce the burden of neurological disease — a burden borne by every age group, by every segment of society, by people all over the world.
About the National Institutes of Health (NIH): NIH, the nation's medical research agency, includes 27 Institutes and Centers and is a component of the U.S. Department of Health and Human Services. NIH is the primary federal agency conducting and supporting basic, clinical, and translational medical research, and is investigating the causes, treatments, and cures for both common and rare diseases. For more information about NIH and its programs, visit www.nih.gov.
NIH…Turning Discovery Into Health®