You are here
News Release
Wednesday, October 3, 2018
NIH grantees win 2018 Nobel Prize in Chemistry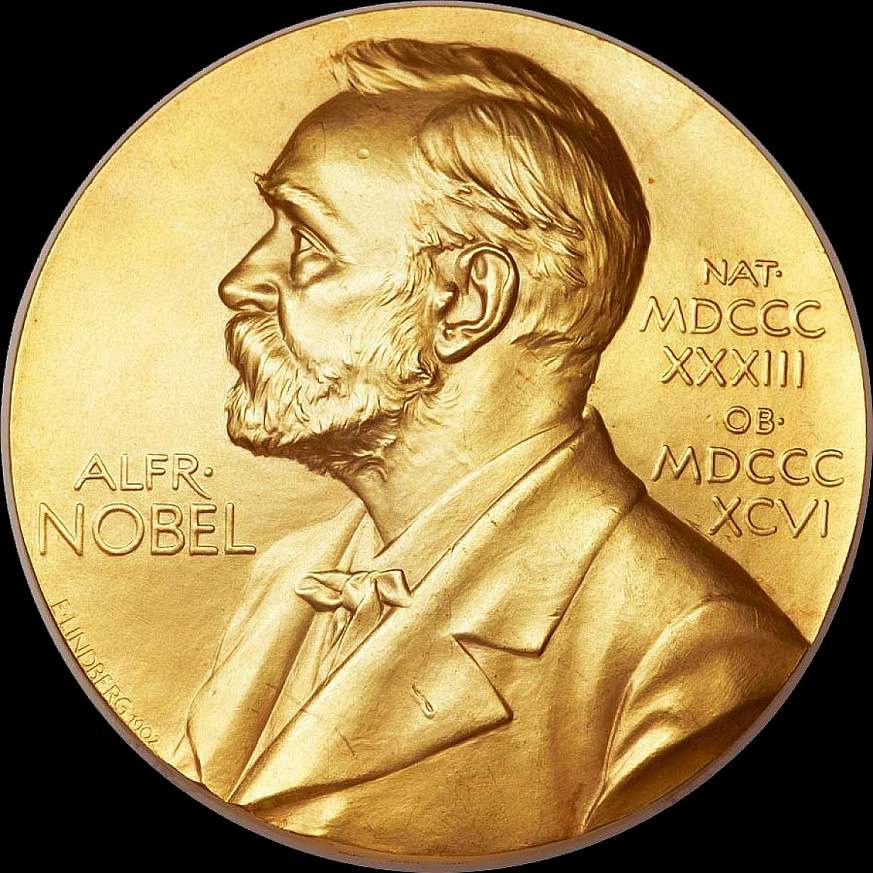 Nobel Foundation
The 2018 Nobel Prize in Chemistry has been awarded to National Institutes of Health grantee Frances H. Arnold, Ph.D., of the California Institute of Technology, for the directed evolution of enzymes, and to NIH grantee George P. Smith, Ph.D., of the University of Missouri, Columbia, who shares the prize with Gregory P. Winter of University of Cambridge, U.K., for the phage display of peptides and antibodies.
The Royal Swedish Academy of Sciences said, "This year's Chemistry Laureates have taken control of evolution and used the same principles — genetic change and selection — to develop proteins that solve humankind's chemical problems."
Dr. Arnold conducted the first studies on the directed evolution of enzymes, which are proteins that catalyze chemical reactions. These studies have demonstrated how rapidly some proteins can evolve under selection pressure to develop new properties such as faster catalysis or the ability to act on non-natural molecules. Enzymes produced through directed evolution are used to manufacture everything from biofuels to pharmaceuticals.
Dr. Smith developed a method known as phage display, where a virus that infects bacteria called a bacteriophage can be used to evolve proteins with new functions. Sir Winter has used phage display to produce new drugs. Today, phage display is a fundamental technology used for drug discovery and has resulted in several important medications including belimumab (Benlysta) for the treatment of systemic lupus, ranibizumab (Lucentis) for neovascular age-related macular degeneration, and adalimumab (Humira) for the treatment of rheumatoid arthritis, to name a few.
"Today's Nobel winners in chemistry demonstrate the essential nature of basic research to medical breakthroughs," said NIH Director Francis S. Collins, M.D., Ph.D. "These three Laureates wonderfully exemplify the kind of creative approach to fundamental biomedical science that reveals new insights about the life process and ultimately leads to advances in human health. The human benefits from the taxpayer's investment in basic research through NIH are enormous."
Both Drs. Arnold and Smith each have received more than $2.5 million, primarily from NIH's National Institute of General Medical Sciences (NIGMS). Dr. Smith's early work was also funded by NIH's National Institute of Allergy and Infectious Diseases (NIAID).
"Today's Nobel Prize in Chemistry shows how studies of seemingly abstract principles in biology can have profound implications for technology and medicine," said Jon R. Lorsch, Ph.D., director of NIGMS. "Harnessing the power of evolution to develop enzymes and antibodies with novel or improved properties has opened up new possibilities in fields from materials science to immunotherapy. This work allows us to use Nature's prowess for searching through many trillions of different molecules to find solutions to problems that humans could never have imagined."
"Today's Nobel Prize in Chemistry dramatically demonstrates yet again the critical importance of continued robust funding of basic biomedical research and the extraordinary impact of the interdisciplinary approach to science,"  said Anthony S. Fauci, M.D., director of NIAID.  "The beauty of basic science is its unpredictability.  This exciting potential is in full display with this year's Nobel Prize in Chemistry."
About the National Institutes of Health (NIH): NIH, the nation's medical research agency, includes 27 Institutes and Centers and is a component of the U.S. Department of Health and Human Services. NIH is the primary federal agency conducting and supporting basic, clinical, and translational medical research, and is investigating the causes, treatments, and cures for both common and rare diseases. For more information about NIH and its programs, visit www.nih.gov.
NIH…Turning Discovery Into Health®