You are here
Media Advisory
Tuesday, August 17, 2021
NIH hamster study evaluates airborne and fomite transmission of SARS-CoV-2
Findings support efforts to reduce SARS-CoV-2 indoor airborne transmission.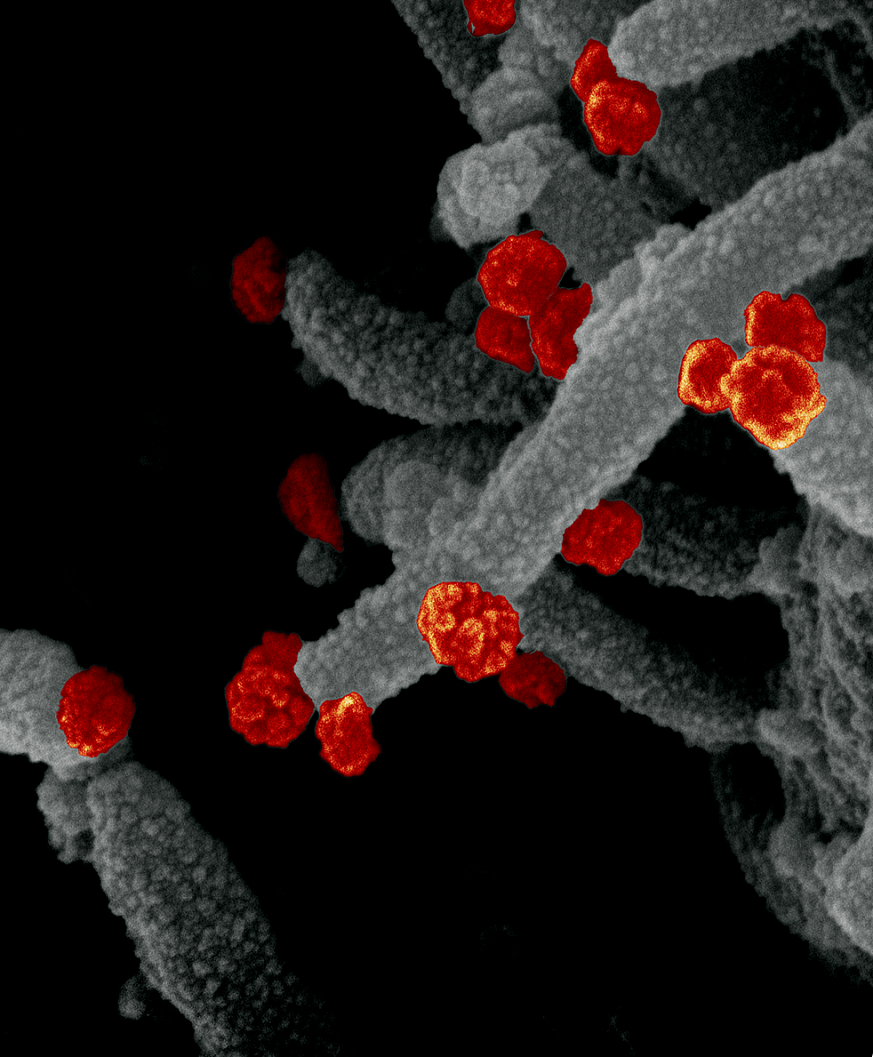 NIAID
What
National Institutes of Health scientists studying SARS-CoV-2, the virus that causes COVID-19, have defined in Syrian hamsters how different routes of virus exposure are linked to disease severity.  Their study, published in Nature Communications, details the efficiency of airborne transmission between hamsters and examines how the virus replicates and causes disease throughout the respiratory system. Their work also shows that virus transmission via fomites—exposure from contaminated surface contact — is markedly less efficient than airborne transmission but does occur.
Scientists from NIH's National Institute of Allergy and Infectious Diseases conducted the experiments at Rocky Mountain Laboratories in Hamilton, Montana.
To investigate how different routes of exposure affected disease development, the scientists exposed hamsters to SARS-CoV-2 via both aerosols and fomites. For aerosol exposure, the scientists used equipment that controlled the size of virus-loaded droplets. For fomite exposure, they placed a dish contaminated with SARS-CoV-2 in the animal cages.
The scientists found that aerosol exposure directly deposited SARS-CoV-2 deep into the lungs, whereas fomite exposure resulted in initial virus replication in the nose. Regardless of exposure route, animals had SARS-CoV-2 replicating in the lungs, but lung damage was more severe in aerosol-exposed animals compared to the fomite group.
A second part of the study compared animal-to-animal transmission of the virus through the air and in contaminated cage environments (fomites). Airborne transmission was markedly more efficient compared to fomite transmission, suggesting that airborne droplets are a key SARS-CoV-2 transmission route. An additional experiment, using air flowing from infected to uninfected animals, supported the finding: Reversing the airflow from uninfected to infected animals greatly reduced transmission efficiency.
The findings support public health guidance focused on interventions to reduce indoor airborne transmission of SARS-CoV-2. These efforts include masking, increasing air filtration and social distancing, as well as handwashing and regular surface disinfection, particularly in clinical settings.
Article
J Port et al. SARS-CoV-2 disease severity and transmission efficiency is increased for airborne compared to fomite exposure in Syrian hamsters. Nature Communications DOI: 10.1038/s41467-021-25156-8 (2021).
Who
Vincent Munster, Ph.D., chief of the Virus Ecology Section in NIAID's Laboratory of Virology, is available to comment on this study.
Contact
To schedule interviews, please contact Ken Pekoc, (301) 402-1663, kpekoc@niaid.nih.gov.
NIAID conducts and supports research — at NIH, throughout the United States, and worldwide — to study the causes of infectious and immune-mediated diseases, and to develop better means of preventing, diagnosing and treating these illnesses. News releases, fact sheets and other NIAID-related materials are available on the NIAID website. 
About the National Institutes of Health (NIH): NIH, the nation's medical research agency, includes 27 Institutes and Centers and is a component of the U.S. Department of Health and Human Services. NIH is the primary federal agency conducting and supporting basic, clinical, and translational medical research, and is investigating the causes, treatments, and cures for both common and rare diseases. For more information about NIH and its programs, visit www.nih.gov.
NIH…Turning Discovery Into Health®