You are here
News Release
Tuesday, June 4, 2013
NIH, ONC, and EPA award $100,000 to winner of health and technology challenge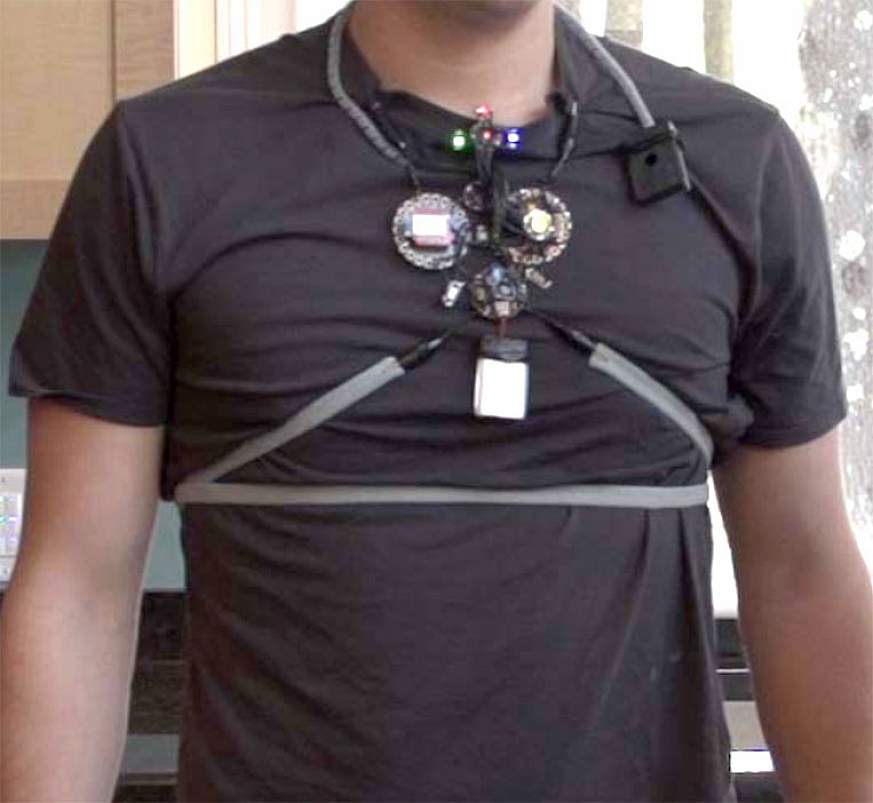 Conscious Clothing
New technology that creates a personal, portable, and wearable air pollution sensor, developed under the My Air, My Health Challenge, was announced today at the Health Datapalooza in Washington, D.C. The grand prize of $100,000 was awarded to Conscious Clothing.
The challenge was held by the National Institutes of Health, the Office of the National Coordinator for Health Information Technology (ONC) of the U.S. Department of Health and Human Services, and the U.S. Environmental Protection Agency (EPA).
Health Datapalooza is intended to encourage innovation and partnerships between technology specialists and health professionals, to further biomedical research and solve health problems. Conscious Clothing's design was chosen from four finalists.
The winning team created the Conscious Clothing system, a wearable breathing analysis tool that calculates the amount of particulate matter that is inhaled. The system uses groove strips, stretchy, conductive strips of knitted silver material wrapped around the ribcage, to measure breath volume, and collects and transmits data in real time, via Bluetooth, to any Bluetooth-capable device.
"With people wearing these new data-collecting devices, researchers will be able to see and understand the relationships between varying levels of air pollutants and individual health responses in real time. This is a big step toward treating and, more importantly, preventing disease and illness," said Linda Birnbaum, Ph.D., director of the National Institute of Environmental Health Sciences, part of NIH. "This is an exciting time in research."
"This integration of technologies represents a growing area of interest for environmental and health scientists," said Glenn Paulson, Ph.D., EPA science advisor. "We're at the edge of a technology wave where anyone can use these sensors. The potential impact on personalized health and local environmental quality is tremendous."
"The finalists for this challenge demonstrate that health information technology can range from personal, wearable sensors to integrated hospital electronic health record systems," said National Coordinator for Health Information Technology (IT) Farzad Mostashari, M.D. "The benefits of health IT, whether being worn by a single person or managed throughout a large hospital, will have similar results in helping keep people healthy."
David Kuller of AUX, Gabrielle Savage Dockterman of Angel Devil Productions, and Dot Kelly of Shearwater Design, developed the Conscious Clothing system. For more information about the winning design and the My Air, My Health Challenge, visit http://challenge.gov/HHS/372-my-air-my-health-challenge.
NIEHS supports research to understand the effects of the environment on human health and is part of NIH. For more information on environmental health topics, visit http://www.niehs.nih.gov. Subscribe to one or more of the NIEHS news lists NIEHS news lists to stay current on NIEHS news, press releases, grant opportunities, training, events, and publications.
About the National Institutes of Health (NIH): NIH, the nation's medical research agency, includes 27 Institutes and Centers and is a component of the U.S. Department of Health and Human Services. NIH is the primary federal agency conducting and supporting basic, clinical, and translational medical research, and is investigating the causes, treatments, and cures for both common and rare diseases. For more information about NIH and its programs, visit www.nih.gov.
NIH…Turning Discovery Into Health®