You are here
Media Advisory
Tuesday, March 28, 2023
NIH researchers discover new autoinflammatory disease, suggest target for potential treatments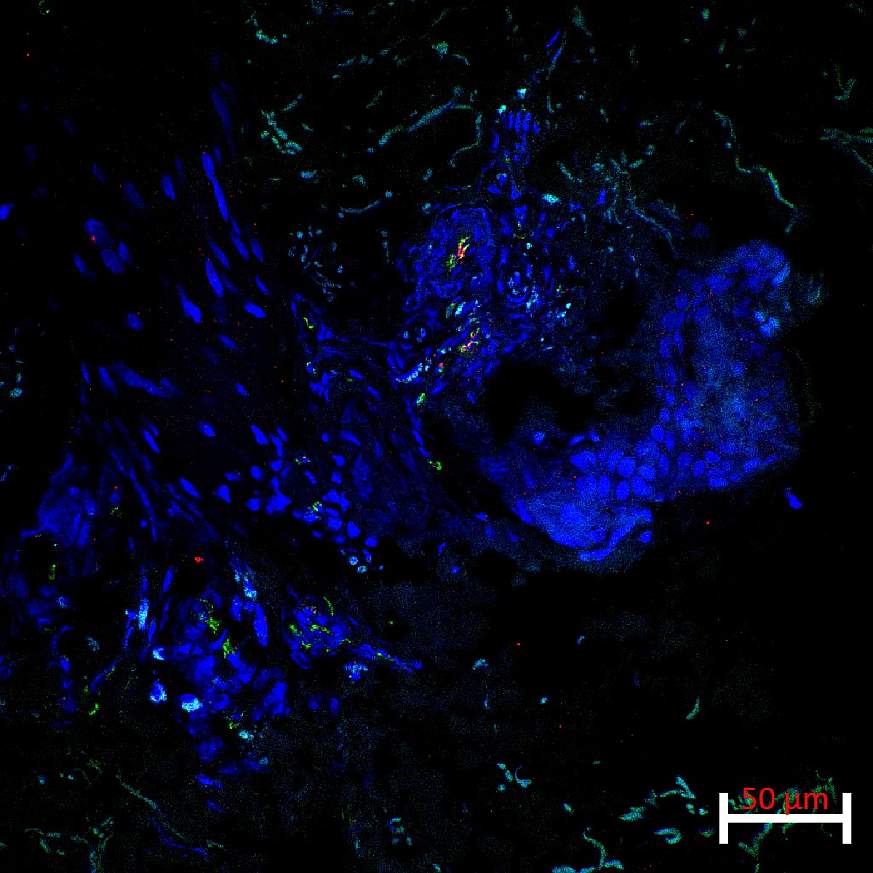 Dan Yang, M.D., NHLBI
What
Scientists have identified an autoinflammatory disease caused by mutations in the LYN gene, an important regulator of immune responses in health and disease. Named Lyn kinase-associated vasculopathy and liver fibrosis (LAVLI), the identification sheds light on how genes linked to certain illnesses can potentially be targets for treatment by repurposing existing drugs. The research, published in Nature Communications, was led by Adriana A. de Jesus, M.D. Ph.D., and Raphaela Goldbach-Mansky, M.D., M.H.S. of the Translational Autoinflammatory Diseases Section of the Laboratory of Clinical Immunology and Microbiology at the National Institute of Allergy and Infectious Diseases (NIAID), part of the National Institutes of Health.
LAVLI was first discovered in a pediatric patient through genetic testing, which detected a mutation in LYN, the gene that encodes the Lyn kinase protein. Two additional, unrelated pediatric patients were later discovered to have two more mutations in the same gene. All three patients developed diseases linked to the LYN genetic mutation shortly after birth. Two patients developed liver fibrosis—excessive amounts of scar tissue caused by inflammation and repeated liver damage—in the first year of life. All three patients had perinatal onset of neutrophilic cutaneous small vessel vasculitis. This is an immune disorder characterized by inflammation from high numbers of neutrophils—white blood cells of the immune system—that can damage small blood vessels. The study revealed Lyn kinase was always active and unable to shut down in the three patients with the LYN mutation, which increased neutrophil migration, altered inflammatory signals and activated scar and fibrosis-inducing liver cells. The results of this study suggest that Lyn kinase may be a potential therapeutic target for drugs that treat forms of non-syndromic small vessel vasculitis and other types of inflammation-induced liver fibrosis.
Article
AA de Jesus et al. Constitutively active Lyn kinase causes a cutaneous small vessel vasculitis and liver fibrosis syndrome. Nature Communications DOI: 10.1038/s41467-023-36941-y (2023).
Who
Dr. Raphaela Goldbach-Mansky, Chief of the Translational Autoinflammatory Diseases Section in NIAID's Laboratory of Clinical Immunology and Microbiology, is available to discuss this research.
Contact
To schedule interviews, please contact Jamie Rogers, (301) 402-1663, NIAIDnews@niaid.nih.gov.
NIAID conducts and supports research—at NIH, throughout the United States, and worldwide—to study the causes of infectious and immune-mediated diseases, and to develop better means of preventing, diagnosing and treating these illnesses. News releases, fact sheets and other NIAID-related materials are available on the NIAID website.
About the National Institutes of Health (NIH): NIH, the nation's medical research agency, includes 27 Institutes and Centers and is a component of the U.S. Department of Health and Human Services. NIH is the primary federal agency conducting and supporting basic, clinical, and translational medical research, and is investigating the causes, treatments, and cures for both common and rare diseases. For more information about NIH and its programs, visit www.nih.gov.
NIH…Turning Discovery Into Health®