You are here
Media Advisory
Tuesday, April 23, 2019
NIH to rocket 3-D tissue chips into space to study disease in microgravity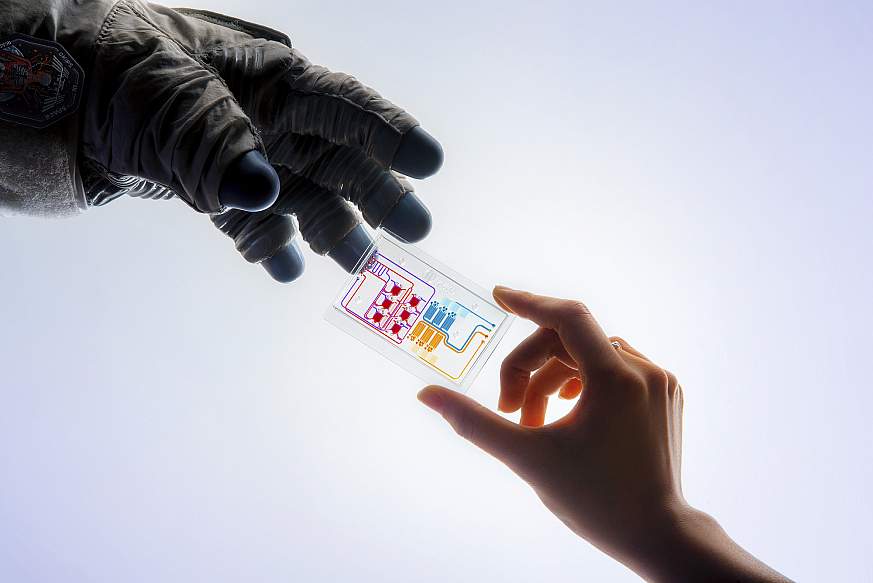 Biolines Laboratory, University of Pennsylvania
What
Miniaturized models of the lung and bone marrow, kidney, blood-brain barrier and bone cartilage will blast off on May 1 to the International Space Station National Lab (ISS National Lab) on a Falcon 9 rocket from Cape Canaveral, Florida. The models are bioengineered, 3-D tissue chip systems. Researchers will use the tissue chips in space to study aging and certain disease states that appear to be accelerated in microgravity and then later to test the potential effects of drugs on those tissues. The projects aim to provide insights that will speed the development of treatments for kidney stones, arthritis and other conditions that affect us here on Earth.   
Each project is funded through the Tissue Chips in Space initiative, which is a collaboration among the ISS National Lab and the National Institutes of Health's National Center for Advancing Translational Sciences (NCATS) and National Institute of Biomedical Imaging and Bioengineering. 
Who
Christopher P. Austin, M.D., Director, NCATS
Danilo Tagle, Ph.D., Associate Director for Special Initiatives, NCATS
Lucie Low, Ph.D., Scientific Program Manager, Tissue Chips for Drug Screening, NCATS; NIH-NASA Liaison Point of Contact, HHS-NASA Interagency Agreement Coordinator
How
To schedule interviews with NCATS staff, please email ncatsinfo@mail.nih.gov or call 301-435-0888.
More
For more information on NCATS and its tissue chip program, see:
This media availability describes basic research. Basic research increases our understanding of human behavior and biology, which is foundational to advancing new and better ways to prevent, diagnose, and treat disease. Science is an unpredictable and incremental process — each research advance builds on past discoveries, often in unexpected ways. Most clinical advances would not be possible without the knowledge of fundamental basic research.
About the National Center for Advancing Translational Sciences (NCATS): NCATS conducts and supports research on the science and operation of translation — the process by which interventions to improve health are developed and implemented — to allow more treatments to get to more patients more quickly. For more information about how NCATS is improving health through smarter science, visit https://ncats.nih.gov.
About the National Institutes of Health (NIH): NIH, the nation's medical research agency, includes 27 Institutes and Centers and is a component of the U.S. Department of Health and Human Services. NIH is the primary federal agency conducting and supporting basic, clinical, and translational medical research, and is investigating the causes, treatments, and cures for both common and rare diseases. For more information about NIH and its programs, visit www.nih.gov.
NIH…Turning Discovery Into Health®