You are here
News Release
Thursday, August 8, 2013
NIH scientists visualize how cancer chromosome abnormalities form in living cells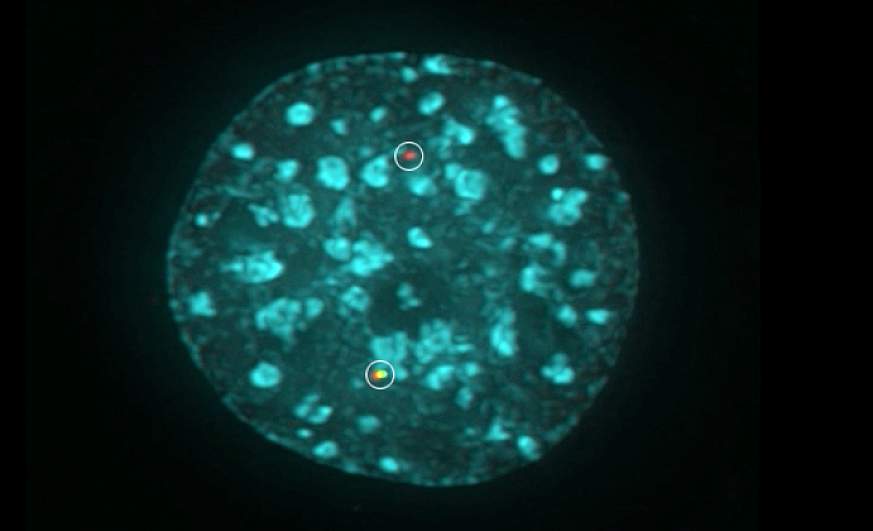 For the first time, scientists have directly observed events that lead to the formation of a chromosome abnormality that is often found in cancer cells. The abnormality, called a translocation, occurs when part of a chromosome breaks off and becomes attached to another chromosome. The results of this study, conducted by scientists at the National Cancer Institute (NCI), part of the National Institutes of Health, appeared Aug. 9, 2013, in the journal Science.
Chromosomes are thread-like structures inside cells that carry genes and function in heredity. Human chromosomes each contain a single piece of DNA, with the genes arranged in a linear fashion along its length.
Chromosome translocations have been found in almost all cancer cells, and it has long been known that translocations can play a role in cancer development. However, despite many years of research, just exactly how translocations form in a cell has remained a mystery. To better understand this process, the researchers created an experimental system in which they induced, in a controlled fashion, breaks in the DNA of different chromosomes in living cells. Using sophisticated imaging technology, they were then able to watch as the broken ends of the chromosomes were reattached correctly or incorrectly inside the cells.
Translocations are very rare events, and the scientists' ability to visualize their occurrence in real time was made possible by recently available technology at NCI that enables investigators to observe changes in thousands of cells over long time periods. "Our ability to see this fundamental process in cancer formation was possible only because of access to revolutionary imaging technology," said the study's senior author, Tom Misteli, Ph.D., Laboratory of Receptor Biology and Gene Expression, Center for Cancer Research, NCI.
The scientists involved with this study were able to demonstrate that translocations can occur within hours of DNA breaks and that their formation is independent of when the breaks happen during the cell division cycle. Cells have built-in repair mechanisms that can fix most DNA breaks, but translocations occasionally occur.
To explore the role of DNA repair in translocation formation, the researchers inhibited key components of the DNA damage response machinery within cells and monitored the effects on the repair of DNA breaks and translocation formation. They found that inhibition of one component of DNA damage response machinery, a protein called DNAPK-kinase, increased the occurrence of translocations almost 10-fold. The scientists also determined that translocations formed preferentially between pre-positioned genes.
"These observations have allowed us to formulate a time and space framework for elucidating the mechanisms involved in the formation of chromosome translocations," said Vassilis Roukos, Ph.D., NCI, and lead scientist of the study.
"We can now finally begin to really probe how these fundamental features of cancer cells form," Misteli added.
This research was supported by the Intramural Research Program of the NCI's Center for Cancer Research.
The National Cancer Institute (NCI) leads the National Cancer Program and the NIH effort to dramatically reduce the prevalence of cancer and improve the lives of cancer patients and their families, through research into prevention and cancer biology, the development of new interventions, and the training and mentoring of new researchers. For more information about cancer, please visit the NCI website at http://www.cancer.gov or call NCI's Cancer Information Service at 1-800-4-CANCER (1-800-422-6237).
About the National Institutes of Health (NIH): NIH, the nation's medical research agency, includes 27 Institutes and Centers and is a component of the U.S. Department of Health and Human Services. NIH is the primary federal agency conducting and supporting basic, clinical, and translational medical research, and is investigating the causes, treatments, and cures for both common and rare diseases. For more information about NIH and its programs, visit www.nih.gov.
NIH…Turning Discovery Into Health®
Reference
Roukos V, Voss TC, Schmidt CK, Lee S, Wangsa D, Misteli T. Spatial dynamics of chromosome translocations in living cells. Science. August 9, 2013. DOI: 10.1126/science.1237150.