You are here
News Release
Tuesday, April 25, 2017
NIH statement on World Malaria Day — April 25, 2017
Statement of B. Fenton Hall, M.D., Ph.D., and Anthony S. Fauci, M.D., National Institute of Allergy and Infectious Diseases.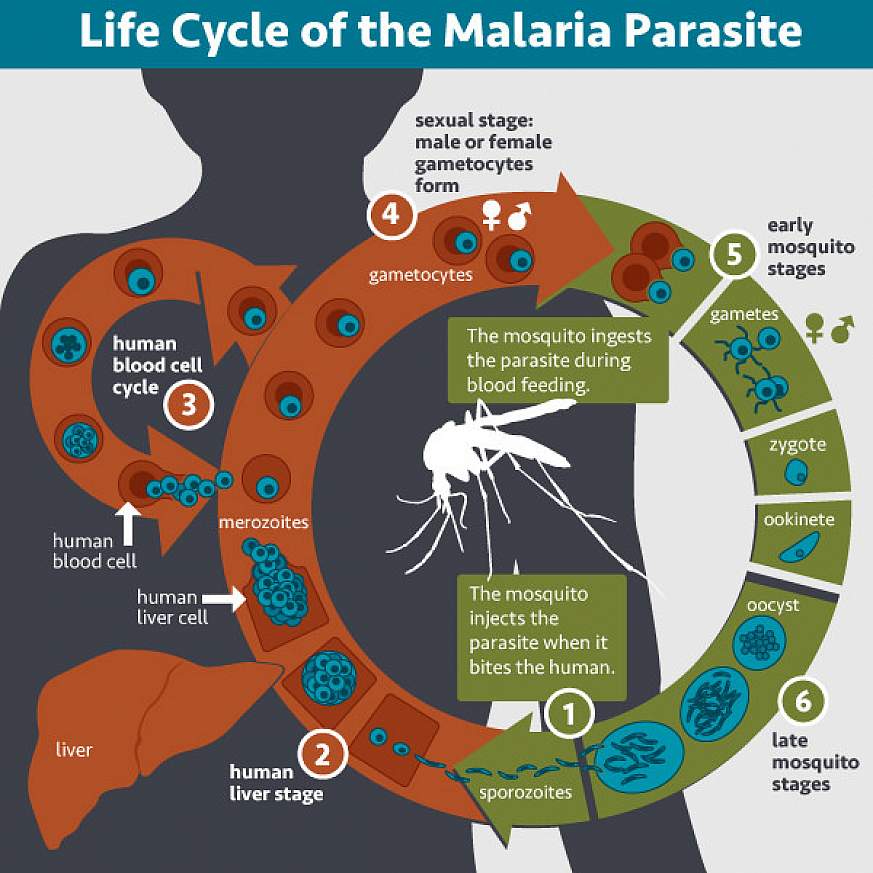 National Institute of Allergy and Infectious Diseases, National Institutes of Health
Considerable progress has been made in the global fight to control and eliminate malaria through improved prevention and control efforts. Between 2000 and 2015, the worldwide rate of new malaria cases and malaria deaths decreased by 41 percent and 60 percent, respectively, according to the World Health Organization (WHO). On World Malaria Day 2017, the National Institutes of Health recognizes these gains and reaffirms its longstanding commitment to conducting and supporting the research necessary to end this mosquito-borne disease.
Despite the progress that has been made to curb malaria's global impact, nearly half of the world's population remains at risk. In 2015, an estimated 212 million new malaria cases and 429,000 deaths occurred. Nearly 90 percent of these cases were among children under the age of 5 years in Africa, where malaria claims the life of a child every two minutes.
The World Malaria Day theme this year is "End Malaria for Good." The National Institute of Allergy and Infectious Diseases (NIAID), part of the NIH, is fully committed to doing its part to achieve this goal through its comprehensive research program to: better understand the biology of malaria parasites and their mosquito vectors; examine how anti-malaria drug resistance and insecticide resistance develop and spread; support research to enhance the medical management of clinical malaria, especially severe malaria; identify and develop new tools to diagnose and treat malaria; develop a safe and effective vaccine to prevent malaria; and identify and pursue novel interventions and strategies designed to reduce or interrupt malaria transmission.
Major components of NIAID's malaria research efforts are implemented through the International Centers of Excellence in Malaria Research (ICEMRs), a collaborative network of research centers established in 2010 that are designed to conduct multidisciplinary research in endemic regions and strengthen local research capacity. In 2016, the ICEMRs played a key role in sequencing the complete genomes of 200 strains of Plasmodium vivax, one of the five parasite species that cause malaria in people. By analyzing this genetic information, researchers demonstrated the geographic movement of the parasites over time and showed how they were adapting to regional variations in both the mosquitoes that carry them and the humans they infect. Last year, the ICEMRs also found that a dysfunction that malaria causes in the inner lining of blood vessels plays a critical role in the development and progression of severe malaria in children and adults.
The ICEMRs and NIAID scientists are also tracking the spread of parasite resistance to artemisinin, the key drug component in approved combination treatments for malaria. Artemisinin resistance has so far been detected in five countries of southeast Asia: Cambodia, Laos, Myanmar, Thailand and Vietnam. Combination treatments are still effective in most settings if the drug partnered with artemisinin is locally effective. Last year, NIAID investigators found that frontline malaria treatments containing fast-acting dihydroartemisinin and long-lasting piperaquine were losing effectiveness in Cambodia because of the concurrent spread of resistance to both drugs. Their work suggested that artesunate, a form of artemisinin, plus the long-acting drug mefloquine, should be the first-line combination malaria therapy in areas where dihydroartemisinin-piperaquine treatment has failed. Additionally, NIAID scientists identified two genetic markers strongly associated with parasitic resistance to piperaquine.
Given the spread of drug-resistant malaria, NIAID continues to support critical research to find new and effective anti-malaria drugs. The institute is providing product development support for four antimalarial drug concepts and participates in partnerships to accelerate malaria research and advance development of new interventions. One novel antimalarial drug, DSM265, given as a single dose in a Phase 2 clinical trial, cured volunteers infected with P. falciparum, the deadliest form of malaria infection. NIAID, in collaboration with its partners, is conducting preclinical development of a related compound, called DSM421, which persists in the body longer and is effective against both P. falciparum and P. vivax malaria. In addition, NIAID is planning to initiate clinical testing of a drug candidate that may reduce mortality from cerebral malaria, a major cause of death for African children.
Safe and effective vaccines are critical tools for future efforts to control, eliminate and, ultimately, eradicate malaria. NIAID is supporting the development of numerous malaria vaccine candidates, 10 of which are in clinical trials. One investigational vaccine, called PfSPZ, showed promising results in several small studies in 2016. It protected 6 of 11 people (55 percent) without prior malaria infection for more than a year; and provided extended protection against different malaria strains. The vaccine candidate also provided considerable protection among adults in Mali for the duration of the malaria season. Further testing of the PfSPZ vaccine is ongoing. In related work, live, purified malaria parasites from the same strain as PfSPZ, when delivered in high doses to individuals together with chloroquine antimalarial prophylaxis, elicited high levels of protection in a clinical trial, and are being further investigated.
Additionally, clinical testing is underway for a second-generation transmission-blocking vaccine, and a Phase 2 clinical trial to test an attenuated, genetically modified P. falciparum vaccine candidate is planned for later this year. NIAID also has begun a Phase 1 clinical trial of an investigational vaccine designed to provide broad protection against a range of mosquito-transmitted diseases, including malaria, and to hinder the ability of mosquitoes to transmit infection.
The continued fight against malaria requires a sustained effort and global collaboration. On World Malaria Day, we thank the clinical trial volunteers who have participated in malaria research and join our partners in renewing our commitment to scientific efforts to find ways to control, eliminate and, ultimately, eradicate this ancient scourge.
B. Fenton ("Lee") Hall, M.D., Ph.D., is chief of the Parasitology and International Programs Branch in the NIAID Division of Microbiology and Infectious Diseases. Anthony S. Fauci, M.D., is director of the National Institute of Allergy and Infectious Diseases at the National Institutes of Health in Bethesda, Maryland.
NIAID conducts and supports research — at NIH, throughout the United States, and worldwide — to study the causes of infectious and immune-mediated diseases, and to develop better means of preventing, diagnosing and treating these illnesses. News releases, fact sheets and other NIAID-related materials are available on the NIAID website.
About the National Institutes of Health (NIH): NIH, the nation's medical research agency, includes 27 Institutes and Centers and is a component of the U.S. Department of Health and Human Services. NIH is the primary federal agency conducting and supporting basic, clinical, and translational medical research, and is investigating the causes, treatments, and cures for both common and rare diseases. For more information about NIH and its programs, visit www.nih.gov.
NIH…Turning Discovery Into Health®