You are here
News Release
Thursday, April 16, 2015
NIH study finds genetic link for rare intestinal cancer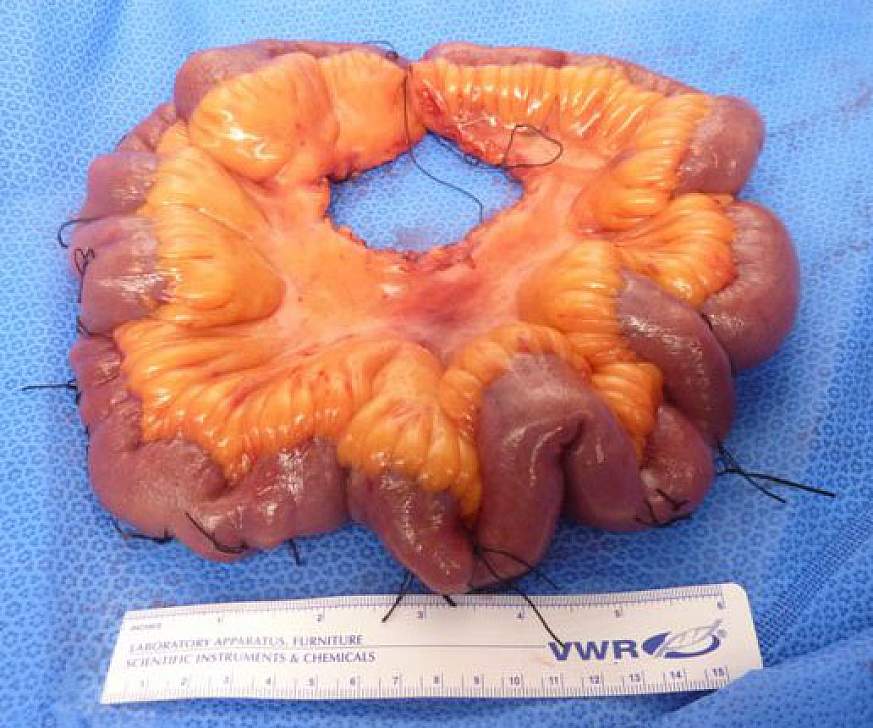 Gastroenterology 2015
Heredity accounts for up to 35 percent of small intestinal carcinoid, a rare digestive cancer, according to findings from a team at the National Institutes of Health. The researchers examined families with a history of the disease. Because the disease has long been considered randomly occurring rather than inherited, people with a family history are not typically screened. Results were published recently in Gastroenterology.
"Small intestinal carcinoid tumors usually grow slowly without symptoms. It is often too late to reverse the condition once people seek medical attention," said lead author Stephen Wank, M.D., senior investigator at the NIH's National Institute of Diabetes and Digestive and Kidney Diseases (NIDDK), which supported the trial. "Our findings suggest that people with a family history of the disease should be screened for it. We hope this research empowers thousands of at-risk people with a way to prevent these tumors from becoming a devastating disease."
Conducted at the NIH Clinical Center, the study screened 181 people from 33 families, each with at least two cases of small intestinal carcinoid. The researchers discovered the disease in 23 people who had not yet developed symptoms, and successfully removed all tumors in 21 of those people.
Genetic linkage analysis revealed a target DNA region shared by all affected members of a particularly large family. Genome sequencing narrowed that finding to a gene defect passed from one generation to the next, suggesting that the gene is an inherited risk factor for the disease. "Studying entire families gave us a unique insight into the genetic factors that can increase risk of small intestinal carcinoid," said Wank.
"This innovative study embodies NIH's unmatched leadership in rare disease research," said NIDDK Director Griffin P. Rodgers, M.D. "Our new understanding of small intestinal carcinoid tumors gives scientists and health care providers a stronger platform to continue to develop proactive approaches in treatment, diagnosis and prevention."
About 30,000 Americans have small intestinal carcinoid tumors. Like most cancers, early treatment greatly increases survival rates and quality of life. People with a family history of small intestinal carcinoid interested in joining NIH genetic studies may call 1-866-444-2214 or visit http://www.clinicaltrials.gov (Clinical Trial # NCT00646022 for information.
NIH support for this study comes from the intramural research programs of the NIDDK, the NIH Clinical Research Center, the National Cancer Institute, the National Human Genome Research Institute, and the National Library of Medicine.
The NIDDK, a component of the NIH, conducts and supports research on diabetes and other endocrine and metabolic diseases; digestive diseases, nutrition and obesity; and kidney, urologic and hematologic diseases. Spanning the full spectrum of medicine and afflicting people of all ages and ethnic groups, these diseases encompass some of the most common, severe and disabling conditions affecting Americans. For more information about the NIDDK and its programs, see http://www.niddk.nih.gov.
About the National Institutes of Health (NIH): NIH, the nation's medical research agency, includes 27 Institutes and Centers and is a component of the U.S. Department of Health and Human Services. NIH is the primary federal agency conducting and supporting basic, clinical, and translational medical research, and is investigating the causes, treatments, and cures for both common and rare diseases. For more information about NIH and its programs, visit www.nih.gov.
NIH…Turning Discovery Into Health®