You are here
News Release
Wednesday, August 11, 2010
NIH study indicates stress may delay women getting pregnant
Women with high levels of substance indicating stress less likely to conceive.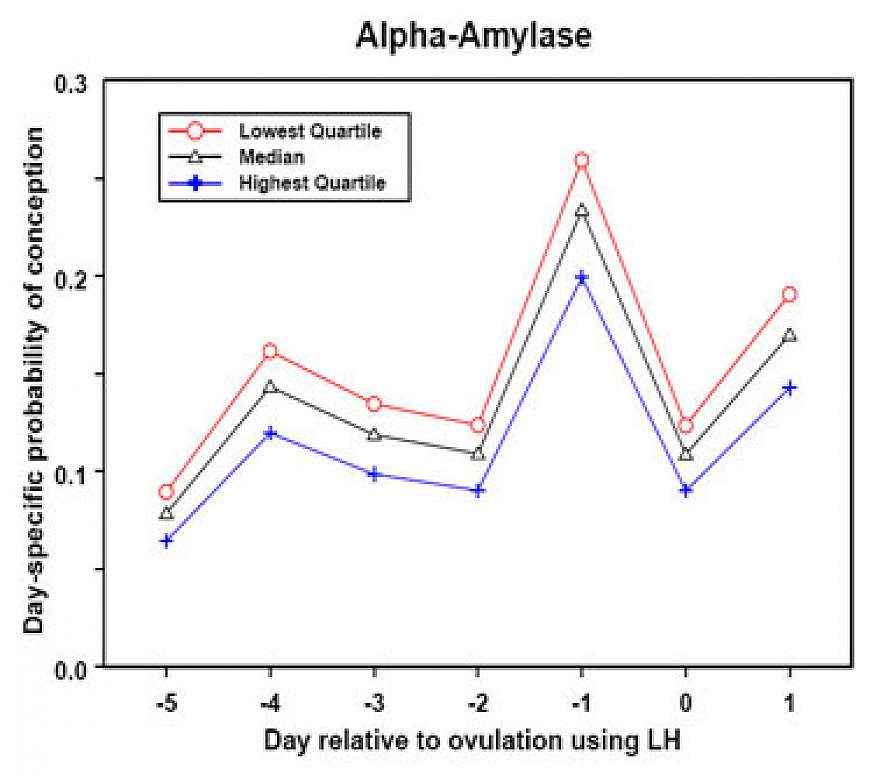 A study by researchers at the National Institutes of Health and the University of Oxford supports the widespread belief that stress may reduce a woman's chance of becoming pregnant. The study is the first of its kind to document, among women without a history of fertility problems, an association between high levels of a substance indicative of stress and a reduced chance of becoming pregnant.
The researchers showed that women who had higher levels of a substance called alpha-amylase were less likely to get pregnant than were women with lower levels of the substance. Alpha-amylase is secreted into saliva by the parotid gland, the largest of the salivary glands. Although alpha-amylase digests starch, in recent years many researchers have used it as a barometer of the body's response to physical or psychological stress. The substance is secreted when the nervous system produces catecholamines, compounds that initiate a type of stress response.
In addition to researchers at the NIH's Eunice Kennedy Shriver National Institute of Child Health and Human Development (NICHD) and the University of Oxford, England, the study also includes an author from The Ohio State University College of Medicine, Columbus.
"The study results suggest that finding safe ways to alleviate stress may play a role in helping couples become pregnant," said Alan E. Guttmacher, M.D., director of the NICHD.
The study was published online in Fertility and Sterility.
To conduct the study, the researchers charted the ovulation cycles of 274 English women aged 18-40 years who were trying to conceive, and who participated in the Oxford Conception Study led by Cecilia Pyper, MB.BS. This clinical study sought to determine whether daily information from a fertility-monitoring device would increase the conception rate in women wishing to achieve pregnancy. The women were given at-home fertility test kits to track the phases of their monthly cycles.
"This is the first study to show an association between a biomarker of stress and a reduction in women's chances of conceiving throughout the fertile window — underscoring the importance of considering stress when attempting to identify the determinants of conception," Dr. Pyper said.
On the sixth day of her cycle, each woman collected a sample of her saliva, which was subsequently tested for alpha-amylase. The women's saliva samples were also analyzed for cortisol, another hormone produced by the adrenal glands in response to stress. Each woman took part in the study until she became pregnant, or at the end of six menstrual cycles.
The researchers found that, all other factors being equal, women with high alpha-amylase levels were less likely to conceive than were women with low levels, during the fertile window — the six days when conception is most likely to occur. The researchers did not find a correlation between cortisol levels and the chances of conception.
"Overall, the 25 percent of women in the study who had the highest alpha-amylase levels had roughly an estimated 12 percent reduction in getting pregnant each cycle in comparison to women with the lowest concentrations," said the study's first author, Germaine Buck Louis, Ph.D., M.S., director of the NICHD's Division of Epidemiology, Statistics, and Prevention Research.
Dr. Buck Louis added that she and her colleagues are currently conducting a study with a larger group of women to confirm the findings. Similarly, they also hope to learn whether stress is associated with infertility.
"It has been suggested that stress may increase with the disappointment of several failed attempts at getting pregnant, setting off a cycle in which pregnancy becomes even more difficult to achieve," she said.
The current findings also suggest the need for finding appropriate ways to help women alleviate stress while trying to conceive.
"The question is, 'what do you do to help women to relax?' People often turn to alcohol or tobacco to relieve stress, but these substances also reduce the likelihood of pregnancy," Dr. Buck Louis said. She added that additional research may be needed to determine whether relaxation techniques such as meditation, biofeedback, yoga, or increasing social support can assist women having difficulty conceiving.
The NICHD sponsors research on development, before and after birth; maternal, child, and family health; reproductive biology and population issues; and medical rehabilitation. For more information, visit the Institute's Web site at http://www.nichd.nih.gov/.
About the National Institutes of Health (NIH): NIH, the nation's medical research agency, includes 27 Institutes and Centers and is a component of the U.S. Department of Health and Human Services. NIH is the primary federal agency conducting and supporting basic, clinical, and translational medical research, and is investigating the causes, treatments, and cures for both common and rare diseases. For more information about NIH and its programs, visit www.nih.gov.
NIH…Turning Discovery Into Health®