You are here
News Release
Tuesday, April 23, 2019
Panel highlights need for further innovative research approaches to inform appropriate long-term use of osteoporosis drug therapies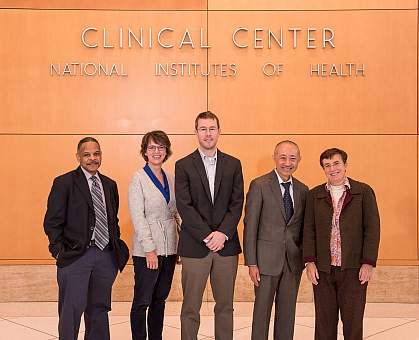 Andrew Propp, on behalf of ODP
The National Institutes of Health convened the Pathways to Prevention workshop on the Appropriate Use of Drug Therapies for Osteoporotic Fracture Prevention. The workshop's independent panel of experts recommended further research to inform the long-term use of osteoporosis drug therapies for fracture prevention. The panel's final report incorporates its assessment of an Agency for Healthcare Research and Quality (AHRQ) systematic review of the scientific evidence, speaker presentations, audience input, and public comments. The panel also urged investigators to take advantage of innovative research designs and approaches to address long-term use of current therapies and speed the development of new treatments. The report is an independent report and not a policy statement of the NIH or the federal government.
More than 10 million people in the United States have osteoporosis, a skeletal disorder in which the density and quality of bone are compromised, consequently increasing the risk of fracture. This greater susceptibility can, with minimal trauma, lead to fractures at any age. Osteoporotic fractures impair a person's ability to live independently and, in some cases, are life-threatening. It is projected that by 2025, the total U.S. health care costs attributable to fractures will reach $25 billion annually.
Prior to fracture, lifestyle changes may help reduce a person's risk. However, medications are often needed to prevent fractures if a person has severe osteoporosis or has experienced a previous fragility fracture.
"Aging of the population increases the prevalence of osteoporosis and potential for bone fractures. Filling the research gaps outlined in this report will aid effective communication among patients, families, and health care providers about appropriate treatment options," said Albert Siu, M.D., professor at the Brookdale Department of Geriatrics and Palliative Medicine at the Icahn School of Medicine at Mount Sinai, New York, and workshop panel chair.
Several U.S. Food and Drug Administration-approved medications have been demonstrated to be effective in preventing fractures when taken for three–five years (short-term treatment). There is a lack of evidence regarding longer-term use of these drugs. To assess the available scientific evidence and better understand the research needs and gaps related to the long-term use of drugs for osteoporotic fracture prevention, NIH convened the Pathways to Prevention Workshop: Appropriate Use of Drug Therapies for Osteoporotic Fracture Prevention on Oct. 30–31, 2018. The resulting report, Research Gaps in Long-Term Use of Drug Therapies for Osteoporosis Fracture Prevention, was developed by an independent panel and published in Annals of Internal Medicine on April 23, 2019, along with the systematic evidence review that was commissioned by the AHRQ Evidence-based Practice Center Program for the workshop and a commentary.
The report includes recommendations for assessing long-term usage of treatments and the optimal duration of use. In addition, authors highlight the need for researchers to make use of innovative designs and approaches in addressing long-term use of therapies and the need to undertake future clinical trials to evaluate new drug therapies that don't have the adverse effects of some current drug therapies. Further research is also needed to understand the current barriers to starting and continuing with osteoporotic drug therapy.
"Answers to both the key questions and the research priorities outlined in the report are urgently needed to advance prevention of osteoporosis-related morbidity and mortality," said Dr. Siu.
The workshop was co-sponsored by the NIH Office of Disease Prevention (ODP), National Institute on Aging, and National Institute of Arthritis and Musculoskeletal and Skin Diseases. The systematic evidence review was prepared by the Minnesota Evidence-based Practice Center, under contract to the Agency for Healthcare Research and Quality with funding from ODP.
The five-member independent panel included experts in the fields of primary care, geriatrics and aging, biostatistics, health policy, behavioral sciences, and social epidemiology. Panel member biographies, an archived NIH VideoCast of the workshop, and additional resources are available on the ODP website.
The Office of Disease Prevention assesses, facilitates, and stimulates research in health promotion and disease prevention in collaboration with the NIH and other public and private partners, and disseminates the results of this research to improve public health. For more information about the ODP, visit prevention.nih.gov.
The National Institute on Aging leads the federal government in conducting and supporting research on aging and the health and well-being of older people. For more information, visit www.nia.nih.gov.  
The mission of the National Institute of Arthritis and Musculoskeletal and Skin Diseases is to support research into the causes, treatment, and prevention of arthritis and musculoskeletal and skin diseases; the training of basic and clinical scientists to carry out this research; and the dissemination of information on research progress in these diseases. For more information, visit www.niams.nih.gov.
About the National Institutes of Health (NIH): NIH, the nation's medical research agency, includes 27 Institutes and Centers and is a component of the U.S. Department of Health and Human Services. NIH is the primary federal agency conducting and supporting basic, clinical, and translational medical research, and is investigating the causes, treatments, and cures for both common and rare diseases. For more information about NIH and its programs, visit www.nih.gov.
NIH…Turning Discovery Into Health®