You are here
Media Advisory
Monday, February 11, 2019
Patients to share personal journeys at NIH Rare Disease Day events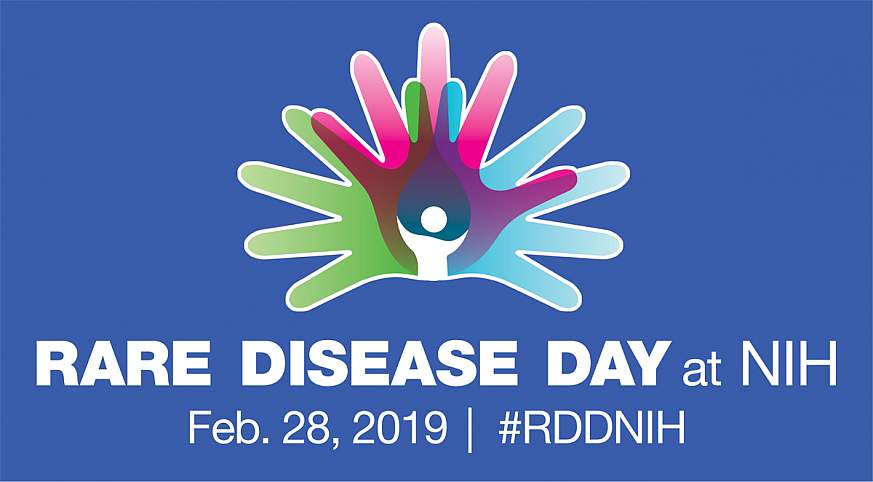 NCATS
Why/What:
Several thousand rare diseases affect an estimated 30 million people in the United States. Only about 5 percent of these diseases have a treatment approved by the Food and Drug Administration. On Feb. 28, 2019, the National Institutes of Health will host Rare Disease Day at NIH and open its doors to public and private researchers, patients and their support organizations, policy makers and other members of the community. Together, attendees will raise awareness about rare diseases, the people they affect, and opportunities for new and better treatments.
New features for this year's event include a presentation of the first ever Zebbie Award for the Rare Diseases Are Not Rare! Challenge, sponsored by the National Center for Advancing Translational Sciences (NCATS). Also featured will be personal video stories by rare disease patients, video messages from global rare disease leaders and a special rare disease portrait unveiling by Beyond the Diagnosis of an NIH Clinical Center patient. The NIH Clinical Center — the nation's largest research hospital where scientists are studying more than 500 rare diseases in partnership with nearly 2,250 patients — will also offer tours.
Panel discussion topics include success factors for rare cancer research, collective research models with the NIH Rare Diseases Clinical Research Network, quality patient registries to understand rare diseases and gene editing/genome therapy clinical trials.
For more event details: https://ncats.nih.gov/rdd
When/Where:
Feb. 28, 2019
8:30 a.m. - 4 p.m. ET
NIH Campus
Natcher Conference Center (Building 45), Main Auditorium
45 Center Drive, Bethesda, Maryland 20892
Who:
The event is sponsored by NCATS and the NIH Clinical Center in coordination with planning committee representatives and event partners.
Featured Speakers:
Francis S. Collins, M.D., Ph.D., director, NIH
Rep. G. K. Butterfield (D-NC), co-chair, Rare Disease Congressional Caucus
Christopher P. Austin, M.D., director, NCATS, NIH
James K. Gilman, M.D., CEO, Clinical Center, NIH
Jennie Lucca, CEO, The Children's Inn at NIH
Press:
Members of the media should contact Molly.Freimuth@nih.gov or Bobbi.Gardner@nih.gov for more information and to discuss patient and featured speaker filming and photography opportunities.
About the National Center for Advancing Translational Sciences (NCATS): NCATS conducts and supports research on the science and operation of translation — the process by which interventions to improve health are developed and implemented — to allow more treatments to get to more patients more quickly. For more information about how NCATS is improving health through smarter science, visit https://ncats.nih.gov.
About the NIH Clinical Center: The NIH Clinical Center is the clinical research hospital for the National Institutes of Health. Through clinical research, clinician-investigators translate laboratory discoveries into better treatments, therapies and interventions to improve the nation's health. More information: https://clinicalcenter.nih.gov.
About the National Institutes of Health (NIH): NIH, the nation's medical research agency, includes 27 Institutes and Centers and is a component of the U.S. Department of Health and Human Services. NIH is the primary federal agency conducting and supporting basic, clinical, and translational medical research, and is investigating the causes, treatments, and cures for both common and rare diseases. For more information about NIH and its programs, visit www.nih.gov.
NIH…Turning Discovery Into Health®