You are here
News Release
Friday, February 19, 2016
Researchers find link between death of tumor-support cells and cancer metastasis
NIH-funded scientists find the lifespan of supportive cells in a tumor may control the spread of cancer.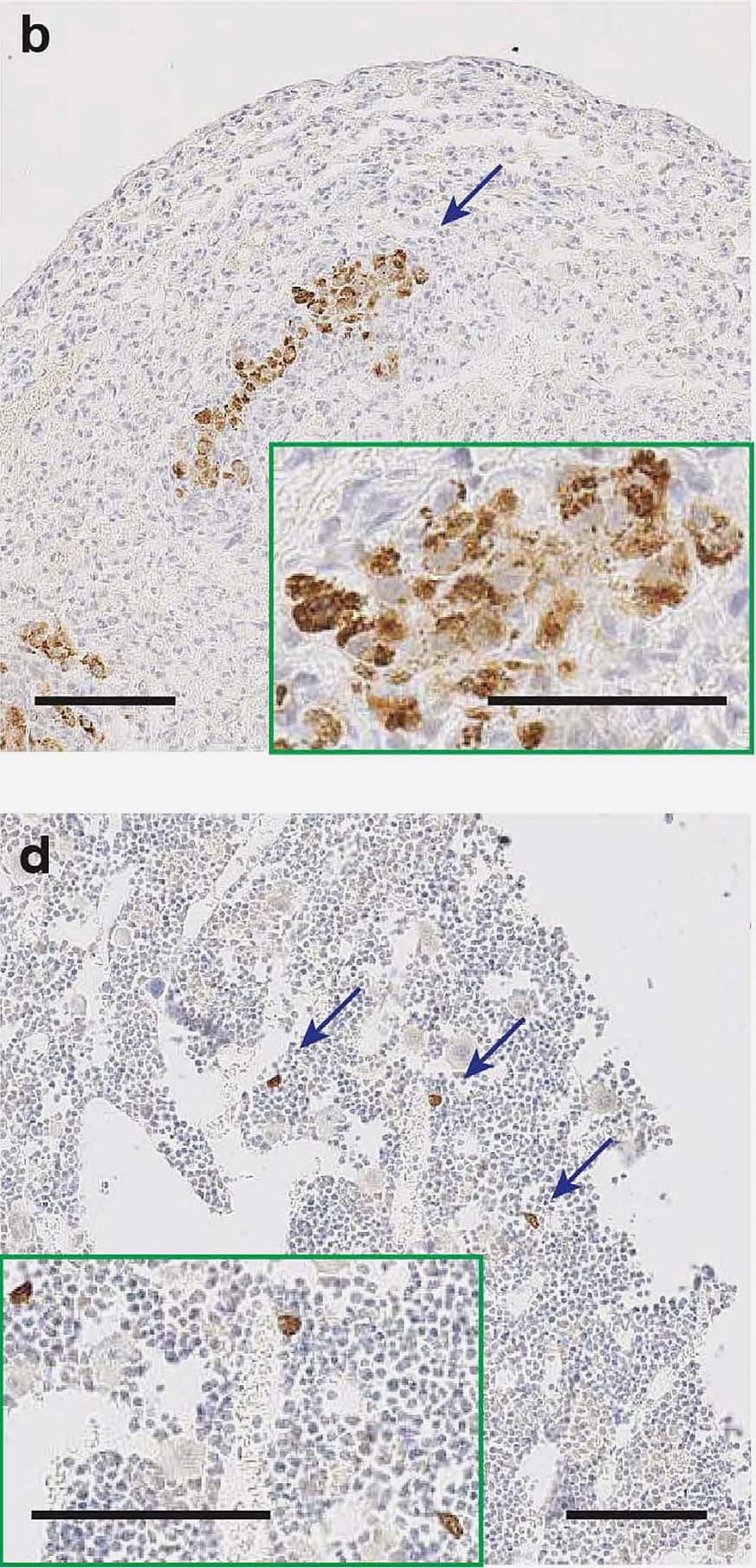 Biju Parekkadan, Massachusetts General Hospital
Researchers have discovered that eliminating cells thought to aid tumor growth did not slow or halt the growth of cancer tumors. In fact, when the cancer-associated fibroblasts (CAFs), were eliminated after 10 days, the risk of metastasis of the primary tumor to the lungs and bones of mice increased dramatically. Scientists used bioengineered CAFs equipped with genes that caused those cells to self-destruct at defined moments in tumor progression. The study, published in Scientific Reports on Feb. 19, was conducted by researchers funded by the National Institute of Biomedical Imaging and Bioengineering (NIBIB) at Massachusetts General Hospital (MGH). NIBIB is part of the National Institutes of Health.
What causes cancer to grow and metastasize is not well understood by scientists. CAFs are thought to be fibroblast cells native to the body that cancer cells hijacks and use to sustain their growth. However, because fibroblasts are found throughout the human body, it can be difficult to follow and study cancer effects on these cells.
"This work underscores two important things in solving the puzzle that is cancer," said Rosemarie Hunziker, Ph.D., program director for Tissue Engineering at NIBIB. "First, we are dealing with a complex disease with so many dimensions that we are really only just beginning to describe it.  Second, this approach shows the power of cell engineering — manipulating a key cell in the cancer environment has led to a significant new understanding of how cancer grows and how it might be controlled in the future."
Biju Parekkadan, Ph.D., assistant professor of surgery and bioengineering at MGH, and his team designed an experiment with the goal of better understanding the cellular environment in which tumors exist (called tumor microenvironment or TME), and the role of CAFs in tumor growth. In an effort to understand whether targeting CAFs could limit the growth of breast cancer tumors implanted in mice, they bioengineered CAFs with a genetic "kill switch." The cells were designed to die when exposed to a compound that was not toxic to the surrounding cells.
Parekkadan and his team chose two different stages of tumor growth in which the CAFs were killed off after the tumor was implanted. When the CAFs were eliminated on the third or fourth day, they found no major difference in tumor growth or risk of metastasis compared with the tumors where the CAFs remained. However, there was an increase in tumor-associated macrophages — cells that have been associated with metastasis — in this early stage.
When the team waited to eliminate the CAFs until the 10th or 11th day, they discovered that in addition to the increase in macrophages, the cancer was more likely to spread to the lungs and bones of the mice. The unexpected results from this experiment could spur more research into the role of CAFs in cancer growth and metastasis.
"The simplistic thinking about CAFs is that we should probably try to destroy them," said Parekkadan. "There is evidence to support this idea, and until recently, I would have been in that camp as well. But now when looking at the selective removal of CAFs over time using this engineered approach, these results may be a signal that we should more fully investigate the dynamics of the tumor microenvironment and the timing of intervention in cancer treatment."
More research may reveal whether or not there is a scientific basis for targeting CAFs for destruction — and if so, the awareness that timing matters when it comes to the response of the tumor. While neither treatment affected the growth of the initial tumor, it is important to understand that most cancer deaths result from metastases to vital organs rather than from the direct effects of the primary tumor.
This work was also funded by a training grant from the National Institute of Diabetes and Digestive and Kidney Diseases, also part of NIH.
NIBIB's mission is to improve health by leading the development and accelerating the application of biomedical technologies. The Institute is committed to integrating the physical and engineering sciences with the life sciences to advance basic research and medical care. NIBIB supports emerging technology research and development within its internal laboratories and through grants, collaborations, and training. More information is available at the NIBIB website: http://www.nibib.nih.gov.
The NIDDK, part of the NIH, conducts and supports basic and clinical research and research training on some of the most common, severe and disabling conditions affecting Americans. The Institute's research interests include: diabetes and other endocrine and metabolic diseases; digestive diseases, nutrition, and obesity; and kidney, urologic and hematologic diseases. For more information, visit www.niddk.nih.gov.
About the National Institutes of Health (NIH): NIH, the nation's medical research agency, includes 27 Institutes and Centers and is a component of the U.S. Department of Health and Human Services. NIH is the primary federal agency conducting and supporting basic, clinical, and translational medical research, and is investigating the causes, treatments, and cures for both common and rare diseases. For more information about NIH and its programs, visit www.nih.gov.
NIH…Turning Discovery Into Health®