You are here
News Release
Monday, September 30, 2013
Roughly 14 percent of infants share bed with adult or child
NIH-funded study shows physician advice can reduce potentially life-threatening practice.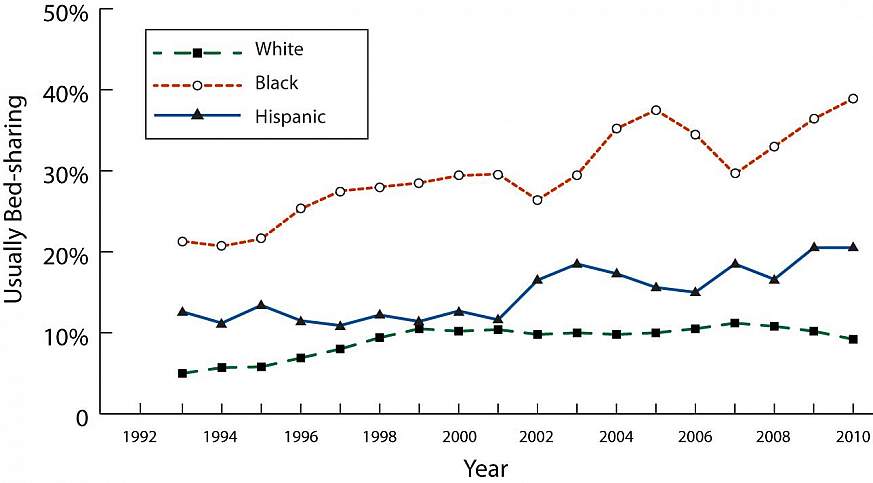 The percentage of nighttime caregivers who reported that an infant usually shares a bed with a parent, another adult, or a child more than doubled between 1993 and 2010, according to researchers at the National Institutes of Health and other institutions.
The researchers also found that advice from physicians could significantly reduce the potentially life threatening practice. Caregivers who perceived physicians' attitude as against sharing a bed were about 34 percent less likely to report that the infant usually shared a bed than were caregivers who received no advice.
Based on responses from nearly 20,000 caregivers, the researchers reported that the proportion of infants sharing a bed with another person rose from 6.5 percent to 13.5 percent over the 17-year period of the study. The majority of bed sharing, 85 percent, was with parents.
Sharing a bed, with an adult or another child, increases an infant's risk of death from sudden infant death syndrome, or SIDS or other sleep-related causes. To reduce infants' risk of sleep-related deaths, the American Academy of Pediatrics (AAP) recommends that infants sleep in the same room, but not in the same bed, as caregivers. Cribs, portable cribs bassinets, or playards (playpens) that meet safety standards can be placed next to the caregiver's bed. Infants should not be placed to sleep on an adult bed at any time.
Caregivers were much less likely to report that the infant shared a bed if they perceived that their physicians were against the practice. The researchers also found that if physicians gave advice that caregivers perceived as neutral regarding bed sharing, their infants were more likely to bed-share than were infants of caregivers whose physicians didn't give them any advice at all.
"It's important for doctors to discuss sleeptime habits with new parents in order to convey the risks of bed sharing clearly," said Marian Willinger, Ph.D., study co-author and special assistant for SIDS at the Eunice Kennedy Shriver National Institute of Child Health and Human Development (NICHD).
First author Eve R. Colson, M.D., of the Yale University School of Medicine, in New Haven, Conn., conducted the research with Dr. Willinger and colleagues from Yale, Boston University, and the Massachusetts Department of Public Health, in Boston.
Their findings appear in the JAMA Pediatrics.
SIDS is the unexplained death of a child within the first year of life. In 1992, the AAP issued its recommendation that infants be put to sleep on their backs. Two years later, the NICHD and its partners launched the Back to Sleep campaign. The rate of SIDS in the United States has fallen 50 percent since. However, in that time, researchers have reported an increase in other unexpected infant deaths, resulting, for example, from accidental suffocation, entrapment in bedding material or other causes.
Based on new recommendations from the AAP, in 2011 the NICHD and its partners expanded the Back to Sleep campaign to include information that parents and caregivers can use to reduce the risk of other unexpected sleep-related causes of infant death, in addition to SIDS. These include entrapment and suffocation. The expanded campaign is known as Safe to Sleep.
Each year from 1993 to 2010, researchers with the National Infant Sleep Position Study surveyed more than 1,000 caregivers about their infant sleep practices. About 85 percent of respondents were the infant's mother.
The researchers found that over the course of the17-year study, bed-sharing became more common among all ethnic and racial groups. Using a three-year moving average calculation, they found that among white infants, the proportion of those usually bed-sharing increased from 4.9 percent in 1993 to 9.1 percent in 2010. For Hispanic infants, the percent usually bed-sharing rose from 12.5 percent in 1993 to 20.5 percent in 2010. With African-American infants, the percentage of those usually bed-sharing increased from 21.2 percent to 38.7 percent during the same time period.
"The disparity in nighttime habits has increased in recent years," said Dr. Colson. "Because African-American infants are already at increased risk for SIDS, this trend is a cause for concern."
More than half of the caregivers surveyed since 2006 reported that they had not received advice from their doctor about bed sharing.
About the Eunice Kennedy Shriver National Institute of Child Health and Human Development (NICHD): The NICHD sponsors research on development, before and after birth; maternal, child, and family health; reproductive biology and population issues; and medical rehabilitation. For more information, visit the Institute's website at http://www.nichd.nih.gov.
About the National Institutes of Health (NIH): NIH, the nation's medical research agency, includes 27 Institutes and Centers and is a component of the U.S. Department of Health and Human Services. NIH is the primary federal agency conducting and supporting basic, clinical, and translational medical research, and is investigating the causes, treatments, and cures for both common and rare diseases. For more information about NIH and its programs, visit www.nih.gov.
NIH…Turning Discovery Into Health®