You are here
News Release
Sunday, July 23, 2006
Shared Ancestor to Humans, Present-day Non-human Primates May Be Linchpin in the Evolution of Language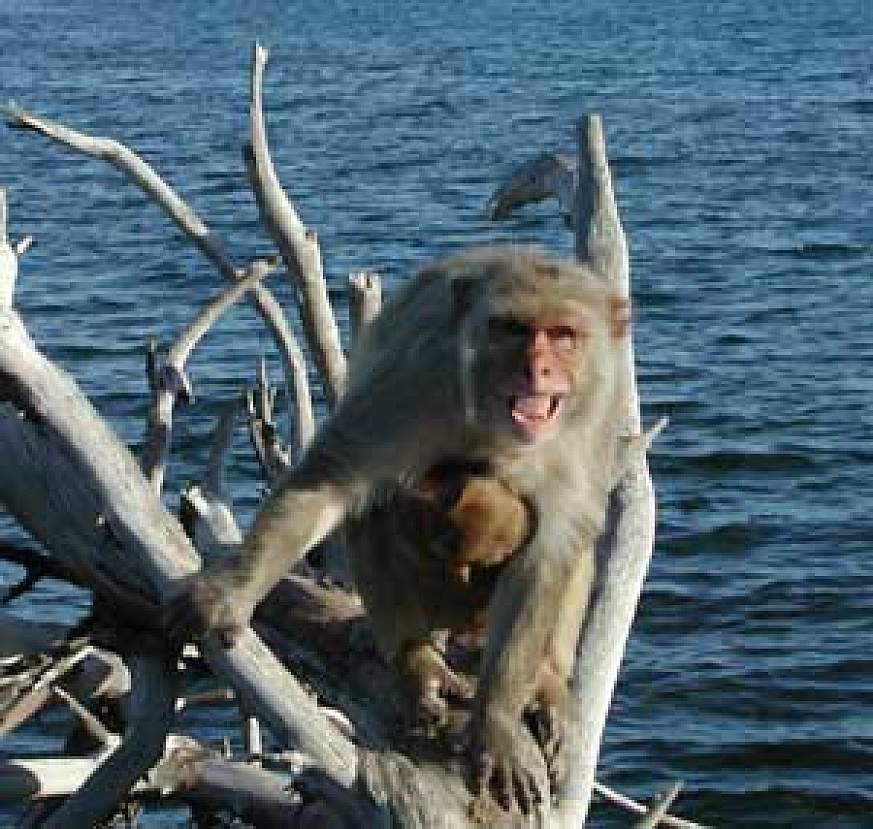 Marc Hauser, Ph.D., Harvard University
 When contemplating the coos and screams of a fellow member of its species, the rhesus monkey, or macaque, makes use of brain regions that correspond to the two principal language centers in the human brain, according to research conducted by scientists at the National Institute on Deafness and Other Communication Disorders (NIDCD) and the National Institute of Mental Health (NIMH), two of the National Institutes of Health. The finding, published July 23 in the advance online issue of Nature Neuroscience, bolsters the hypothesis that a shared ancestor to humans and present-day non-human primates may have possessed the key neural mechanisms upon which language was built. Principal collaborators on the study are Allen Braun, M.D., chief of NIDCD's Language Section, Alex Martin, Ph.D., chief of NIMH's Cognitive Neuropsychology Section, and Ricardo Gil-da-Costa, Gulbenkian Science Institute, Oeiras, Portugal, who conducted the study during a three-year joint appointment at the NIDCD and NIMH.
"This intriguing finding brings us closer to understanding the point at which the building blocks of language appeared on the evolutionary timeline," says James F. Battey, Jr., M.D., Ph.D., director of the NIDCD. "While the fossil record cannot answer this question for us, we can turn to the here and now — through brain imaging of living non-human primates — for a glimpse into how language, or at least the neural circuitry required for language, came to be."
While non-human primates do not possess language, they are able to communicate about such things as food, identity, or danger to members of their species by way of vocalizations that are interpreted and acted upon. In humans, the two main regions of the brain that are involved in encoding this type of information in language are known as Broca's area and Wernicke's area, named for the physician-researchers who discovered them. Both areas are located along the Sylvian fissure (and are therefore referred to as perisylvian areas) with Broca's area located in the frontal lobe and Wernicke's area located behind it in the temporal and parietal lobes. Scientists once believed that Broca's area was chiefly involved in language production while Wernicke's area dealt more with comprehension, however current thinking suggests that the two areas work in tandem with one another. Although monkeys are not able to perform the mental activities required for language, their brains possess regions that are structurally similar to the perisylvian areas in humans in both hemispheres. The functional significance of such similarities, however, has been unclear up to this point.
To measure brain activity, the researchers injected water labeled with oxygen-15, a biologically safe, fast-degrading radioisotope, into the bloodstream of three adult macaques. As neural activity increases in a given region of the brain, blood — and the radioactive water it carries — rushes into that region. Using the brain imaging technology known as positron emission tomography (PET), researchers capture an image of the radioactive areas, thus highlighting the regions of heightened activity. In this way, brain scans were taken of the monkeys as they listened to three types of sounds: the recorded coos and screams of other rhesus monkeys, and assorted non-biological sounds, such as musical instruments and computer-synthesized sounds, which matched the vocalizations in frequency, rate, scale, and duration. For each monkey, 16 scans were recorded for each sound type and compared.
Although the coo of a monkey is acoustically very different from a high-pitched scream, the researchers found that both of these meaningful species-specific sounds elicited significantly more activity than the non-biological control stimuli in the same three regions of the macaque's brain. Moreover, these regions correspond to the key language centers in humans, with the ventral premotor cortex (PMv) corresponding to Broca's area, and the temporoparietal area (Tpt) and posterior parietal cortex (PPC) corresponding to Wernicke's area. In contrast, the non-biological sounds — which were acoustically similar to the coos and screams but had no meaning for the animals — elicited significantly less activity in these regions; rather, they were associated with greater activation of the brain's primary auditory areas. (The reason for this, the researchers suggest, is that these sounds were new to the monkeys and the primary auditory areas may be especially attuned to novel stimuli.)
Based on these findings, the researchers suggest that the communication centers in the brain of the last common ancestor to macaques and humans — particularly those centers used for interpreting species-specific vocalizations — may have been recruited during the evolution of language in humans. In the macaque, these areas may currently play a parallel, prelinguistic function, in which monkeys are able to assign meaning to species-specific sounds. In addition, in light of an earlier study published by the same group, in which species-specific vocalizations of macaques activated brain regions that process higher-order visual and emotional information, the researchers suggest that the language areas of the brain may have evolved from a much larger system used to extract meaning from socially relevant situations — a system in which humans and non-human primates may share similar neural pathways.
Further studies to be conducted include investigating which regions of the non-human primate brain are activated when animals listen to meaningful auditory stimuli other than species-specific vocalizations, such as a predators' calls, sounds made by humans, or other relevant environmental stimuli. In addition, they are interested in studying the pattern of brain activation elicited by non-auditory stimuli that convey the same meaning, such as visual images of monkeys producing vocalizations.
Other institutions represented on the study include Harvard University, Cambridge, MA; University College London/Institute of Child Health, London; and the University of Maryland, College Park. The work was supported by NIDCD, NIMH, and Fundação para a Ciência e Tecnologia, Portugal. 
NIDCD supports and conducts research and research training on the normal and disordered processes of hearing, balance, smell, taste, voice, speech and language and provides health information, based upon scientific discovery, to the public. For more information about NIDCD programs, see the Web site at www.nidcd.nih.gov.
The National Institute of Mental Health (NIMH) mission is to reduce the burden of mental and behavioral disorders through research on mind, brain, and behavior. More information is available at the NIMH website, http://www.nimh.nih.gov. 
About the National Institutes of Health (NIH): NIH, the nation's medical research agency, includes 27 Institutes and Centers and is a component of the U.S. Department of Health and Human Services. NIH is the primary federal agency conducting and supporting basic, clinical, and translational medical research, and is investigating the causes, treatments, and cures for both common and rare diseases. For more information about NIH and its programs, visit www.nih.gov.
NIH…Turning Discovery Into Health®