You are here
News Release
Wednesday, October 26, 2016
Skin patch to treat peanut allergy shows benefit in children
NIH-funded study suggests patch is safe, convenient mode of treatment.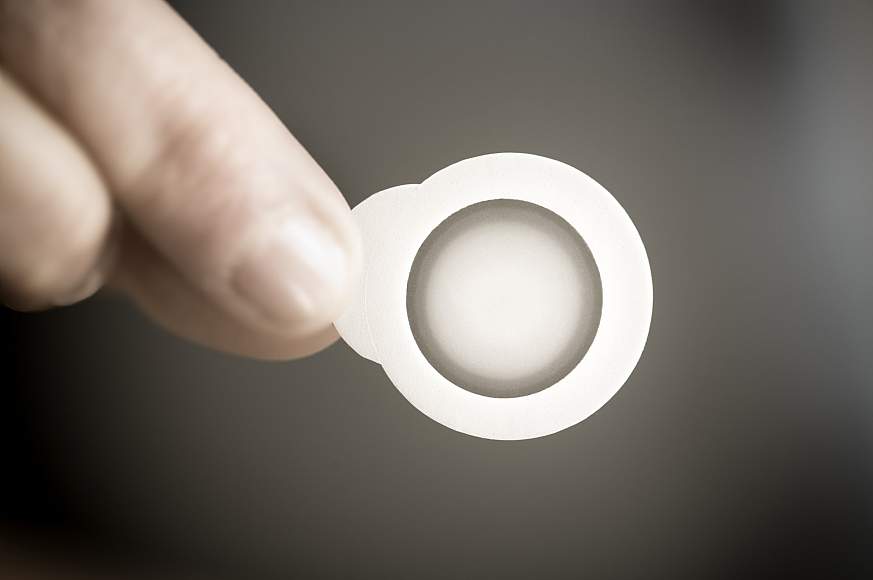 DBV Technologies, Copyright 2016
A wearable patch that delivers small amounts of peanut protein through the skin shows promise for treating children and young adults with peanut allergy, with greater benefits for younger children, according to one-year results from an ongoing clinical trial. The treatment, called epicutaneous immunotherapy or EPIT, was safe and well-tolerated, and nearly all participants used the skin patch daily as directed.
The ongoing trial is sponsored by the National Institute of Allergy and Infectious Diseases (NIAID), part of the National Institutes of Health, and conducted by the NIAID-funded Consortium of Food Allergy Research (CoFAR), which is led by Hugh Sampson, M.D., of Icahn School of Medicine at Mount Sinai in New York. Stacie Jones, M.D., of the University of Arkansas for Medical Sciences and Arkansas Children's Hospital, chairs the study. One-year outcomes are published online on October 26 in the Journal of Allergy and Clinical Immunology.
"To avoid potentially life-threatening allergic reactions, people with peanut allergy must be vigilant about the foods they eat and the environments they enter, which can be very stressful," said NIAID Director Anthony S. Fauci, M.D. "One goal of experimental approaches such as epicutaneous immunotherapy is to reduce this burden by training the immune system to tolerate enough peanut to protect against accidental ingestion or exposure."
CoFAR researchers at five study sites randomly assigned 74 peanut-allergic volunteers aged 4 to 25 years to treatment with either a high-dose (250 micrograms peanut protein), low-dose (100 micrograms peanut protein), or placebo patch. The investigators assessed peanut allergy at the beginning of the study with a supervised, oral food challenge with peanut-containing food. The patches were developed and provided by the biopharmaceutical company DBV Technologies under the trade name Viaskin. Each day, study participants applied a new patch to their arm or between their shoulder blades.
After one year, researchers assessed each participant's ability to consume at least 10 times more peanut protein than he or she was able to consume before starting EPIT. The low-dose and high-dose regimens offered similar benefits, with 46 percent of the low-dose group and 48 percent of the high-dose group achieving treatment success, compared with 12 percent of the placebo group. In addition, the peanut patches induced immune responses similar to those seen with other investigational forms of immunotherapy for food allergy. Investigators observed greater treatment effects among children aged 4 to 11 years, with significantly less effect in participants aged 12 years and older.
"The clinical benefit seen in younger children highlights the promise of this innovative approach to treating peanut allergy," said Daniel Rotrosen, M.D., director of NIAID's Division of Allergy, Immunology and Transplantation (DAIT). "Epicutaneous immunotherapy aims to engage the immune system in the skin to train the body to tolerate small amounts of allergen, whereas other recent advances have relied on an oral route that appears difficult for approximately 10 to 15 percent of children and adults to tolerate."
Nearly all of the study participants followed the EPIT regimen as directed. None reported serious reactions to the patch, although most experienced mild skin reactions, such as itching or rash, at the site of patch application.
"The high adherence to the daily peanut patch regimen suggests that the patch is easy-to-use, convenient and safe," said Marshall Plaut, chief of DAIT's Food Allergy, Atopic Dermatitis and Allergic Mechanisms Section. "The results of this study support further investigation of epicutaneous immunotherapy as a novel approach for peanut allergy treatment."
Additional studies in larger groups of children are needed before the therapy could be approved for wider use. The CoFAR study continues to assess the long-term safety and effectiveness of peanut EPIT. After the first year, all participants began receiving high-dose daily patches, and they will continue in the study for a total of two and a half years of EPIT.
The work was funded by NIAID, NIH, under award numbers U19AI066738 and U01AI066560. Additional support was provided by NIH's National Center for Advancing Translational Sciences. The ClinicalTrials.gov identifier for the study Epicutaneous Immunotherapy for Peanut Allergy (CoFAR6) is NCT01904604. The CoFAR clinical sites involved in the trial are Arkansas Children's Hospital in Little Rock, National Jewish Health in Denver, The Johns Hopkins University in Baltimore, Icahn School of Medicine at Mount Sinai in New York and the University of North Carolina at Chapel Hill School of Medicine.
NIAID conducts and supports research — at NIH, throughout the United States, and worldwide — to study the causes of infectious and immune-mediated diseases, and to develop better means of preventing, diagnosing and treating these illnesses. News releases, fact sheets and other NIAID-related materials are available at https://www.niaid.nih.gov.
About the National Institutes of Health (NIH): NIH, the nation's medical research agency, includes 27 Institutes and Centers and is a component of the U.S. Department of Health and Human Services. NIH is the primary federal agency conducting and supporting basic, clinical, and translational medical research, and is investigating the causes, treatments, and cures for both common and rare diseases. For more information about NIH and its programs, visit www.nih.gov.
NIH…Turning Discovery Into Health®
Reference
SM Jones et al. Epicutaneous immunotherapy for the treatment of peanut allergy in children and young adults. Journal of Allergy and Clinical Immunology DOI: 10.1016/j.jaci.2016.08.017 (2016).