You are here
News Release
Tuesday, June 25, 2013
Vietnam vets with PTSD more than twice as likely to have heart disease
NIH-funded study finds PTSD is a risk factor for heart disease among Vietnam vets.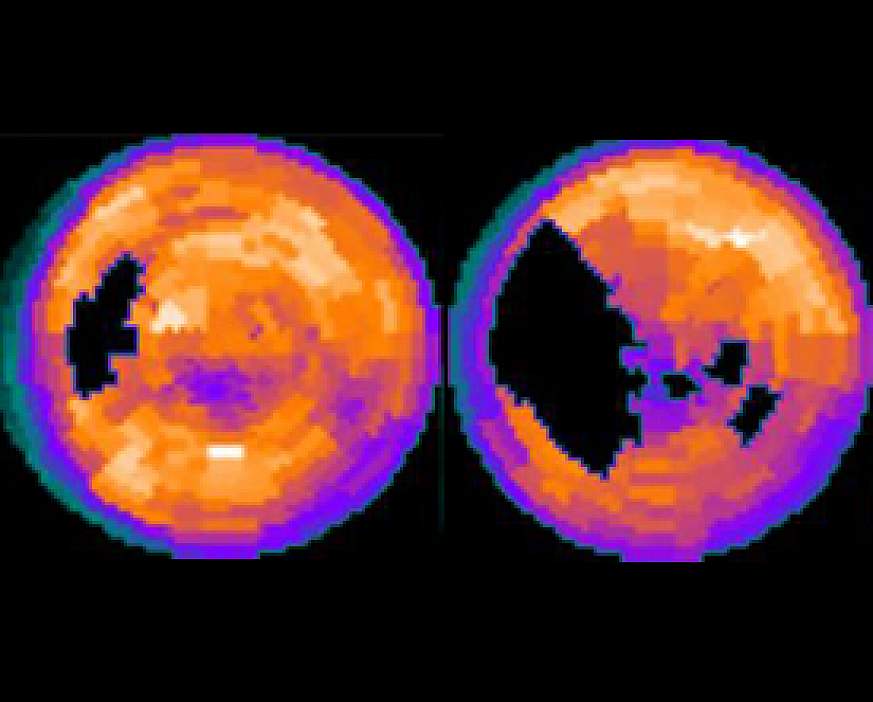 Viola Vaccarino, M.D., Ph.D.
Male twin Vietnam veterans with post-traumatic stress disorder (PTSD) were more than twice as likely as those without PTSD to develop heart disease during a 13-year period, according to a study supported by the National Institutes of Health.
This is the first long-term study to measure the association between PTSD and heart disease using objective clinical diagnoses combined with cardiac imaging techniques.
"This study provides further evidence that PTSD may affect physical health," said Gary H. Gibbons, M.D., director of the NIH's National Heart, Lung, and Blood Institute (NHLBI), which partially funded the study. "Future research to clarify the mechanisms underlying the link between PTSD and heart disease in Vietnam veterans and other groups will help to guide the development of effective prevention and treatment strategies for people with these serious conditions."
The findings appear online today in the Journal of the American College of Cardiology and in the September 10 print issue.
Researchers from the Emory University Rollins School of Public Health in Atlanta, along with colleagues from other institutions, assessed the presence of heart disease in 562 middle-aged twins (340 identical and 222 fraternal) from the Vietnam Era Twin Registry. The incidence of heart disease was 22.6 percent in twins with PTSD (137 individuals) and 8.9 percent in those without PTSD (425 individuals). Heart disease was defined as having a heart attack, having an overnight hospitalization for heart-related symptoms, or having undergone a heart procedure. Nuclear scans, used to photograph blood flow to the heart, showed that individuals with PTSD had almost twice as many areas of reduced blood flow to the heart as individuals without PTSD.
The use of twins, identical and fraternal, allowed researchers to control for the influences of genes and environment on the development of heart disease and PTSD.
"This study suggests a link between PTSD and cardiovascular health," said lead researcher Viola Vaccarino, M.D., Ph.D., professor in the department of medicine at Emory University and chair of the department of epidemiology at the Rollins School of Public Health. "For example, repeated emotional triggers during everyday life in persons with PTSD could affect the heart by causing frequent increases in blood pressure, heart rate, and heartbeat rhythm abnormalities that in susceptible individuals could lead to a heart attack."
When researchers compared the 234 twins where one brother had PTSD and the other did not, the incidence of heart disease was almost double in those with PTSD compared to those without PTSD (22.2 percent vs. 12.8 percent).
The effects of PTSD on heart disease remained strong even after researchers accounted for lifestyle factors such as smoking, physical activity level, and drinking; and major depression and other psychiatric diagnoses. Researchers found no link between PTSD and well-documented heart disease risk factors such as a history of hypertension, diabetes or obesity, suggesting that the disease may be due to physiologic changes, not lifestyle factors.
Affecting nearly 7.7 million U.S. adults, PTSD is an anxiety disorder that develops in a minority of people after exposure to a severe psychological trauma such as a life-threatening and terrifying event. People with PTSD may have persistent frightening thoughts and memories of their trauma, may experience sleep problems, often feel detached or numb, and may be easily startled. According to a 2006 analysis of military records from the National Vietnam Veterans Readjustment Study, between 15 and 19 percent of Vietnam veterans experienced PTSD at some point after the war.
The study used state-of-the-art imaging scans with positron emission tomography, which measures blood flow to the heart muscle and identifies areas of reduced blood flow, at rest and following stress.
The study was supported by grants from NHLBI (K24HL077506), (R01 HL68630), and (R21HL093665), the National Institute on Aging (R01 AG026255), the National Institute of Mental Health (K24 MH076955), and by the American Heart Association. Support also was provided by the National Center for Advancing Translational Sciences (UL1TR000454) and the National Center for Research Resources (MO1-RR00039).
For additional information or to arrange an interview with Susan M. Czajkowski, Ph.D., program officer in the NHLBI's Clinical Applications and Prevention Branch, please contact the NHLBI Office of Communications at 301-496-4236 or nhlbi_news@nhlbi.nih.gov. To arrange an interview with Dr. Vaccarino, please contact Melva Robertson at the Emory School of Medicine at 404-727-5692 or melva.robertson@emory.edu.
Part of the National Institutes of Health, the National Heart, Lung, and Blood Institute (NHLBI) plans, conducts, and supports research related to the causes, prevention, diagnosis, and treatment of heart, blood vessel, lung, and blood diseases; and sleep disorders. The Institute also administers national health education campaigns on women and heart disease, healthy weight for children, and other topics. NHLBI press releases and other materials are available online at http://www.nhlbi.nih.gov.
About the National Institutes of Health (NIH): NIH, the nation's medical research agency, includes 27 Institutes and Centers and is a component of the U.S. Department of Health and Human Services. NIH is the primary federal agency conducting and supporting basic, clinical, and translational medical research, and is investigating the causes, treatments, and cures for both common and rare diseases. For more information about NIH and its programs, visit www.nih.gov.
NIH…Turning Discovery Into Health®