You are here
October 20, 2006
Antipsychotic Medications Used in Alzheimer's Patients Questioned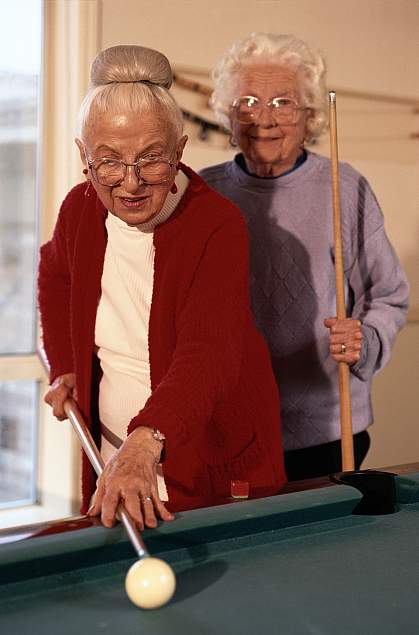 More than half of those who have Alzheimer's disease get symptoms such as delusions, aggression, agitation and hallucinations. There are few options for treating these symptoms, so doctors often prescribe antipsychotic medications even though they're not FDA-approved for people with Alzheimer's disease. Second-generation (atypical) antipsychotic drugs were thought to be at least as effective as older antipsychotic drugs but to cause fewer troubling side effects. According to the first phase of a large-scale clinical trial, however, the advantages aren't so clear.
The $16.9 million, five-year trial is known as the Clinical Antipsychotic Trial of Intervention Effectiveness study for Alzheimer's disease (CATIE-AD). It involved 421 participants from around the country who had Alzheimer's-related dementia with delusions, aggression, hallucinations or agitation severe enough to disrupt their lives. An essential component of the trial, which was funded by NIH's National Institute of Mental Health (NIMH), was caregiver participation. The caregivers provided input to the study doctors on the patients'progress and reactions to the medications.
In the trial's first phase, patients were randomly selected to receive olanzapine (Zyprexa), quetiapine (Seroquel), risperidone (Risperdal) — all atypical antipsychotic medications — or an inactive placebo pill for comparison. Lead author Dr. Lon Schneider of the University of Southern California's Keck School of Medicine and his colleagues judged each medication's overall benefits and risks by measuring how long a patient stayed on the medication before discontinuing, whatever the reason.
The researchers reported their results in the October 12, 2006, issue of the New England Journal of Medicine. On average, the patients discontinued their medications after about eight weeks, regardless of whether they were taking an active medication or placebo. Some participants did benefit from their treatment; 26-32% of those taking the active medications improved, compared to 21% of those taking placebo. But the antipsychotic medications were also more often associated with troubling side effects, such as sedation, confusion and weight gain. Fifteen to 24% of those taking active medications stopped because of side effects, compared to 5% of those taking placebo.
"The antipsychotic medications may be effective against some symptoms in Alzheimer's patients compared to placebo," Schneider says, "but their tendency to cause intolerable adverse side effects in this vulnerable population offsets their benefits."
Those who discontinued their medications in the first phase of the CATIE-AD trial (82%) went on to subsequent phases. There, they received one of the other medications or citalopram, an antidepressant drug. The results of these phases are being analyzed and will be published later.
Related Links