You are here
May 23, 2011
Breast Cancer Risk Calculator Updated for Asian-Americans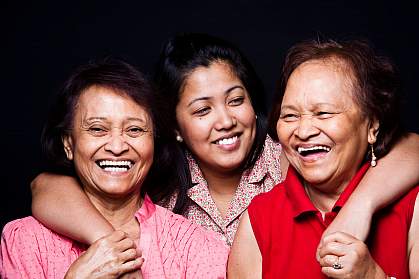 Researchers have developed a more accurate method for estimating breast cancer risk for Asian and Pacific Islander American (APA) women.
The Breast Cancer Risk Assessment Tool was designed by researchers at NIH's National Cancer Institute (NCI) to estimate a woman's risk of developing invasive breast cancer during the next 5 years and over her lifetime. Led by Dr. Mitchell H. Gail, the scientists developed an algorithm that uses information about personal and family medical history. The tool is now used by professionals to counsel women about breast cancer risk and to determine eligibility for breast cancer prevention trials.
The Breast Cancer Risk Assessment Tool was originally based on data from white women. It was later updated with a new model for estimating risk in African-American women. The tool had a disclaimer about accuracy for APA women because their risk projections were still based on data from white women. Gail and his colleagues set out to develop a model to more accurately project risk for APA women.
The researchers used data from the Asian American Breast Cancer Study (AABCS), which included more than 1,500 APA women, 38% of whom had invasive breast cancer. The factors considered in the new model were the same as in previous models. These included age at first menstrual period, age at first live birth, number of close relatives who had breast cancer and number of previous benign breast biopsy examinations. Data on the risks from these factors were then combined with cancer incidence rates from NCI's Surveillance, Epidemiology and End Results program. Finally, the resulting algorithm was tested using data from over 4,000 APA women in the NIH Women's Health Initiative study.
The new statistical model, named after the AABCS, was described online on May 11, 2011, in the Journal of the National Cancer Institute. The researchers found that the AABCS more accurately predicted breast cancer risk for APA women than did the original risk assessment tool. The new model can assess risk separately for American women who identify themselves as Chinese, Japanese, Filipino, Hawaiian, other Pacific Islander or other Asian. Compared with the AABCS, the researchers found, the original assessment tool overestimated risk for Chinese and Filipino women, and underestimated risk for Hawaiian women.
The Breast Cancer Risk Assessment Tool has now been updated to include the new algorithm, and the disclaimer about accuracy for APA women has been removed. "The new model is the latest step in our ongoing effort to improve NCI's Breast Cancer Risk Assessment Tool by updating it with newly obtained data for specific subgroups of the population," Gail says.
The researchers caution that, like other risk projection models, the AABCS should only be used in consultation with a health professional. These models aren't appropriate for all women. A number of personal factors that can also influence risk aren't considered in the Breast Cancer Risk Assessment Tool. These include a history of breast cancers, radiation treatments and certain genetic mutations.
Related Links