You are here
January 24, 2023
Changing long-term opioid prescribing behavior
At a Glance
Notifying clinicians that one of their patients died of an overdose reduced the amount of opioids they prescribed for up to a year afterwards.
The approach could be a low-cost way to encourage more thoughtful, tailored opioid prescribing.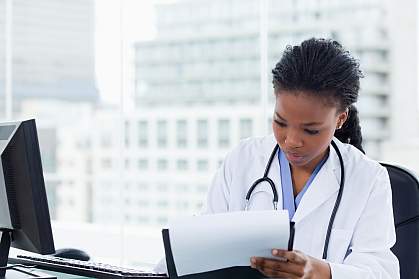 wavebreakmedia / Shutterstock
America's opioid overdose epidemic now claims more than 100,000 lives each year. Many people who develop an opioid use disorder started with opioids that were legally prescribed. These drugs are sometimes prescribed even when other, safer alternatives exist.
A 2018 study by a research team led by Dr. Jason Doctor at the University of Southern California tested the use of a low-cost intervention to reduce new or inappropriate opioid prescriptions. They identified almost 170 people who died of overdoses in a single county in California during a one-year period. They also identified more than 800 clinicians who had written a prescription to one of the deceased within a year of their death. Half of these clinicians were then sent a letter from the county medical examiner informing them of their patient's overdose death. The other half received no notification.
The team tracked opioids prescribed by the clinicians for three months after receiving the letters. Opioid prescriptions from the clinicians who received the letters were almost 10% lower than from those who received no letter. Those who received the letter also started fewer new patients on opioids and wrote fewer prescriptions for higher-dose opioids.
In a follow-up study, the team continued to track prescribing behavior from the same clinicians for a year after receiving the letters. Results appeared in JAMA Network Open on January 6, 2023.
Both groups of clinicians prescribed fewer opioids in the 9 months following the initial study than they did before the letters were sent. But the group of clinicians who received a letter prescribed a 7% smaller quantity of opioids per week than those who did not receive a letter. Opioid prescriptions for new patients also decreased more among those who received the letter, by about 2%. There was no difference in the number of high-dose opioid prescriptions between groups.
These results suggest that the impact of the notification letters on prescribing behavior persisted for up to a year. The researchers propose various reasons for why the letters may have worked. Clinicians may not be fully informed and may underestimate the risks associated with these drugs. The letters may help to keep the harmful effects of opioids in mind when prescribing. Clinicians might also be more cautious in their prescribing when they know they're being monitored.
"Clinicians don't necessarily know a patient they prescribed opioids to has suffered a fatal overdose," Doctor says. "We knew closing this information loop immediately reduced opioid prescriptions. The new study shows this change is not just a temporary blip…. This low-cost intervention has a long-lasting impact."
The researchers are now partnering with Los Angeles County to act on lessons from the research. One possible policy change could be to make such notifications from county medical examiners mandatory.
—by Brian Doctrow, Ph.D.
Related Links
References: Effect of Prescriber Notifications of Patient's Fatal Overdose on Opioid Prescribing at 4 to 12 Months: A Randomized Clinical Trial. Doctor JN, Stewart E, Lev R, Lucas J, Knight T, Nguyen A, Menchine M. JAMA Netw Open. 2023 Jan 3;6(1):e2249877. doi: 10.1001/jamanetworkopen.2022.49877. PMID: 36607639.
Funding: NIH's National Institute on Aging (NIA) and National Institute on Drug Abuse (NIDA); California Health Care Foundation.