You are here
August 28, 2018
Learning about fatal opioid overdoses changes prescribing behavior
At a Glance
Notifying clinicians that one of their patients died of an opioid overdose reduced the number and doses of opioid medications prescribed in the following months.
The approach decreased opioid prescribing while still allowing clinicians to take individual pain-management needs into account.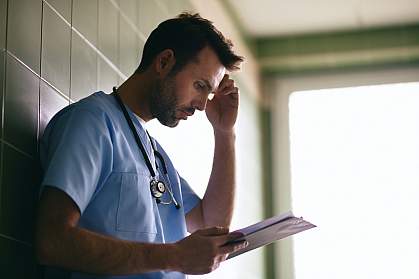 BartekSzewczyk/iStock/Thinkstock.
Every day, more than 100 people nationwide die from an overdose of opioids, including prescription opioids such as oxycodone and fentanyl. Opioids can help some people with pain. However, they are sometimes prescribed when other, safer medications could be used instead.
Previous approaches to reduce opioid prescribing haven't shown strong results. Studies that sent doctors letters pointing out heavy prescribing habits didn't change behavior. Mandatory limits on opioid prescriptions can interfere with the individual pain management needs of patients.
Researchers led by Dr. Jason Doctor from the University of Southern California wanted to see if putting an individual face on the opioid epidemic could alter prescribers' behavior. The team identified 170 people who had a fatal prescription opioid overdose over a year in a single county in California. They located 861 clinicians who'd written at least one prescription to one of the deceased.
The team randomly divided the clinicians into two groups. Half received a letter signed by the county's chief deputy medical examiner. The letter notified the clinician of the overdose death, including their patient's name, address, and age. It also included information on prescription drug monitoring efforts and safe prescribing strategies. The tone of the letter aimed to be supportive, not judgmental. The other half of the clinicians served as a control group and received no information. The study was funded by NIH's National Institute on Aging (NIA). Results were published on August 10, 2018, in Science.
Over a three-month period beginning a month after the letters were mailed, opioid prescribing was almost 10% lower among the clinicians who received the letters compared to the control group. Clinicians who received the letters were 7% less likely to start a new patient on opioids and wrote fewer prescriptions for high-dose opioids.
The letters may have worked for several reasons, the authors explained. One is that people tend to act on recent, high-impact information when making decisions. Another is that health care professionals regularly see patients who refill their prescriptions at the clinic. Without receiving a letter, they may not know a patient has died of overdose.
"We know [that] opioids, though beneficial to some patients with certain conditions, come with high risks that the doctor may not fully grasp when observing patients in the clinic. Providing information about harm that would otherwise go unseen by them gives physicians a clearer picture," Doctor says.
"Interventions that use behavioral insights to nudge clinicians to correct course are powerful, low-cost tools because they maintain the autonomy of the physician to ultimately decide the best course of care for their patient," he concludes.
Related Links
References: Opioid prescribing decreases after learning of a patient's fatal overdose. Doctor JN, Nguyen A, Lev R, Lucas J, Knight T, Zhao H, Menchine M. Science. 2018 Aug 10;361(6402):588-590. doi: 10.1126/science.aat4595. PMID: 30093595.
Funding: NIH's National Institute on Aging (NIA); California Health Care Foundation