You are here
January 15, 2019
Genes linked to abnormal bone density and fracture
At a Glance
Using information from hundreds of thousands of people, researchers produced a detailed analysis of the genetic factors related to bone density.
The identification of several target genes paves the way for developing approaches that may prevent fractures.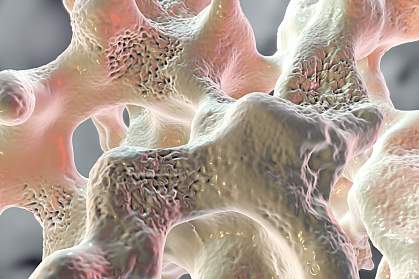 Dr_Microbe / iStock / Getty Images Plus
Abnormally low bone mineral density (BMD), known as osteoporosis, is a common health problem that runs in families. About 1 of every 4 women and 1 of every 20 men over 65 have osteoporosis. As these people age, the composition of their bone tissue changes, and voids form to make their bone porous. This condition increases the risk of bone fractures, which is a significant health challenge for older adults.
Previous studies have identified certain genetic factors related to BMD. To further investigate genetic variations associated with BMD and fracture, an international research team led by Dr. Brent Richards at McGill University analyzed hundreds of thousands of people's genomes. The study was supported in part by NIH's National Institute of Arthritis and Musculoskeletal and Skin Diseases (NIAMS). Results were published on December 31, 2018, in Nature Genetics.
First, the research team analyzed the UK Biobank's collection of genomes from more than 400,000 white British participants. The researchers identified 518 BMD-related regions of the genome (loci), 301 of which were previously unknown.
Next, the researchers analyzed genomes from the UK Biobank for fracture risk. They found evidence of 20,122 fractures using medical history, and participants reported 48,818 fractures. The team was able to identify 14 genetic variations associated with fracture that mapped to 13 loci. They then confirmed these associations using personal genetics data from hundreds of thousands of people collected by 23andMe, Inc. Using the larger data set, they also showed that the genetic factors for lower BMD were linked to increased risk of bone fracture.
Next, the researchers developed a method to use their data to identify genes likely to influence bone density and strength. They identified 126 target genes. The analysis suggested that a gene called DAAM2 was important, so they chose it for more detailed analysis.
In a series of lab tests with bone cells and genetically modified mice, the scientists showed that DAAM2 influences bone density, mineralization, porosity, and strength. The team also highlighted five other genes that preliminary work suggests are important for BMD and fracture: CBX1, WAC, DSCC1, RGCC, and YWHAE.
"Although it might seem overwhelming to sort through the many genes we found to be associated with bone density, we are able to focus on those with the greatest effect to potentially target for drug development," explains coauthor Dr. Douglas Kiel of Harvard Medical School.
"Our findings represent significant progress in highlighting drug development opportunities," Richards says. "This set of genetic changes that influence BMD provides drug targets that are likely to be helpful for osteoporotic fracture prevention."
This work may also lead to the eventual development of more accurate methods to estimate a person's risk for having weaker bones. That could potentially help guide lifestyle choices, such as physical activity and diet, and appropriate screening.
—by Geri Piazza
Related Links
References: An atlas of genetic influences on osteoporosis in humans and mice. Morris JA, Kemp JP, Youlten SE, Laurent L, Logan JG, Chai RC, Vulpescu NA, Forgetta V, Kleinman A, Mohanty ST, Sergio CM, Quinn J, Nguyen-Yamamoto L, Luco AL, Vijay J, Simon MM, Pramatarova A, Medina-Gomez C, Trajanoska K, Ghirardello EJ, Butterfield NC, Curry KF, Leitch VD, Sparkes PC, Adoum AT, Mannan NS, Komla-Ebri DSK, Pollard AS, Dewhurst HF, Hassall TAD, Beltejar MG; 23andMe Research Team, Adams DJ, Vaillancourt SM, Kaptoge S, Baldock P, Cooper C, Reeve J, Ntzani EE, Evangelou E, Ohlsson C, Karasik D, Rivadeneira F, Kiel DP, Tobias JH, Gregson CL, Harvey NC, Grundberg E, Goltzman D, Adams DJ, Lelliott CJ, Hinds DA, Ackert-Bicknell CL, Hsu YH, Maurano MT, Croucher PI, Williams GR, Bassett JHD, Evans DM, Richards JB. Nat Genet. 2018 Dec 31. doi: 10.1038/s41588-018-0302-x. [Epub ahead of print]. PMID: 30598549.
Funding: NIH's National Institute of Arthritis and Musculoskeletal and Skin Diseases (NIAMS) and National Institute of General Medical Sciences (NIGMS); Canadian Institutes of Health Research; Canadian Foundation for Innovation; Fonds de Recherche Santé Québec; Wellcome Trust; Medical Research Council; European Union; National Institute for Health Research-funded BioResource, Clinical Research Facilities, and Biomedical Research Centre; National Health and Medical Research Council; University of Queensland; Arthritis Research UK; Mrs. Janice Gibson and the Ernest Heine Family Foundation; Israel Science Foundation; Netherlands Organization for Health Research and Development; Australian Government Research Training Program; Swedish Research Council; Swedish Foundation for Strategic Research; Sahlgrenska University Hospital; Lundberg Foundation; European Calcified Tissue Society; Torsten Söderberg Foundation; Ragnar Söderberg Foundation; Novo Nordisk Foundation; and Knut and Alice Wallenberg Foundation.