You are here
June 25, 2012
Genetics May Guide Ways to Quit Smoking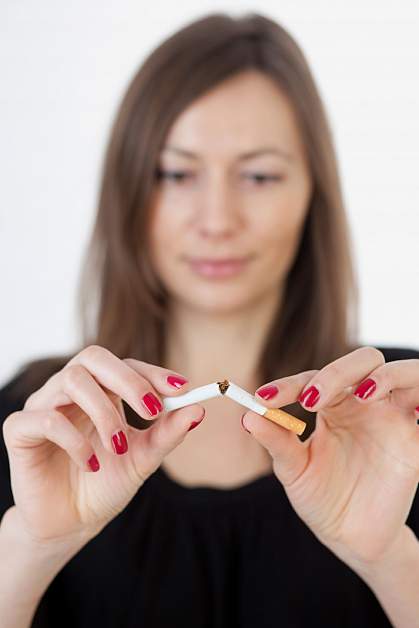 A new study shows that genetic information can help predict whether medications will be likely to help a person quit smoking. The study brings health care providers a step closer to providing individualized treatment plans to help smokers kick the habit.
Tobacco use is the most preventable cause of disease, disability and death in the United States. Smoking and exposure to secondhand smoke results in more than 440,000 preventable deaths each year—about 1 in 5 U.S. deaths overall. Another 8.6 million people live with a serious illness caused by smoking. Yet over 46 million U.S. adults continue to smoke cigarettes.
Many smokers would like to quit but find that it can be a difficult and frustrating process. Previous studies have found that certain genetic variations influence the chances of successfully quitting. In a new study, a team of researchers led by Dr. Li-Shiun Chen of Washington University tested whether genetics can be used to personalize therapeutic strategies. The work was supported by several NIH components, including the National Institute on Drug Abuse (NIDA), National Human Genome Research Institute (NHGRI) and National Cancer Institute (NCI). The study appeared early online on May 30, 2012, in the American Journal of Psychiatry.
The scientists focused on specific variations in a cluster of nicotinic receptor genes, CHRNA5-CHRNA3-CHRNB4. Prior studies had shown that this cluster contributes to nicotine dependence and a pattern of heavy smoking. Using data on over 5,000 smokers from a previous study supported by NIH's National Heart Lung and Blood Institute (NHLBI), the researchers found that people carrying the high-risk form of the gene cluster reported a 2-year delay in the median quit age compared to those with the low-risk version.
The researchers next carried out a clinical trial. They randomly divided more than 1,000 smokers into 6 groups. One received only a series of brief counseling sessions. The others received the sessions plus 1 of 5 treatments: nicotine patch, nicotine lozenge, the medication bupropion (Zyban), nicotine patch and nicotine lozenge, or bupropion and nicotine lozenge.
Eight weeks after quitting, nearly half the participants had abstained from smoking. When given only counseling, those with the high-risk gene cluster were more likely to fail in their quit attempts than those with the low-risk cluster. However, medications increased the likelihood of success in the high-risk groups. Those with the highest risk had a 3-fold higher success rate with active treatment than with counseling only. In the low-risk group, medication added no significant benefits over counseling only. The impact of genetic variation on success was similar when compared across the other treatment options.
"We found that the effects of smoking cessation medications depend on a person's genes," Chen says. "If smokers have the risk genes, they don't quit easily on their own and will benefit greatly from the medications. If smokers don't have the risk genes, they are likely to quit successfully without the help of medications such as nicotine replacement or bupropion."
"This study builds on our knowledge of genetic vulnerability to nicotine dependence, and will help us tailor smoking cessation strategies accordingly," comments NIDA Director Dr. Nora D. Volkow.
Related Links
References: Am J Psychiatry. 2012 May 30. doi: 10.1176/appi.ajp.2012.11101545. [Epub ahead of print]. PMID: 22648373