You are here
February 12, 2007
Lavender and Tea Tree Oils May Cause Breast Growth in Boys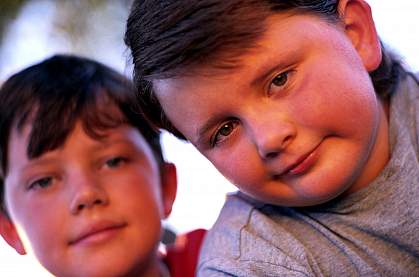 A new study suggests that repeated topical use of products containing lavender oil and/or tea tree oil may cause prepubertal gynecomastia, a rare condition that results in enlarged breast tissue in boys prior to puberty.
Doctors can seldom pinpoint the cause of prepubertal gynecomastia. Dr. Clifford Bloch, a pediatric endocrinologist at the University of Colorado at Denver and Health Science Center's School of Medicine, decided to look closer after diagnosing three of his young male patients with the condition. The patients were otherwise healthy Caucasian boys, 4, 7 and 10 years old, with normal hormonal levels when they were diagnosed. Upon questioning their parents, Bloch found that all had used personal care products — soap, skin lotions, shampoos and hair styling products — containing lavender oil, and some of which also contained tea tree oil. In each case, several months after the products were discontinued, the gynecomastia subsided.
Bloch discussed the cases with researchers at NIH's National Institute of Environmental Health Sciences (NIEHS). The NIEHS researchers turned to human cells to test the ability of the oils to modulate or inhibit genes normally affected by estrogen, the female hormone that stimulates breast tissue growth, or androgen, the hormone known to control masculine characteristics and inhibit the growth of breast tissue. Their results were published in the February 1, 2007, issue of the New England Journal of Medicine.
The laboratory experiments showed that pure lavender and tea tree oils can mimic the actions of estrogens and inhibit the effects of androgens. These results don't prove that the oils caused the prepubertal gynecomastia in the three boys, but they do provide a possible explanation for Blochs findings.
The good news is that the oils didn't alter the levels of the usual forms of circulating estrogens and androgens in the boys. Dr. Derek Henley, the lead NIEHS author on the study, said, "We do not anticipate any long-term effects on hormonal levels."
Although this study found an association between the topical application of these essential oils and prepubertal gynecomastia, it doesn't tell researchers how strong the association might be. Further research will be needed to determine the prevalence of this condition in boys using products containing lavender and tea tree oils.
Scientists also don't know whether these oils could affect prepubertal girls, adolescents or adults. The findings are applicable only to young males with unexplainable enlarged breasts. Boys with prepubertal gynecomastia should consult their physicians about reducing the use of products that contain these oils.
Related Links