You are here
August 19, 2019
NIH ME/CFS Advocacy Call August 19, 2019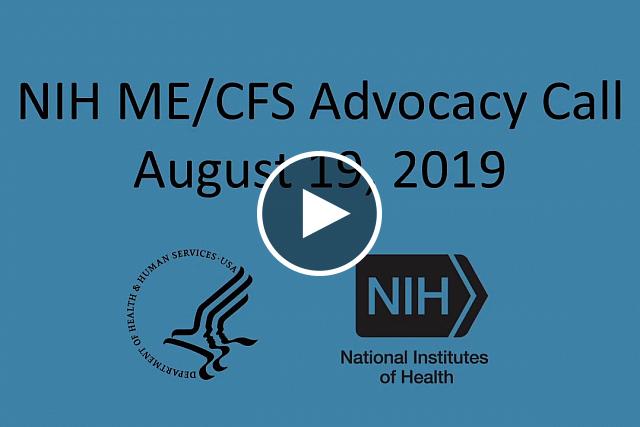 Coordinator: Welcome and thank you for standing by. Today's call is being recorded. If you have any objections, you may disconnect at this time. All participants are in a listen-only mode until the question-and-answer session of today's conference. At that time, you may press Star 1 on your phone to ask a question. I would now like to turn the conference over to Margo Warren. You may begin.
Margo Warren: Good afternoon. My name is Margo Warren. I'm from the Office of Communications and Public Liaison at the National Institute of Neurological Disorders and Stroke. On behalf of the NIH, I'd like to welcome you to this afternoon's teleconference and to thank you for your interest in participating in this discussion with us today. Dr. Vicky Whittemore a Program Director at NINDS will introduce the speakers, each of whom will make some remarks. After which, we'll open the phone call for your questions. We will try to make our remarks brief so that we can answer as many questions as possible in the time we have remaining this afternoon.
We also ask that everyone ask only one question so that we can hear from as many of you as possible. Now Dr. Whittemore.
Dr. Vicky Whittemore: Good afternoon and thank you everyone for joining us this afternoon. First I have to bring apologies from Dr. Koroshetz who is unable to join us today because he's involved in a BRAIN Initiative meeting all day today. But we will debrief him after the call and let him know about the issues and concerns that were raised and questions that were raised by all of you in the community. So we're going to do some brief NIH updates and I will introduce each of the speakers and then we have Dr. Elizabeth Unger from the CDC joining us today as our guest speaker and then following her presentation we will open it up for questions from all of you.
So first I would like to introduce Dr. Andrew Breeden from NINDS who will give you an update on the NANDS Council Working Group on ME/CFS. Dr. Breeden?
Dr. Andrew Breeden: Thanks, Dr. Whittemore. So before we discuss the working group of council, it might be helpful to give a little bit of background about what an advisory council is for those who aren't familiar. Each NIH institute or center has a national advisory council that's made up of scientific and medical experts who can advise the institute director, in this case being Dr. Koroshetz, on important policies and procedures.
In the summer of 2019 NINDS formed a working group of our advisory council that's focused on how to best advance ME/CFS research. The working group is composed of scientists, clinicians, representatives from advocacy organizations, and individuals with ME/CFS. The working group was charged with three main things. The first being to identify gaps in current knowledge, opportunities for future action and a series of potential strategies to pursue for each gap or opportunity. The second was to examine how to attract and train a pipeline of new and early career ME/CFS investigators. And finally moving forward to examine how to enhance ongoing research collaboration and communication.
The working group held an in-person meeting and many productive conference calls over the last year. And issued a Request for Information that was open to the public to gather wider stakeholder input into this process. So we wanted to announce today that the responses to this Request for Information were posted on NINDS web site this morning and we will send out a link to the ME/CFS listserv for how to access these responses.
This entire process culminated in a report that's currently being finalized and will be presented to the National Advisory Neurological Disorder and Stroke Council on September 4 and the report will also be made public. We'll post this additionally like the RFI responses on the NINDS web site.
After the report is presented, the next steps will include dissemination of the report to the other NIH institutes, offices and centers that compose the Trans-NIH ME/CFS Working Group, which is the body that oversees extramural ME/CFS research at NIH. And this group will prioritize these recommendations and develop a plan for implementing them.
And so we look forward to keeping in contact about this and discussing this further after the report is posted on our web site and presented to the council on September 4.
Dr. Vicky Whittemore: Great, thank you very much, Dr. Breeden. So as he mentioned, the public portion of the NIH council is open and webcast. So we will - we can send that information around or you can find that if you go to the NINDS web site and look for the NINDS Council information.
So next I'd like to introduce Dr. Avi Nath who will give us an update on the intramural study. Dr. Nath.
Dr. Avi Nath: Yes, thanks Vicky. So we continue to make steady progress in enrollment and studying the ME/CFS patients in the intramural program. So currently for Visit 1, we've had a total of 48 individuals that include the healthy volunteers and the patients. And then we've had 13 for the second visit which also includes roughly half and half of the patients and healthy volunteers.
We've had to bring back some of the patients after Visit 1 because we added a number of additional tests. So that involved an extra visit, but that is also almost being finished now. So we have another six that are scheduled for Visit 2. And so I think we're doing well with the, as far as recruitment is concerned. And we've collected a lot of data. We started analyzing some of these things to make sure that all the tests that we were doing are ones that we want to take forward or things that are not going to reveal much information, we should drop them out and try to see how we can optimize the number of things that are being done. So that's where we stand currently. Thanks.
Dr. Vicky Whittemore: Thank you. So I'd like to now introduce Dr. Joe Breen from NIAID who's going to give an update on the Collaborative Research Centers and the Data Coordinating Center. Dr. Breen?
Dr. Joe Breen: Thank you. I want to give you just a snapshot of some of the progress. The Collaborative Research Centers of which there are three; one based at Cornell, one at Jackson Labs in Connecticut, and the third at Columbia in New York City, have been working now for two years. And they're actually just transitioning to their third year of research. And that's the same timeline for the Data Management and Coordinating Center, which is located at RTI in North Carolina.
So we're at an important junction, I think. It's not uncommon that we don't have peer review published results from two years of support but we would expect that we would start to see steady progress around this junction and moving forward as the centers really had to get started, hire staff in some cases, and others actually recruit patients that they'll have to use those samples for study.
So what I want to confer is that we do see steady progress at each of the centers. Wehave discussions and programmatic meetings with each and we know that they're preparing manuscripts and we're encouraged that the level of output that we expect will become publicly available as the papers are accepted over the next three to six months.
And the Data Management Coordinating Center is actually working well with the other centers and in particular for the collaborative projects which were designed for projects in between the centers where they can collaborate, share samples, validate analyses. Those projects are also underway. They've had Year 1 and Year 2 projects and we hope that we'll see the fruits of those collaborative projects over the next year as well.
And the data is being coordinated and I think the web site, the ME/CFS net that is available from the Data Management Coordinating Center will become increasingly valuable as this data is publicly available and can be really put in one place and we can start to do some high level informatics analysis to really try and understand what we can as we combine efforts across these centers. And hopefully that will broaden as we increase the partners moving forward.
So we're encouraged and we expect that we'll see increased output in terms of scientific publications and progress in understanding the basic biology of ME/CFS that's going to help us make the best decisions in the future.
Dr. Vicky Whittemore: Thank you. It's now my pleasure to introduce my colleague and friend from the CDC, Dr. Beth Unger, who's going to give us an update on the CDC ME/CFS activities. Dr. Unger?
Dr. Beth Unger: Thank you so much, Vicky. I really appreciate the opportunity to participate in this telebriefing. This invitation really does reflect our ongoing interagency communication and coordination. It is really important that NIH and CDC work together to address ME/CFS issues. And this has made particularly critical in the absence of the CFS Advisory Committee. So we've been working to solve that problem together.
CDC continues to focus on improving our understanding of ME/CFS and improving awareness particularly in the medical community. And are taking steps towards improving the care of those affected.
Our Multisite Clinical Assessment of ME/CFS study, which is MCAM, has now entered a new phase. We've completed the enrollment and data delivery on adults with ME/CFS and the healthy controls from the seven original clinical sites. The data from adolescents with ME/CFS and adults with other illnesses, who were enrolled at these clinics has also been delivered.
However, because the enrolling clinics didn't really serve these additional populations, we needed to find a different way to supplement our numbers. And we are just now beginning to enroll children and adolescents with ME/CFS as well as adults with other illnesses that can cause some of the symptoms seen in ME/CFS such as rheumatoid arthritis, multiple sclerosis, and post-cancer fatigue.
We expect that this enrollment will continue another year. While this effort continues, we are beginning the analysis of the original data that was collected. Our description of ME/CFS illness characteristics based on many but not all of the new Common Data Elements is being prepared for publication. The exercise and cognition datasets have been shared with our expert collaborators Dane Cook and Gudrun Lange who will be leading the analysis and publications of these findings.
The results of the NK cell function testing on a subset of the MCAM participants will be ready for analysis by the end of the year. We have plans for additional publications that will provide validation of the questionnaires that we used for measuring fatigue and for comparing different approaches to measuring post-exertional malaise.
Our other major epidemiologic study is being conducted in partnership with CDC's Behavioral Risk Factor Surveillance Survey known as the BRFSS. The 2019 BRFSS included an optional ME/CFS module to ask participants about whether they had ever been diagnosed with ME/CFS by a doctor or other healthcare professionals along with two other follow up questions. We don't yet know how many states have include this module. However, we do have data from the 2014 and 2016 state added ME/CFS questions that were very similar. From the 2014-16 data, we learned that 1.6% of those surveyed had received a diagnosis of ME/CFS and 71% of those diagnosed still had ME/CFS.
These figures are very comparable to those obtained from the Canadian health survey that was conducted in a very similar way. The BRFSS will allow information on persons with ME/CFS to be integrated with that collected on other health conditions and behaviors. And including ME/CFS in this mainstream survey also raises awareness about the condition. States that use the module will learn how ME/CFS affects their residents and we hope that will help mobilize action.
CDC is also raising awareness about ME/CFS through collaborations with professional medical organizations. Our staff designed a banner advertisement that appeared on the web site of the Georgia chapter of the American Academy of Pediatrics. The ad directed readers to CDC's ME/CFS webpage. The Georgia chapter of AAP also secured one of their members, Dr. Robert Pendergrast, professor of pediatrics at the Medical College of Georgia, to present on pediatric ME/CFS for the meeting of the Georgia Pediatric Nurses' Association.The Georgia chapter also sponsored Dr. Peter Rowe to speak on ME/CFS in children and adolescents at their annual meeting in June.
We are also working with the National Association of School Nurses, NASN, to develop a way to gather data on school-age children affected by ME/CFS using school-based surveys on reasons for chronic absenteeism. As part of this process, NASN is educating its members about ME/CFS. They had a continuing education session at their 51st annual conference in June on ME/CFS given by Dr. Kenneth Friedman, Dr. Faith Newton, Beth Mattey and Michael Newton. NASN is in the process of converting the recording of this presentation into an enduring continuing education module that will be available to their members.
We worked with Medscape to develop a spotlight course called Diagnosing ME/CFS: The Experts Weigh In. This was released at the end of February. It is free and available through Medscape directly or using a link on CDC's ME/CFS web site. In addition to obtaining the numbers of persons who are taking this course, we are also working with Medscape to evaluate the effectiveness of the course.
Medscape is also working with us to develop two new educational products. One of these is called Clinical Practice Assessment. Those taking the course are asked a series of 20 questions measuring their knowledge of ME/CFS and are given immediate feedback about the correct responses for each of the questions. This allows learners to easily pick up new information and provides information about specific learning needs for future courses.
The other course is called Test and Teach. This uses two patient case scenarios and interactive test questions. CDC has other activities but in the interest of time, I will stop here.
However,– I did want to end with two short announcements. First I want to let everyone know that CDC's ME/CFS webpages are now available in Spanish. We don't know enough about ME/CFS in diverse racial and ethnic groups and having information available to Spanish speakers is an important step. I'd also like to invite you to participate in CDC's next patient-centered call and you can find the information about that call on our web site. Thank you very much.
Dr. Vicky Whittemore: Thank you very much Beth. So at this point we'll open it up for questions.
Coordinator: We will now begin our question and answer session. If you would like to ask a question, please press Star 1 from your phone and unmute your line. Please speak your name clearly when prompted to be placed into the queue. Again, if you would like to ask a question, please press Star 1. One moment as we wait for any questions.
Our first question comes from Denise Lopez-Majano. Your line is now open.
Denise Lopez-Majano: Hi, it's Denise Lopez-Majano. Thank you very much. Dr. Unger as you mentioned regrettably, CFSAC has been disbanded and we have fewer ways than ever to engage with CDC and other agencies. There also seems to be a continuing lack of transparency in stakeholder engagement in the CDC's ME/CFS program. Earlier today MEAction Network sent you a letter with several detailed questions regarding numerous aspects of the CDC's ME/CFS program. Will you make a commitment right now to promptly provide detailed answers to our questions? Thank you very much.
Dr. Beth Unger: Thank you Denise for your question. And I did just receive a letter shortly before the call. And certainly we think it's very important to be as transparent as possible. CDC has worked with the advocacy communities. We certainly want to be transparent. And we will be working on responses to all of your questions. I would say I'm a little surprised that there's the sense that we don't want to communicate because we definitely do want to communicate. And we will work on improving that.
Coordinator: Our next question comes from Paula Kaplan. Your line is now open.
Paula Kaplan: Oh yes, I was hoping to hear anything at all about any results from any of the research. People kept saying we've done it. We're collaborating. But we didn't hear any results and I also want to ask. I tried to see about getting into a study and I was told that I was too old. I'm 72 which means that I mean I think I represent a lot of people out there who have had this condition for a long time and it's great that you're going to study kids and teenagers. But how about at the other end of the age distribution?
Dr. Vicky Whittemore: I'll ask Dr. Breen to answer the first part and then ask Dr. Nath to answer the second part.
Dr. Joe Breen: Hi Paula, this is Joe Breen. I just wanted to answer you question as best I could. So unfortunately I can't talk about specific research results that aren't yet unpublished. So the data that was presented at, for example, the April meeting that we had, and at other forums, is when the researchers decide to talk about what they can talk about in terms of what's public. But until a finding is replicated and reproduced and then accepted and appear in a peer-reviewed journal, I really - or we can't really talk about that in detail because it's not at a stage where it's really responsible to do so. And I know that's frustrating and I apologize.
What I was trying to convey is that we do know of a number of projects that are well on their way to that stage. And we certainly hope that we can talk about published results moving forward and we're happy to do that when it's publicly available. But until that time it's just premature unfortunately.
Dr. Vicky Whittemore: And I think in the future we can invite specific investigators to comment on their work when it's ready for prime time. Dr. Nath did you want to comment on the age issue?
Dr. Avi Nath: So I empathize with you. As I'm getting older, I also realize the importance of studying all age groups. So the challenge for us is that, you know, if you are, either you can be all-inclusive and include everybody and then you have a very large study. And all you can do then is a very few tests to be able to study a very large cohort. Or you can have a very well defined cohort and then do a large battery of tests and try and get to the bottom of it.
So we chose the latter because that's where our strengths are and the disease is such where we really don't have any good leads. So studying a small cohort very extensively, I think, will provide us the best answers in a shorter period of time in a small number of patients that could then be applied to much larger populations. So that's why.
Paula Kaplan: I hope that's right, but because so little is known about this family of disorders I don't know of any reason to assume that narrowing down the population that's studied is really going to be helpful. In fact, one of my specialties is research methodology and sometimes when you look at the whole spectrum or wide spectrum of people you get actually more information.
Dr. Avi Nath: Yes, you need a very large, you know very well, you'll need a very large sample size. That's not something we can do. So that's the unfortunate reality.
Paula Kaplan: That depends on the kind of research, I think. But thank you.
Coordinator: Our next question comes from Catherine Grimes. Your line is now open.
Catherine Grimes: Thank you. Can you hear me okay?
Dr. Vicky Whittemore: Yes, we can.
Catherine Grimes: Okay, sorry. I'll make it quick. I just wanted to say something positive because I know there's a lot of negativity on what information is coming back and it just seems like the more that - the more research that I look into and the more calls like this there are that you can be a part of and be an influencer on, I appreciate that as a patient. And that doctors, when we find a primary doctor that will help us, are there guidelines that you are aware of to help them understand? Like something that I can give to my provider to say hey, this is kind of where we start and this is where we can do forward testing or things like that, that would help educate once we find that doctor that says yes, I'll help.
Dr. Vicky Whittemore: Dr. Unger would you like to answer that question?
Dr. Beth Unger: Sure. You have pages on our web site, the CDC web site that are for healthcare providers. And it's very - it is written as a guide to help them work through how to care for the patients, but it is not at the level of formal practice guidelines because there's not enough known. And we haven't gone through the formal guideline process. But -
Catherine Grimes: Yes, it's very generic. I think if I remember right.
Dr. Beth Unger: Yes, and we are working on materials. We had a round table meeting about educational materials both for the patients and their families to take with them when they go to the doctors as well as some the doctors could use to collect information from the patients. And we're in the process of getting those documents cleared.
Catherine Grimes: Oh, good because even a checklist of what can be done, you know, what could be discussed would be - because sometimes you walk in and you just kind of, by the end of it you're already discombobulated when you walked in because the however you got there. And then you kind of lose track.
Dr. Beth Unger: Right yes, that's what we - that's the feedback that we got. And twe're in the process of hopefully getting that cleared. Thanks.
Catherine Grimes: Okay, I have a quick follow up question if I can? If I may.
Coordinator: One question per participant.
Catherine Grimes: What's that?
Coordinator: One question per member.
Catherine Grimes: Oh yes, okay. Shoot. I was going to ask the other one. All right, thank you.
Coordinator: Our next question comes from Liz Burlingame. Your line is now open.
Liz Burlingame: Hello, Dr. Unger. I, you know, I think just first of all I want to say that I am livid. I'm a long-term patient and I recently went to a doctor's appointment and the physician after relating a long list of medications said he thought I should take again finally said, you know, you should probably just go to the Mayo Clinic. And I told the physician the Mayo Clinic still treats their patients with cognitive behavioral therapy and graded exercise therapy, which we know harms patients. And the doctor replied to me well, if they're doing it at the Mayo Clinic, those treatments must be working for someone.
And I said no, it doesn't. It's bad science. But the fact that those treatments harm patients didn't affect the physician at all. And we need the CDC to make public the fact that recommendations that used to be on your web site and are still being recommended to patients at the Mayo Clinic are based on bad science and they're harming patients. What is the CDC doing to correct this misinformation and to better educate physicians that what they're seeing is post-exertional malaise and their patients cannot be psychoanalyzed out of it or exercised out of it? We need better science.
Dr. Beth Unger: Thank you Ms. Burlingame. I couldn't agree with you more that we need better science. And CDC is making it clear on the web site, the recommendations that we can make. And we are taking in account the information that we've gotten from the experts. This has been reviewed and consulted. ME/CFS is a very different situation. Everybody's advice about exercise can get very confusing. And it is a very different situation with patients with ME/CFS. And so we've tried to be very clear about maintaining activities that can be managed and how to not overdo and push through. And we've made that as clear as possible.
Liz Burlingame: No ma'am. I disagree entirely. If the other name for this disease is Systemic Exertion Intolerance Disease and exertion of any kind is potentially harmful. You never made any kind of public disavowment of the former treatments that we know now cause harm. You need to -
Coordinator: Our next question comes from Cynthia Johnson. Your line is now open.
Cynthia Johnson: Okay. Thank you. What I wanted to - I heard you talking about pediatricians and some other, I'm really glad that you're reaching out to different specialties. But I'm out in Oregon and it seems to be right now that family practitioners are the people. So they're going to most likely to be diagnosing ME/CFS. And not only do they not have the information, but they don't seem to have a code. So I'd like to just ask you if there is yet a definite code that comes up as myalgic encephalomyelitis/chronic fatigue syndrome or not yet. Because with, you know, I think it's confusing to the doctors and to the patients with electronic records the disease gets put in under different codes.
And also is there a, that's kind of, a multi, I guess and the other part of that. Are you reaching out to family practitioners as well? Because out here they treat everywhere from children sometimes instead of a pediatrician all the way through seniors. And so outside of me educating them, you know, I know they're very interested in learning more. So it's the coding and the family practitioners are my main two questions. Thank you, or one question.
Coordinator: Our next question comes from Pat Blais.
Dr. Vicky Whittemore: Wait, we need a response to that question, please.
Dr. Beth Unger: And I assume this is something CDC could respond to. Yes, we have involved the family practitioners in our round table meetings. And the Medscape educational materials that we have are being really targeted to all primary care physicians and this does include family practice physicians. We realize that the family practice physicians are an important entre group for, I mean the first visit often for patients with ME/CFS. So they are an important target audience.
And then your second question about coding is very complex. And I would say the short answer is that the coding has not changed from what it was. And there are two different codes. One that comes up for chronic fatigue syndrome and the other one that comes up for ME.
Dr. Vicky Whittemore: So if I can also respond to the first part. One of the things that NIH is looking at through our Trans-NIH Working Group and also partnering with the patient advocacy groups, is how we can do better and more outreach to different healthcare providers. We at NIH, our communications office does exhibit at many of the professional meetings. And so we're looking at the development of materials that we can distribute at those meetings about ME/CFS as well.
So and we're as I said working with patient advocate groups who also attend some of those professional meetings. So looking at ways we can do more outreach to different communities to help educate as well. So thank you for those questions. Next question, please.
Coordinator: Our next question comes from Pat Blais. Your line is now open.
Pat Blais: That's Pat Blais. Given the fact, this is to Dr. Whittemore and Breeden. Given the fact that this disease became publicized in the NIH/HHS/CDC in 1988 and most of the people were in their 30s. The studies should include those who are over 75. Because that, the normal age was there.
I have a question as to why the coding is separated? There should not be ME/CFS acronym when a coding for myalgic encephalomyelitis is very clear. It's a neurological disease. And chronic fatigue syndrome is fatigue and is not acceptable. When is the CDC going to be looked at again through Congress to get dropped and get everything correct so people are not sick and not dying? We need a Congressional investigation now. When?
Dr. Vicky Whittemore: Excuse me, ma'am. It's not a Congressional investigation. What to change, Dr. Unger said to change ICD codes is quite complex and it's not -
Pat Blais: Not asking about ICD codes. Congressional investigation into the CDC and what everybody else before me pointed out is wrong about the CDC and how they are continuing to misappropriate and mis - just continuing just doing questions and not doing medical science. When do we get that Congressional investigation again against the CDC? Because it will be the third time.
Dr. Vicky Whittemore: I'm sorry but I think we need to move on. That's not a question we should address on this call.
Pat Blais: Right.
Coordinator: Our next question comes from Eric Johns. Your line is now open.
Eric Johns: Thank you. I first want to start with saying that I'm just very frustrated with decades of government agencies playing lip service and it's basically pathetic and a crime against medical establishment and patients what you guys are doing. There's very little money. There's very little research and very little attention being paid to this very serious disease. I'd like to know what the CDC can do to mass communicate with doctors. We need more doctors and can you send out an email blast to providers?
Can you send out a mailing that educates them about the real criteria for this disease and the real symptoms and the treatments that can help alleviate some of the symptoms. I think that would be very critical as other callers have mentioned, incorrect information about exercise or psychotherapy, which is absurd, are still be advocated by doctors. And that's completely irrelevant for a biological disease.
You can look to New York State's Dr. Zuckerberg who sent out a letter to all 75,000 physicians in New York State as a prime example of something that would be very positive for the CDC to do on a national level. Thank you.
Dr. Beth Unger: Thank you. This is Beth Unger. And we were very impressed with what the New York State public health group did in publicizing ME/CFS. CDC as a federal agency needs to work with states. And it's some of those mass communications would be on a state-by-state basis, based on the state public health groups. What we can do and what we have been doing, is promoting our educational materials that are available both on the web and our continuing medical education materials. All of which that we are providing free. We want to get this out as much as possible which is one reason why we started working directly with some healthcare professional groups.
We first piloted this with the Georgia chapter of the American Academy of Pediatricians and we will take what we learned from that experience and see how we can extend it out to other professional medical groups. What CDC's saying is one thing, but when their own medical professional groups are making recommendations and calling attention to it, we think that will really help raise awareness more.
Eric Johns: I think that's really critical, but what about a listserve? You must have a listserve of tens of thousands of doctors around the country that you can mail to. That would be something simple since it's electronic. You know, having the Web site is one thing, but people need to actually go to it. But if they get something in their inbox, they're likely to open it and read about it and learn the latest of what the CDC is saying about ME/CFS. I think that going to those individual groups is critical and that's great. But it's not enough. We need mass attention to this disease. It's been ignored far too long. Thank you.
Dr. Vicky Whittemore: This is Dr. Whittemore and I know from my work with other patient advocacy groups, when they've been able to leverage when one state has done something like what was done in New York to leverage that and go to their state officials and say look what New York did. Can you do this in our state? That's not something we can do from a federal level, but that's something that patients and patient advocate organizations can certainly do. If we could have the next question, please.
Coordinator: Our next question comes from Sandy Stone. Your line is now open.
Sandy Stone: Good morning and thank you. This question is for both NIH and CDC leadership. For many years Mayo Clinic, one of America's most prominent medical centers, has published and prescribed medical misinformation about ME. For many years knowledgeable individuals in the ME community have tried and failed to get them to correct it. As you know or should know Mayo Clinic still prescribes graded exercise therapy or GET in its clinic and on its public web site. Just a small quote from them, "Gradually increasing the intensity of your exercise over time may help reduce your hypersensitivity to exercise. Just like allergy shots gradually reduce a person's hypersensitivity to a particular allergen." This is from the Mayo Clinic's web site this morning. It's outrageous.
In light of Mayo's ongoing refusal to end their medical abuse of people with ME, we ask that within the next 60 days, leadership at NIH and CDC contact Mayo Clinic President and CEO Gianrico Farrugia, MD and inform him that GET has not only been shown unhelpful to people with ME, it has also been shown to be potentially harmful. If Mayo Clinic did the same by telling diabetics to gradually consume more sugar, would any of you sit by while people are being harmed or worse? Your inaction on this topic is simply indefensible.
We need you to actively protect us from ongoing medical abuse and rampant anti-scientific medical ignorance. And I was going to say this to Dr. Koroshetz, and it certainly applies to you Dr. Unger I'm sorry to say, please do not insult us or waste our time with your excuses. We need action. Thank you.
Dr. Vicky Whittemore: Thank you for raising this concern and we'll discuss this and look at how we can address this issue going forward. So thank you for bringing that to our attention. Next question, please.
Coordinator: Our next question comes from Wilhemina Jenkins. Your line is now open.
Wilhelmina Jenkins: Wilhelmina Jenkins, yes. And I want to speak with Dr. Unger. Dr. Unger, I was a little startled that you thought that there was adequate communication going on in the absence of CFSAC between CDC and the community. What little communication we've had has been one-way. You invite us in on occasion. We give some information to you. But we never have any direct communication back and forth on the things that are going on at CDC. And that's essential. One thing that I want to point out in particular is the current pediatric effort that's going on from CDC here in Georgia. I'm in Georgia. We have a large number of advocates here in Georgia who've had connections with the CDC in the past.
I have had a child who became ill with this disease as a teenager. I can't imagine how CDC could just have one-way communication, could not use the information that's available from patients and from stakeholders who've had to live with a teenager with this disease, a young person with this disease. Just having the doctors work on it alone is not going to get us the best results. We have information. We have the ability to communicate it. We know where the missteps can come because we have lived with young people with this disease.
I know this is one of the questions on the letter that has come to you from MEAction, but I want to emphasize now we have to have two-way communication, not one-way communication. Our calls from you are one-way communication. We listen to what you have to say. We need to have a dialogue, not just a little bit of information back and forth. I believe that stakeholder and caregiver communication is tremendously important in seeing that the pediatric studies here in Georgia is as good as it can possible be. There are very few things that is disturbing as having young people come down with this disease. We have to find a way that we have true input into the studies that you're doing. There are people here ready to do that. We are informed. We are ready to work. We can make your study and your efforts a better one if we can have stakeholder and caregiver engagement not just one-way communication.
Can you let us know what way that you can incorporate our efforts into your efforts?
Dr. Beth Unger: Thank you Wilhelmina and I definitely can say that we are - we need to improve our communication. The study that you're talking about, our pediatric study is really a continuation of the MCAM study and the study design and the questionnaires that we've already started. So we need to continue and complete it so the data will be comparable.
Where I think we definitely need parent and caregiver and patient communication is about the educational materials and what they need from their doctors and that was what we started at the stakeholder meetings, the roundtable meetings that we had. We need to have a faster turnaround and make it clearer that we are listening and receiving feedback. We will also be discussing ways to more systematically have ways to communicate. So thank you for pointing this out.
Dr. Vicky Whittemore: This is Dr. Whittemore and I'd also like to inform the community if you're not aware that Solve ME/CFS Initiative has a registry where any individual with ME/CFS can register and provide your medical information on an ongoing basis through that registry. And Solve ME/CFS Initiative is also partnering with the Collaborative ME/CFS Research Centers to develop an app that would more accurately track your daily variation in symptoms, daily/weekly variation of symptoms and that's a research project that they're working on together with the Collaborative Centers.
So that will be launched. It's in beta testing now and will be launched soon. So I think there are ways that we are also trying to reach out and partner with our patient advocacy groups to try to obtain that information directly from individuals with ME/CFS and their caregivers. So watch for more information about that. And we'll make that information available as soon as it's available. But if you go to the Solve ME/CFS Initiative web site, you can find information there about their registry. So we'll take the next question, please.
Coordinator: Our next question comes from Kathleen Jones. Your line is now open.
Kathleen Jones: Hi, good morning. I want to come back to the idea of getting communication out to doctors. It sounds like you don't have a national listserve of doctors or that sort of thing where you could do mass communication. But I'm wondering can the CDC or NIH, I guess it would be the CDC responsibility, to work with the state Departments of Public Health to have some actions like what happened in New York in terms of informing all the doctors.
You know, what I heard is oh, patients should make efforts to do that. Well, you know, one we are trying in some states. But, you know, a lot of patients don't even have diagnosis. They don't know what's wrong with them. Because the doctors don't know how to diagnose it. So rather than, you know, 50 efforts from 50 states, I guess 49 because New York has already done it, you know, can we have an effort from the top, from CDC to, you know, move these public health departments to inform the doctors about ME/CFS and how to diagnose it? And patients certainly would help those efforts. But asking us to do it on our own is a big ask.
Dr. Vicky Whittemore: Sorry about the duck. I appreciate that comment. Beth do you want to respond?
Dr. Beth Unger: I can respond a little bit, and we have - we are interacting with the state Public Health Departments through the BRFSS, we find that what works really well is that when we contact a public health department and they've already heard from advocacy that this is an issue in their state then they're more receptive to our inquiries. And we definitely agree that it should not be totally on the patient advocacy community to do this. We are reaching out and we'll discuss ways to increase this further.
Dr. Vicky Whittemore: Thank you, next question please.
Coordinator: Our next question comes from Claudia Carrera. Your line is now open.
Claudia Carrera: Hi, thank you for taking the call. I have a couple of comments to pick up on from other people. But also some specific questions. So one broader question is I'm wondering why I think overall we need a paradigm shift. I know you've heard this before, but we need urgency. We need the patients to be fully integrated. It's not just communication or transparency, it's, we need patients to be integrated in every step of every action that our federal agencies are taking. Because at this point, the patient community is at the forefront of making connections. Like we are ahead of the doctor and researcher curve in making connections and understanding about the illness. And we are the ones who suffer the consequences of missteps.
So there must be nothing about us without us. So I'm glad to hear that the NIH will be publishing both the incoming recommendations they received as the RFI process and publishing the reports. I think the CDC needs to be doing that with every single action that they take. We should know who is involved in these stakeholder meetings that helps set up, that helps frame studies. We need that to become public.
We need to know who was involved. We need to know what questions were asked. We need to know what the plan is and every step of the way. That needs to be published and it's not enough to involve one patient representative or one patient advocate because the community is very diverse and it is through our diversity and our communication with each other. And in comparing, we in a way we are able to do, the, you know, the NIH might be limited to a study with a small number of patients in-depth, but we are the ones who are communicating amongst ourselves and figuring out what connections there are among all of us.
And in many ways one example of the way in which I think we are ahead of the curve is that there's strong emerging evidence that brainstem and other spinal cord compression is the causal mechanism for at least a subset of ME/CFS patients. And more specifically a growing number of well-characterized long-term ME/CFS patients are being completely cured by spinal surgeries to correct structural problems such as CCI and cervical stenosis and Chiari malformation. I don't know if any of you on the call are aware of that yet, but patients are.
And so one question I had, one specific question was in the NIH intramural study, are brainstem and upper spinal cord focus tests being performed? And a specific example is I'm wondering if cervical traction is being utilized to investigate the effect of spinal cord decompression on autonomic function. And if not, if that procedure can be added to the battery of tests.
But that's just one example of how patients need to be involved at every step. It requires a paradigm shift. Maybe it requires additional staff members. But if you do not do this, you are literally placing all of your efforts at risk. All of the millions of dollars. And we are your funders. We, the taxpayers, the public are your funders. We must be involved in setting priorities, setting plans. We must know the information. We must know what is going on at every step of the way and be able to weigh in. And once there are big studies done, we also need recommendations to be implemented immediately. There needs to be real urgency for this because of all the harm the agencies have perpetrated over the proceeding decade.
So I know the NIH stated that the NIH Working Group recs will be taken up in September, but I want to know whether those recommendations will be integrated into the 2020?
Dr. Vicky Whittemore: So Dr. Nath would you like to respond please?
Dr. Avi Nath: The question that was asked of me was about the cervical spine. Yes, we're very aware of those diagnoses that have been made in some of these patients. Let me assure you that every single patient is very thoroughly examined for any possibility of cervical spine disease whether it's Chiari or any other kind of compression or autonomic dysfunction.
We've diagnosed a lot of other neurological diseases that people have missed on these patients. So we are extremely thorough and we're very well aware of it, and we examine every single patient for that possibility including the neuroimaging that you were talking about.
Dr. Vicky Whittemore: Thank you.
Margo Warren: We have time for one more question. I know there are others of you waiting to ask us questions. Please send any of your unanswered questions to braininfo@ninds.nih.gov. Or go to the NIH ME/CFS web site and click on "Contact Us" to submit those questions. Now let's have one last question.
Coordinator: Our next question comes from Lottie Vann. Your line is now open.
Lottie Vann: Hi, thank you for taking my question. I am one of the few lucky ones that was diagnosed with ME/CFS 34 years ago. So having a diagnosis, we've got a problem. But during conversations with doctors, you know, there's always been that "Gee, I really wish I knew how to help. I don't know what to do. Why don't you try this or that?" But when it gets down to providers, the last couple years, even though I'm finding more and more providers that can have conversations about it, I'm also starting to talk to providers who are working for hospitals or HMOs that seem to have a structural opposition to reviewing files of patients that have already been diagnosed with CFS. And this includes pediatric hospitals.
And I'm wondering if the CDC can do something to engage in conversations, not just with the hospitals or with the doctors, but also start talking to the hospitals and HMOs.
Dr. Vicky Whittemore: Dr. Unger would you like to comment on that?
Dr. Beth Unger: Well I was not aware specifically of a problem quite like that. That there was something that they wouldn't allow the prior documents to be reviewed. But the suggestion of working with the managed care organizations is really an important one. We have had one indirect entre into there. It's been hard to get their attention. And we are working with them on a research project to see if we can characterize ME/CFS patients in their files so they have an idea of the burden of the illness. We're working through - working on this in a subcontract with another group at CDC.
So I think you're absolutely correct that we would like to work more with managed care organizations because that would be one way to really get a systematic approach to ME/CFS in their patient organizations once they recognize it.
Dr. Vicky Whittemore: As an added note, I noticed that there were some representatives from some HMOs on the call this afternoon. So I think doing outreach about these calls also to some of the HMOs and hospitals is something that we can do to get them involved in these telebriefings as well. So thank you Dr. Unger for your comments and thank you everyone for joining us this afternoon and we need to wrap up the call. And I'd like to turn it over to Ms. Warren for closing comments.
Margo Warren: Thank you. A recording and transcript of the call will be posted to the NIH ME/CFS web site very soon. In closing today's call, I'd just like to remind you about our listserv for updates from NIH. To be added to the listserv, please visit the NIH ME/CFS web site and click on "Join our Listserv" at the bottom of the left sidebar. Thank you for an informative and thoughtful discussion. Good afternoon.
Dr. Vicky Whittemore: Thank you, everyone.
Coordinator: Thank you for your participation in today's conference. You may disconnect at this time.
END
This page last reviewed on September 18, 2019