You are here
Overview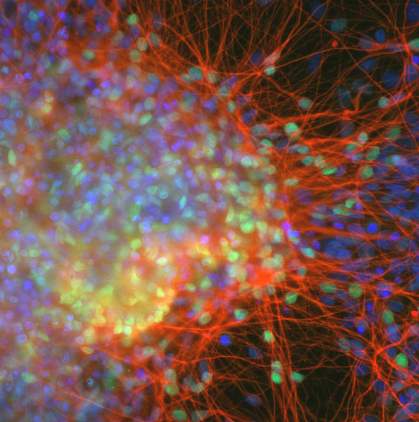 NCATS intramural
The Regenerative Medicine Innovation Project (RMIP) was established by the 21st Century Cures Act to accelerate progress in the field  by supporting clinical research on adult stem cells, while promoting scientific rigor and protecting patient safety. This initiative is a trans-NIH effort, in coordination with the Food and Drug Administration (FDA).
Regenerative medicine is an emerging area of science that holds great promise for treating and even curing a variety of injuries and diseases. Regenerative medicine includes using stem cells and other technologies—such as engineered biomaterials and gene editing—to repair or replace damaged cells, tissues, or organs. Stem cell-based approaches are under development in labs around the world, and some have already moved into clinical trials. Such progress notwithstanding, much work remains to be done toward the development of safe and effective regenerative medicine products and to realize the full potential of this field.
About RMIP
The RMIP is one of four Innovation Projects authorized under the Cures Act; the others are the Precision Medicine Initiative ("All of Us"), the Beau Biden Cancer Moonshot, and the BRAIN Initiative.
The NIH RMIP launched following passage of the 21st Century Cures Act, which authorized $30 million over four years "for clinical research to further the field of regenerative medicine using adult stem cells."
NIH continues to work in close collaboration with the U.S. Food and Drug Administration to implement the RMIP.
RMIP Activities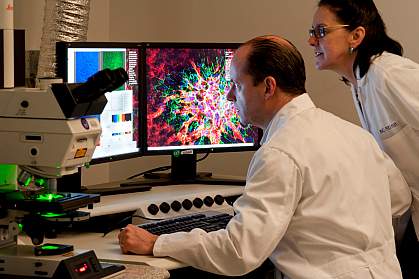 NEI intramural
Regenerative Medicine Innovation Catalyst (RMIC)
A new resource funded by NIH is being established to more efficiently bring safe and effective adult stem cell-based therapies into clinical trials and to help further the field of regenerative medicine.The NIH-funded Regenerative Medicine Innovation Catalyst (RMIC) has been established to conduct in-depth characterization of the source stem cell and stem cell-derived products to be administered to research subjects, as well as provide storage and dissemination services for in-depth cell characterization results and clinical data.
Researchers funded through the RMIP are expected to provide representative samples of the source stem cells and clinical-grade stem cell product for in-depth characterization through an NIH-designated in-depth cell characterization platform provider. Information from in-depth cell characterization will promote understanding of whether and how certain cell characteristics contribute to successful clinical outcomes and help inform future product manufacturing.
Funded Projects: Advancing the Field of Regenerative Medicine
Almost immediately after the passage of the 21st Century Cures Act, the NIH began working to implement the RMIP.
During the first year of funding, NIH worked closely with FDA to create awareness of the RMIP, to solicit research proposals, and to make eight competitive supplement awards that leveraged existing research grants.  These clinical research awards cover a broad spectrum of science and new technologies, and have the potential to advance understanding and treatment of common diseases – including diabetes, anemia, corneal and other eye diseases, and chronic skin ulcers – as well as rare diseases, including idiopathic pulmonary fibrosis, inherited skin diseases, and sickle cell disease.
To help inform future RMIP activities, NIH and FDA hosted a workshop in December 2017 to explore the state of regenerative medicine science involving adult stem cells, with a focus on promising approaches for the development of safe and effective products, scientific areas poised for major transformative advances, and critical gaps that must be addressed to enable significant innovation and rapid advancement of the field.
Subsequent funding opportunities were announced in FY 2019 (for late-stage preclinical studies and early phase trials, as well as in FY 2020, and FY 2021 (for clinical trials).
Subsequently, that year, the NIH and FDA worked together to begin developing core resources and infrastructure to overcome challenges in the regenerative medical field.