You are here
Center for Information Technology (CIT)
Mission
The Center for Information Technology (CIT) provides the NIH community with a secure and reliable IT infrastructure and a variety of IT services to support mission-critical research and administration. Among its activities, CIT provides the following:
a robust and secure enterprise network service to support voice, video, messaging, and data
state-of-the-art, high-performance scientific computing platforms
bioinformatics and computational bioscience resources to facilitate intramural research
secure access to IT systems, including computers, applications, and systems
new computing technologies and innovative applications to solve business problems
data-processing, hosting, and storage facilities
access to discounted software products and applications information, expertise, and training.
Important Events in CIT History
1954 — A central data-processing facility is established in the NIH Office of the Director, combining EAM (punched card) equipment and biometric expertise.
1958 — NIH installs its first electronic digital computer as an experimental device.
October 1961 — NIH installs its first "second generation" computer.
April 1963 — The Division of Computer Research and Technology (DCRT) is established.
1966 — Dr. Arnold W. Pratt is named DCRT's first Director.
April 1966 — Components of the "third-generation" computer system are installed.
June 1969 — Minicomputers designed by DCRT are installed in NIH laboratories.
August 1969 — DCRT introduces WYLBUR, to provide new computing capabilities to the administrative and scientific communities.
May 1979 — An interagency agreement establishes the NIH Central Computer Utility as a Federal Data Processing Center.
1981 — DCRT designs and implements NIH Extended WYLBUR, providing text-editing capabilities used for NIH publications, grants guidance and summary statements, and research papers.
April 1983 — The Personal Workstation Project forms to determine how NIH personnel can use personal computers.
1988 — The Convex Unix-based super mini-computer is installed and the network task group is created.
1990 — Extensive networking (NIHnet) is installed at NIH, providing connectivity for 60 local area networks.
November 1990 — Dr. David Rodbard is named DCRT Director.
June 1992 — The NIH Director approves creation of the Office of Information Resources Management (OIRM) in the NIH Office of the Director.
September 1993 — The Information Systems Security Officers committee is established to handle NIH IT security issues.
April 1996 — William L. Risso is named Acting DCRT Director.
1997 — A review of the Director of NIH's administrative structure recommends that NIH implement IT recommendations by appointing a permanent CIO and establishing a CIO organization.
March 1998 — The Center for Information Technology (CIT) is formed, combining the functions of the DCRT, OIRM, and the Telecommunications Branch. Alan S. Graeff is named NIH's first CIO and Director of the newly formed CIT.
2003 — The CIT help desk is formally established as the NIH IT Help Desk.
2005 — Dr. John F. Jones, Jr. is named Acting CIT Director.
2007 — CIT designs a new system for the helix.nih.gov, a general purpose scientific platform that hosts applications in response to technology needs of the NIH research community.
2008 — The Office of the CIO (OCIO) is created as a new organization in the NIH Office of the NIH Director (OD). Dr. John F. Jones, Jr. is named NIH CIO (OD) and Acting CIT Director.
June 2008 — CIT deploys the NIH Federated Authentication Identity Service (NIH Federated Login).
August 2008 — CIT announces the first online Service Catalog, providing customers with a single, online authoritative source of service information.
June 2010 — CIT adds compute nodes to the NIH Biowulf Cluster (one of its main high-performance computing systems), greatly increasing compute power for a wide range of biomedical research applications, including those in genomics, imaging, molecular dynamics, and statistical analysis.
February 2011 — Thomas G. Murphy is named Acting CIT Director.
October 2011 — Andrea T. Norris is named CIT Director and Acting NIH CIO.
August 2012 — CIT Director Andrea T. Norris is named NIH CIO.
2013 — The NIH Administrative Data Council is established by the NIH Director to recommend policies and strategies for trans-NIH information, information technology and to provide recommendations and oversight of strategic IT investments.
2014 — The NIH network is modernized to accommodate 10 times its capacity, or 100 Gbps, to meet the increasing big data needs of NIH research and to improve communication and collaboration between on and off campus research facilities and to the Internet 2.
February 2017 — CIT unveils its state-of-the-art Technology Operations Center, which modernizes NIH's ability to monitor critical IT services and ensure rapid incident response and quality services for the NIH community. 
November 2017 — HPC Biowulf was ranked #66 on TOP500's list of top supercomputers in the world. NIH's modernized high performance computing (HPC) capabilities are enabling innovations in scientific research in several areas, including genomics, computational chemistry, and most recently, cryo-electron microscopy imaging.
July 2018—On July 24, 2018, at the Google Cloud NEXT conference, NIH launched the STRIDES (Science and Technology Research Infrastructure for Discovery, Experimentation, and Sustainability) Initiative and announced Google Cloud as its first industry partner. The STRIDES Initiative, one of many NIH-wide efforts to implement the NIH Strategy for Data Science, harnesses the power of the commercial cloud in support of biomedical research. Its goal is to accelerate biomedical advances by reducing economic and technological barriers to data and resources.   
September 2018—CIT's Training Program celebrates 50 years of providing training services to the NIH community. 
October 2018—Amazon Web Services (AWS) joins the STRIDES Initiative.  
January 2019—NIH IT Service Desk celebrates 25 years of providing IT services and support to NIH ICs and select Operating Divisions of the Department of Health and Human Services.  
Biographical Sketch of CIT Director Andrea T. Norris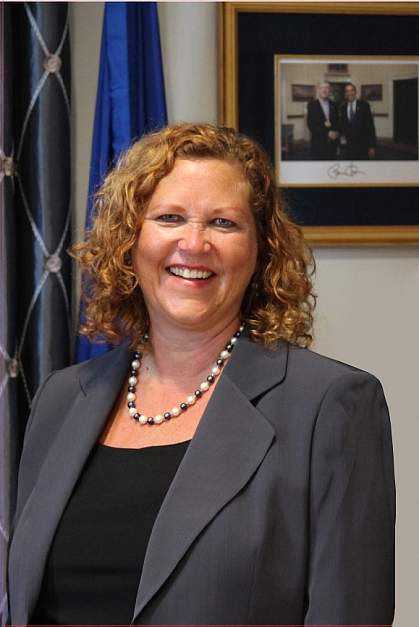 CIT/NIH
Andrea Norris serves as the Director, Center for Information Technology (CIT) and Chief Information Officer (CIO) at NIH. As the NIH CIO, she leads key trans-NIH strategic initiatives and oversees the NIH cybersecurity program. She is also responsible for NIH's $1 billion IT portfolio that supports scientific research and discovery and directs the implementation of the STRIDES Initiative, which aims to accelerate biomedical advances through improved access to large datasets.
As the Director for CIT, she is responsible for managing a broad range of NIH-wide information and information technology services, including a new state-of-the market high-speed research network infrastructure, a high- performance scientific computing system ranked as one the top supercomputers in the world by Top500, cloud-based collaboration and communication platforms and tools, bioinformatics research programs, data center services, business solutions and applications, and 24/7 operations of NIH's distributed IT environment.
Norris comes to the NIH from the National Science Foundation (NSF), where she was responsible for establishing the Foundation's strategy, policies, and programs and managing its information technology systems and services.
Prior to joining NSF, Norris was the Deputy Chief Information Officer for Management for NASA, providing senior leadership and management of the agency's complex $2 billion information technology portfolio.
Before joining the federal government, Norris was a management consultant at Booz, Allen & Hamilton and served on the President's Private Sector Commission on Cost Control.
Norris has a Master of Business Administration degree with a major in Information Systems Management from the George Washington University and a Bachelor of Arts degree in Economics from the College of William and Mary.  
CIT Directors
| Name | In Office from | To |
| --- | --- | --- |
| James King (Acting) | N/A | N/A |
| Dr. Eugene Harris (Acting) | N/A | August 1966 |
| Dr. Arnold W. Pratt | August 1966 | May 1990 |
| Dr. David Rodbard | November 1990 | April 1996 |
| William L. Risso (Acting) | April 1996 | March 1998 |
| Alan S. Graeff | March 1998 | November 2005 |
| Dr. John F. Jones, Jr. (Acting) | November 2005 | February 2011 |
| Thomas G. Murphy (Acting) | February 2011 | October 2011 |
| Andrea T. Norris | October 2011 | Present |
Programs
The Center for Information Technology (CIT) supports mission-critical research by delivering IT services and products through a network of service leads and their associated groups.
Office of the Director: Directs and evaluates the Center's programs, policies, and procedures and provides analysis and guidance in the development of services and systems.

Office of IT Services Management: Provides a variety IT services to maximize agility and promote responsiveness in support of NIH IT

Network Services: Provides a high-speed, robust computer network for the NIH community that connects facilities both on and off campus to each other, to the Internet, and to Internet2.
High Performance Computing Services: With four HPC systems (Biowulf Cluster, Helix, Helixweb, and Sciware), the NIH supports the varying computational needs of the IRP community. The main HPC resource is Biowulf, a large-scale central computational resource dedicated to biomedical computing for 1,200 principal investigators and over 4,000 postdoctoral fellows within the IRP.
Unified Communication and Collaboration Services: Manages and delivers integrated voice, video, and messaging for NIH.
Business Application Support Services: Develops and operates enterprise business systems and IC-specific applications and tools.
Facility and Infrastructure Services: Provides and maintains the infrastructure and cabling services that support data, voice, and video and cellular connectivity across NIH.
Hosting and Storage Services: Provides secure, highly available, enterprise Windows, Unix, Linux, Database, and mainframe hosting and data storage options to NIH ICs via on-campus and nearby data centers.
Identity and Access Management: Maintains the policy and infrastructure required to provide secure access to NIH networks, computers, applications, files, websites, and other IT resources.
IT Support Services: Provides a full scope of day-to-day IT services, spanning desktop, conferencing, mobile devices, and others for specific ICs and programs.
Operations Management Services: Directs and supports the CIT's daily IT service management functions, including overseeing the Technology Operations Center--a state-of-the-art facility that allows NIH to monitor critical IT services and ensures rapid incident response for the NIH community.
Service Desk Services: Manages the NIH Call Center and provides IT support for all NIH ICs, including VPN account management and troubleshooting and support for email, wireless, mobile devices, and enterprise applications.

Office of Administrative Management: Provides support in the areas of finance, human resources, contracts, acquisition, procurement, communication, and administration.
Office of Intramural Research: Provides scientific and technical expertise to NIH and the Intramural Research Program by developing and delivering computational methods and tools to solve complex biomedical laboratory and clinical research problems.
This page last reviewed on October 25, 2019