You are here
Elias A. Zerhouni, M.D.
Director, National Institutes of Health, May 2, 2002 - October 31, 2008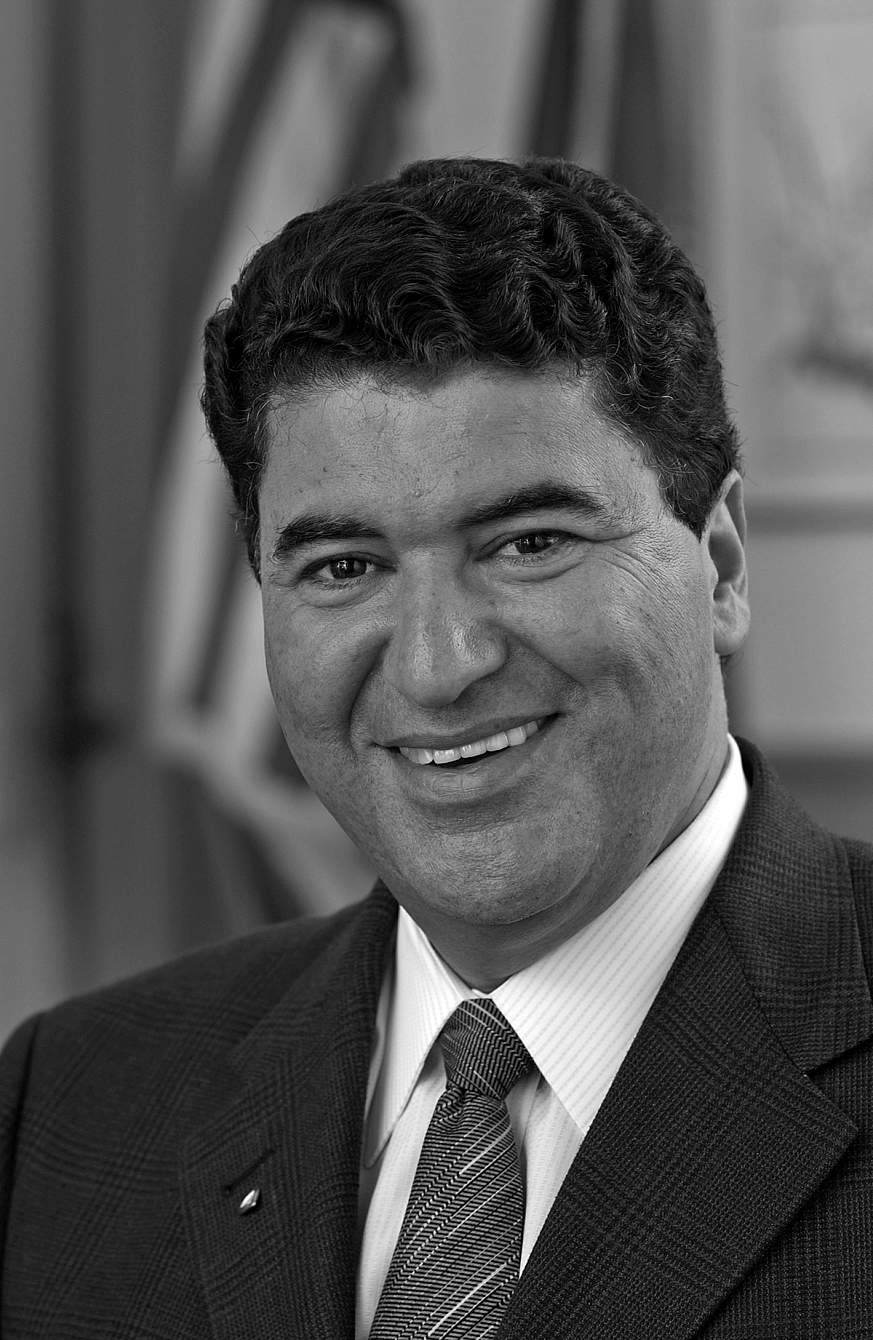 Elias A. Zerhouni, M.D., was named the 15th NIH Director by President George W. Bush in May 2002 and led the nation's medical research agency until October 2008.
Dr. Zerhouni, a world renowned leader in the field of radiology and medicine, spent his career providing clinical, scientific, and administrative leadership. He is credited with developing imaging methods used for diagnosing cancer and cardiovascular disease. As one of the world's premier experts in magnetic resonance imaging (MRI), he had extended the role of MRI from taking snapshots of gross anatomy to visualizing how the body works at the molecular level. He pioneered magnetic tagging, a non-invasive method of using MRI to track the motions of a heart in three dimensions. He is also renowned for refining an imaging technique called computed tomographic (CT) densitometry that helps discriminate between non-cancerous and cancerous nodules in the lung. During his tenure as NIH Director, Dr. Zerhouni oversaw a number of milestones:
Reauthorization demonstrated renewed confidence in NIH
Congress passed and President Bush signed into law the National Institutes of Health Reform Act of 2006. The agency's third reauthorization in history and first since 1993, it signaled renewed confidence in the NIH mission, its employees, and its leadership.
Initiated the NIH Roadmap for Medical Research
In September 2003 Dr. Zerhouni launched a marquee initiative: The NIH Roadmap for Medical Research, a new research vision to accelerate medical discovery to improve health, immediately focused the attention of the biomedical research community on new pathways of discovery, research teams for the future, and the re-engineering of the clinical research enterprise.
Development of a new office to improve trans-NIH initiatives
In 2005, NIH launched a new office within the Office of the NIH Director to transform the way NIH finds and funds cutting-edge research; improve the ability to identify public health challenges; and increase trans-NIH dialogue, decision-making and priority-setting. The office built upon the model of the NIH Roadmap for Medical Research and increases coordination with NIH ICs and external stakeholders to identify research priorities that will ultimately improve NIH's ability to be nimble, dynamic, and responsive to emerging scientific opportunities and public health needs.
The new entity, eventually named the Division of Program Coordination, Planning, and Strategic Initiatives (DPCPSI), provides an "incubator space" to jump-start trans-NIH initiatives and support Institutes and Centers that take the lead on priority projects on a time-limited basis (5 to 10 years). These initiatives are supported by a Common Fund.
Established an NIH-wide research initiative to address the obesity epidemic
The Strategic Plan for NIH Obesity Research addresses one of the nation's most dramatic health changes with a multi-dimensional research agenda. The strategic plan enhances both the development of new research in areas of greatest scientific opportunity and the coordination of obesity research across the NIH. The plan called for interdisciplinary research teams to bridge the study of behavioral and environmental causes of obesity with the study of genetic and biologic causes.
Supported the NIH Neuroscience Blueprint
Mental illness, neurological disorders, and a range of behavioral disorders are major causes of human suffering and contribute greatly to the burden of disease. The blueprint leverages the abilities of the Institutes and Centers to create new resources, tackle common scientific problems, and train the next generation of neuroscientists through collaboration and leadership.
Made health disparities a research priority
Dr. Zerhouni's commitment to eliminating health disparities and disparities in the burden of disease was evidenced by broadening the collaborative relationships developed through partnerships between NIH and institutions and researchers from all populations.
Ensured public access to NIH-funded research results
February 3, 2005, Dr. Zerhouni announced a historic public access policy. For the first time, the public gained access to peer-reviewed research publications that resulted from studies funded by NIH. Dr. Zerhouni urged maximum participation by investigators, encouraging scientists to submit their publications as soon as possible and within twelve months of publication to the accessible archive.
Dr. Zerhouni was committed to earning the public's trust and sought advice from the Council of Public Representatives (COPR).COPR held the first ever public trust workshop to inventory and respond to public needs.
Prior to joining NIH, Dr. Zerhouni served as executive vice-dean of Johns Hopkins University School of Medicine, chair of the Russell H. Morgan department of radiology and radiological science, and Martin Donner professor of radiology, and professor of biomedical engineering. Before that, he was vice dean for research at Johns Hopkins.
Dr. Zerhouni's imaging research has led to advances in Computerized Axial Tomography (CAT scanning) and Magnetic Resonance Imaging (MRI). It has earned him a Gold Medal from the American Roentgen Ray Society for CT research and two Paul Lauterbur Awards for MRI research. Dr. Zerhouni has also received the Special Presidential Award of the European Congress of Radiology.
From 1998–2002, he served on the National Cancer Institute's Board of Scientific Advisors. He was a consultant to both the World Health Organization (1988) and to the White House under President Ronald Reagan (1985).
In April 2008, France bestowed its highest honor on Dr. Zerhouni. In a ceremony at Elysée Palace in Paris, French President Nicholas Sarkozy made him a Knight of the Légion d'honneur (French National Order of the Legion of Honor).
He has been a member of the Institute of Medicine since 2000.
At the time Dr. Zerhouni left the NIH, he was the author of 212 publications and held 8 patents.
This page last reviewed on October 22, 2015