You are here
Free Web Content from NIH
NIH offers a free and easy way for you to get trusted, up-to-date health information from the National Institutes of Health directly onto your website. Choose from a vast array of health topics and keep your site fresh with credible material that updates automatically. High-quality and multimedia content developed at the Federal Government can be used in a number of ways, and is designed to be easily distributed through your existing channels.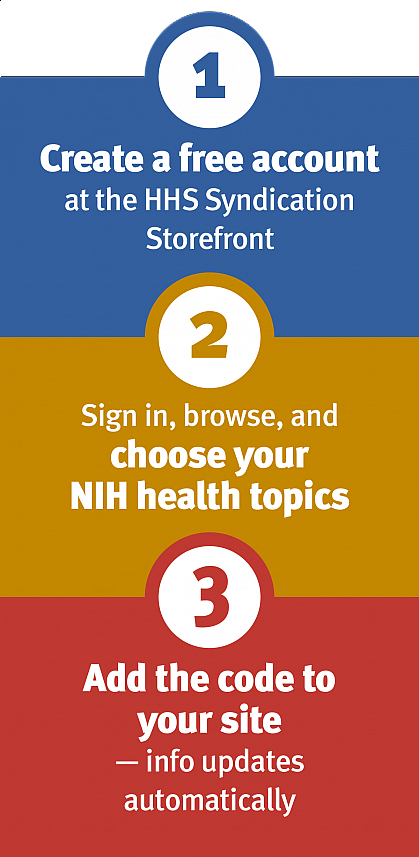 Freely use our:
Web content
Images and infographics
Videos and podcasts
Selected data sets
It's simple to get access!
Create a free account at the HHS Syndication Storefront.
Sign in, browse, and choose your NIH health topics.
Add the code to your site — Information will update on your site automatically.
Expand your reach, engage your audiences, and save time and money.
Read our step by step instructions on how to get your free content.
Using NIH web content saves you time and money; you don't need to write your own health content or worry about updating web pages. Browse and choose from topics in the catalog and then simply add the related code to your web page. The end result: NIH content will populate on your web page with your website's existing look and feel!
Still not convinced?
Expand your public health impact with high-quality multimedia and science-based content provided by the National Institutes of Health.
Find and use timely social and digital content from a growing communications library for your existing initiatives.
Worry less about content development and upkeep by utilizing automated maintenance tools.
Didn't find a topic you were looking for? Need assistance?
New content will be offered regularly, but please let us know if you have a specific content request. Usage guidelines for the HHS Syndication Storefront are also available.
This page last reviewed on June 20, 2019