You are here
Taking a swing at Alzheimer's disease
Ollie Doolittle helps researchers learn more about the aging brain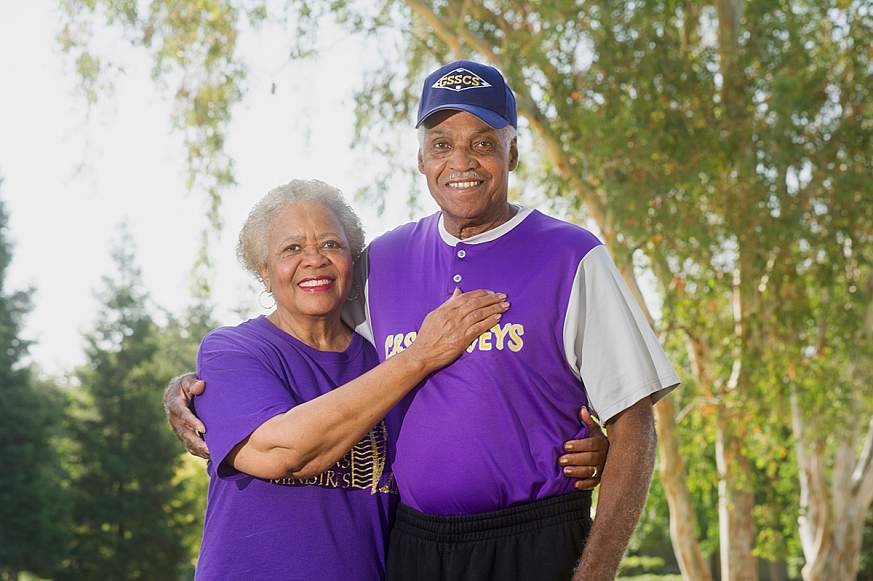 UC Davis Alzheimer's Center
The bond between Ollie and Vernie Doolittle has endured though 60 years of marriage and military service during two wars. They still never go to bed angry (most of the time).
So when Ollie was diagnosed with memory problems that can progress to Alzheimer's disease, as usual they resolved to meet the challenge together.
Doctors recommended physical and mental activity to support brain health — so 81-year-old Ollie still plays on three softball teams. Social and emotional engagement also help, and the couple fills their social calendar with friends, church and charity fundraisers.
Ollie and Vernie also fight back against memory loss in another way — by helping others at risk of similar problems. By participating in a multiyear study at the National Institutes of Health-supported UC Davis Alzheimer's Disease Center, they aid researchers who investigate the aging brain in hopes of finding improved methods of diagnosis and treatment.
"The Doolittles are helping society as a whole by contributing to a major research study of dementia," said William Seavey, a geriatrician on the center's research staff who works with the couple. "I draw inspiration from their courage and their willingness to share of their lives so that others might benefit."
High-school sweethearts
Vernie and Ollie met as students at rival Oklahoma high schools and tied the knot a week after his return from the Korean War. Ollie also served in Vietnam, and the couple lived for a while in Europe as well during his 20 years as a noncommissioned officer in the Army Signal Corps. Ollie later retired from the U.S. Postal Service.
"Everyone asks us how we've stayed married so long," Vernie said. "We love each other and we talk a lot, we're communicators. We can discuss something, get angry and forget it the next day. We don't hold grudges."
About a decade ago, both partners noticed Ollie was forgetting many routine kinds of "little things" on a daily basis — and while some memory loss is normal in aging, this didn't feel right.
Neuropsychological testing produced a diagnosis of amnestic mild cognitive impairment or "MCI," a kind of memory loss that can develop into full-blown Alzheimer's or dementia.
People with the condition have more memory problems than normal for people their age, but their symptoms are not as severe as those of Alzheimer's. Signs can include misplacing things often, forgetting to go to important events and appointments, and having trouble finding desired words.
Helping society
A neurologist suggested that Ollie might be able to help researchers at the UC Davis Alzheimer's Disease Center, where a team of neurologists, psychiatrists, psychologists, geriatricians and social workers collaborate to advance understanding about dementia and its progression. Supported by the National Institute on Aging (NIA) at NIH, it is one of 29 Alzheimer's Disease Centers located at major medical institutions across the U.S. The Centers are working to translate research advances into improved diagnosis and care for Alzheimer's disease (AD) patients while, at the same time, focusing on the program's long-term goal — finding a way to cure and possibly prevent AD.
Ollie signed onto a longitudinal study that follows patients with Alzheimer's, MCI and related disorders through annual standardized tests of personality, memory, attention, language and other function, along with some medical imaging.
"With Mr. Doolittle's help, we are trying to understand how the brain ages in illness and in health," Seavey said. "We hope to identify factors that will allow us to identify decline in cognition (mental processing) at its earliest stage, to measure cognitive change and to determine whether treatments are effective.
"We hope that one day it will be possible to identify cognitive loss before it has a significant impact on a person's function, and to stop its progression with effective treatment."
Staying active
After several years of relatively stable test results, Ollie has shown more evidence of memory decline during tests over the last two years. He still plays softball, takes care of the yard and performs other tasks, however.
As researchers continue their battle with Alzheimer's, the Doolittles will try to stay as active as possible and continue to draw on the understanding they've built over a lifetime. They celebrate their 60th anniversary in September 2014.
"We've had a good life up until now," Vernie said. "And we're still very blessed. We have a lot of blessings."
The National Institute on Aging leads the federal government effort conducting and supporting research on aging and the health and well-being of older people. It provides information on age-related cognitive change and neurodegenerative disease specifically at its Alzheimer's Disease Education and Referral (ADEAR) Center.
This page last reviewed on April 22, 2016