You are here
December 18, 2006
Adult Male Circumcision Reduces Risk of Acquiring HIV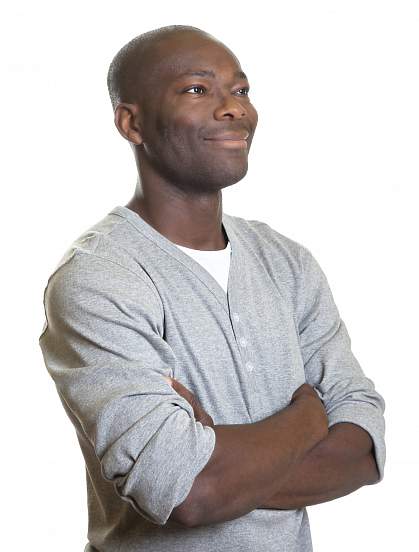 Medically performed circumcision significantly reduces a man's risk of acquiring HIV through heterosexual intercourse, according to an interim review of data from two clinical trials. As a result, NIH's National Institute of Allergy and Infectious Diseases (NIAID) announced an early end to the trials this week.
Researchers had previously noted that, at least in certain African and Asian countries, HIV prevalence tends to be lower in areas where male circumcision is more common. To further investigate the link, Dr. Robert Bailey of the University of Illinois at Chicago, Dr. Jeckoniah Ndinya-Achola of the University of Nairobi in Kenya and Dr. Stephen Moses of the University of Manitoba, Canada, led a trial in Kenya with funding from NIAID and the Canadian Institutes of Health Research. Another trial, also supported by NIAID, was conducted in Uganda with a team led by Dr. Ronald Gray of the Johns Hopkins Bloomberg School of Public Health and Dr. David Serwada of Makerere University in Kampala, Uganda.
Both trials involved adult, HIV-negative heterosexual male volunteers assigned at random to either intervention (circumcision performed by trained medical professionals in a clinic setting) or no intervention (no circumcision). All participants were extensively counseled in HIV prevention and risk reduction techniques.
Both trials reached their enrollment targets by September 2005 and were originally designed to continue follow-up until mid-2007. However, at a meeting of the NIAID Data and Safety Monitoring Board (DSMB) on December 12, 2006, reviewers assessed the interim data and deemed medically performed circumcision to be safe and effective in reducing HIV acquisition in both trials. The trial in Kisumu, Kenya, of 2,784 men showed a 53% reduction of HIV acquisition in circumcised men relative to uncircumcised men, while a trial of 4,996 men in Rakai, Uganda, showed that HIV acquisition was reduced by 48% in circumcised men.
In light of these results, the DSMB therefore recommended that the two studies be halted early. All men who were randomized into the non-intervention arms will now be offered circumcision.
"Many studies have suggested that male circumcision plays a role in protecting against HIV acquisition," noted NIAID Director Dr. Anthony S. Fauci. "We now have confirmation — from large, carefully controlled, randomized clinical trials — showing definitively that medically performed circumcision can significantly lower the risk of adult males contracting HIV through heterosexual intercourse."
These findings are likely to be relevant regardless of geographic location: a man at sexual risk who is uncircumcised is more likely than a man who is circumcised to become infected with HIV. Still, it's important to realize that adult male circumcision may complement, but is not a replacement for, proven prevention strategies such as limiting the number of sexual partners and using condoms during intercourse.
Related Links