You are here
September 10, 2012
After Cancer Diagnosis, Breast Density May Not Matter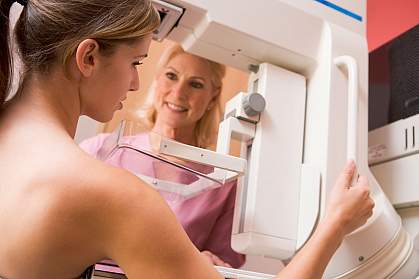 Women with breasts that look dense on a mammogram have a higher risk of developing breast cancer. But a new study found that most of these women, once diagnosed with breast cancer, aren't at greater risk of dying than patients with less dense breasts.
Mammograms use X-rays to create an image of the breast. Dense regions made up of non-fatty tissues block the passage of X-rays and show up as white. Fatty, less-dense regions of the breast look darker because X-rays pass through more easily.
Past research has found that women with denser breasts have a greater risk of developing breast cancer. However, studies that evaluate what happens to women with dense breasts after they're diagnosed with breast cancer have found conflicting results.
To address this question, a research team led by Dr. Gretchen Gierach of NIH's National Cancer Institute (NCI) used data from the NCI-sponsored Breast Cancer Surveillance Consortium, which collects data from breast imaging facilities in the United States. The consortium gathers information on breast cancer risk factors, results of mammograms and other disease details.
The researchers analyzed data from more than 9,000 women who were 30 years or older when they were diagnosed with breast cancer. The women were followed, on average, for 6.6 years. Nearly 900 died of breast cancer in that time and over 800 from other causes. Another 96 died of unknown causes. The team's findings were published on August 22, 2012, in the Journal of the National Cancer Institute.
Breast cancer patients with dense breasts didn't appear to have a higher risk of death from breast cancer than patients with less dense breasts. In the analysis, the scientists took into account the particular characteristics of the women's tumors and several other factors, including body mass index, income and the type of cancer treatment they had.
The researchers did find an increased risk of death from breast cancer among specific subgroups of patients with less dense breasts, including those who are obese. The scientists speculate that fatty breasts might be a hospitable environment for cancer growth.
"Overall, it was reassuring to find that high mammographic breast density, one of the strongest risk factors for breast cancer, was not related to risk of death from breast cancer or death from any cause among breast cancer patients," Gierach says.
Future research into the biological factors responsible for breast density may yield more insights into its role in breast cancer.
Related Links
References: J Natl Cancer Inst. 2012 Aug 1;104(16):1218-27. Epub 2012 Aug 21. PMID:22911616.