You are here
September 10, 2019
Air pollution associated with worsening emphysema
At a Glance
Higher levels of common air pollutants were associated with increases in emphysema over a decade of follow-up.
The results may help explain why some people who never smoked develop emphysema.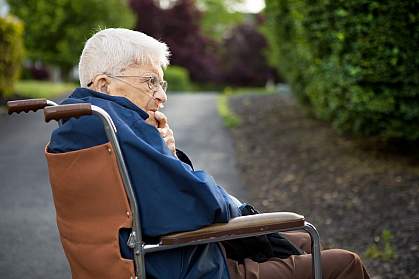 sdominick / E+ via Getty Images
In emphysema, a type of chronic obstructive pulmonary disease (COPD), tissue in the lungs becomes damaged and dies. This reduces the amount of oxygen available to the body. Emphysema causes coughing, wheezing, shortness of breath, chest tightness, and other symptoms. Eventually, it can lead to disability and death.
Most cases of emphysema are caused by smoking tobacco. But about a quarter of people diagnosed with the disease have never smoked. Studies suggest that air pollution might contribute to the development and progression of emphysema, but the link has been uncertain.
Researchers led by Drs. Joel Kaufman of the University of Washington and R. Graham Barr of Columbia University looked more closely at this question. The team tracked almost 5,800 participants from six large U.S. cities. Participants joined the study between 2000 and 2002. The diverse group, which was between the ages of 45 to 84, included white, African American, Hispanic, and Chinese American volunteers.
The team conducted air pollution monitoring in the communities where participants lived and assessed the long-term outdoor air pollution concentrations at each participant's home address. All participants received CT scans when they enrolled in the study and up to four additional times through 2018. More than 3,600 also underwent spirometry to measure the rate of air flow in the lungs up to three times during the study.
The work was funded in part by NIH's National Heart, Lung, and Blood Institute (NHLBI) and National Institute of Environmental Health Sciences (NIEHS). Results were published on August 13, 2019, in JAMA.
Higher outdoor concentrations of the pollutants ozone, fine particulate matter, and oxides of nitrogen (NOx) at a person's residence at the beginning of the study were associated with increases in emphysema-like lung tissue on CT scans over the following decade.
Higher levels of ozone and NOx at homes over the time that participants were followed were also associated with faster progression of emphysema. Ozone exposures seemed to pose the greatest risk. A difference in ozone levels of 3 parts per billion over a decade was associated with an increase in emphysema equivalent to smoking a pack of cigarettes a day for almost 30 years. Ozone was also associated with declines in air flow in the lungs.
These associations were seen regardless of participants' age, sex, race or ethnicity, socioeconomic status, and whether or not they smoked tobacco.
While fine particulate and NOx concentrations declined across the U.S. during the study, ozone did not. Chronic ozone exposure may help explain why some people who never smoked develop emphysema.
"This study adds to growing evidence of a link between air pollution and emphysema. A better understanding of the impact of pollutants on the lung could lead to more effective ways of preventing and treating this devastating disease," says Dr. James Kiley, director of the Division of Lung Diseases at NHLBI.
Related Links
References: Association Between Long-term Exposure to Ambient Air Pollution and Change in Quantitatively Assessed Emphysema and Lung Function. Wang M, Aaron CP, Madrigano J, Hoffman EA, Angelini E, Yang J, Laine A, Vetterli TM, Kinney PL, Sampson PD, Sheppard LE, Szpiro AA, Adar SD, Kirwa K, Smith B, Lederer DJ, Diez-Roux AV, Vedal S, Kaufman JD, Barr RG. JAMA. 2019 Aug 13;322(6):546-556. doi: 10.1001/jama.2019.10255. PMID: 31408135.
Funding: NIH's National Heart, Lung, and Blood Institute (NHLBI) and National Institute of Environmental Health Sciences (NIEHS); US Environmental Protection Agency.