You are here
November 7, 2011
Annual Chest X-rays Don't Cut Lung Cancer Deaths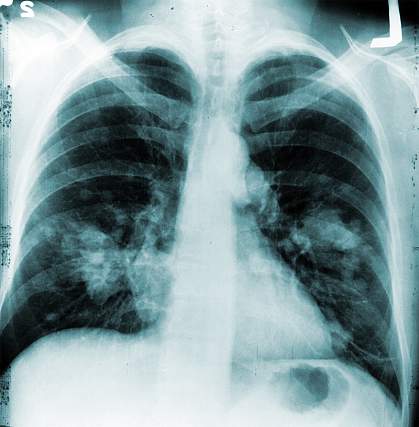 NCI
A large multi-center study reports that annual chest X-ray screening offers no benefits over standard medical care in reducing deaths from lung cancer. The finding confirms the results of earlier, smaller studies, which suggested that chest X-rays aren't an effective tool for reducing lung cancer deaths.
Lung cancer is the leading cause of cancer-related deaths nationwide. Each year, more than 221,000 Americans are diagnosed with lung cancer, and more than 150,000 die from the disease. Up to 90% of lung cancer deaths are attributed to smoking.
Earlier treatment can lead to better cancer outcomes. Screening tests are often used to detect certain types of cancer — such as breast or colon cancer — before symptoms appear. But there are no generally accepted screening tests for lung cancer. Several small clinical studies, mostly published over 20 years ago, found no evidence that chest X-rays could lessen lung cancer deaths. But problems with study design made the results inconclusive.
To get more definitive answers, NIH's National Cancer Institute (NCI) launched large clinical trials to explore the effectiveness of chest X-rays and other potential screening tools for lung cancer. The new study — reported in the November 2, 2011, issue of the Journal of the American Medical Association — draws on data from NCI's Prostate, Lung, Colorectal and Ovarian Cancer Randomized Trial.
The study enrolled nearly 155,000 participants, ages 55 to 75, at 10 screening centers across the country beginning in 1993. They were randomly divided into 2 groups. The intervention group was offered annual screening chest X-rays for up to 4 years. The usual care group received standard medical care and no regular screening X-rays. The groups were similar at the start: about 45% had never smoked, 42% were former smokers and 10% current smokers.
After up to 13 years of follow-up, the researchers found no significant reduction in lung cancer deaths among those who received annual chest X-rays (1,213 deaths) compared to the usual care group (1,230 deaths). The types of lung cancer detected in both groups were generally similar.
The researchers also looked at a subset of high-risk patients who were current heavy smokers, or those who had quit up to 15 years prior. Again, lung cancer deaths were similar whether or not the patients had received screening X-rays.
Earlier this year, another NCI-funded study, the National Lung Screening Trial, reported that a more sensitive screening tool called low-dose helical CT could reduce lung-cancer deaths by up to 20% compared to annual chest X-rays. However, CT scans are significantly more expensive than standard X-rays, and low-dose helical CT often leads to false-positive results. Researchers are now working to lower the false-positive rate and assess the cost-effectiveness of low-dose helical CT screening.
NCI's Dr. Christine Berg, lead investigator for both screening trials, notes that the best way to beat lung cancer is to never start smoking and to encourage those who do smoke to quit. "However, in those who have smoked for many years and have done the right thing by quitting, we now have a successful screening strategy with low-dose helical CT to further lower the risk from the devastation of advanced lung cancer," Berg says.
— by Vicki Contie
Related Links