You are here
November 7, 2011
Switching Neighborhoods May Improve Health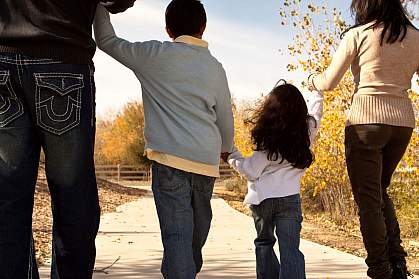 Women encouraged to move with their families from a poor neighborhood to a more affluent one had lower rates of extreme obesity and diabetes 10 to 15 years later, a new study found. Future research into the reasons why may yield insights into how to design healthier communities.
Studies examining people in different neighborhoods have suggested that features such as access to parks and healthy food outlets can affect obesity. However, it's difficult to prove which factors influence obesity because people in poor areas differ in many ways from those in more affluent ones. A research team led by Dr. Jens Ludwig of the University of Chicago set out to test whether helping families move to less impoverished neighborhoods would affect obesity and diabetes rates.
The researchers turned to a program called Moving to Opportunity. The program was designed by the U.S. Department of Housing and Urban Development to explore the effects of residential location on employment, income, education and well-being. About 4,500 women with children who lived in public housing in high-poverty areas in the mid-1990s were randomly assigned to 3 groups. One group received "opportunity" vouchers — rent-subsidy vouchers that were redeemable only if the families moved to a more affluent neighborhood. They were given short-term counseling to help them find housing. The second group received traditional rent-subsidy vouchers with no special restrictions on where they could live. They were not given any extra counseling. A control group received no vouchers or counseling.
From 2008 through 2010, Ludwig and colleagues measured health outcomes in the women, including calculating body mass index (a ratio of weight to height) and testing blood for signs of diabetes. The study was partly funded by NIH's Eunice Kennedy Shriver National Institute of Child Health and Human Development (NICHD), National Institute on Aging (NIA) and National Institute of Mental Health (NIMH). Results appeared on October 20, 2011, in the New England Journal of Medicine.
The researchers found that the women receiving opportunity vouchers had lower rates of obesity and diabetes than the control group. The voucher group had 13% fewer women with a BMI of 35 or more ("very high" disease risk), 19% fewer with a BMI of 40 or more ("extremely high" disease risk) and 22% fewer with diabetes. The differences between the group receiving traditional vouchers and the control group were too small to prove they weren't due to chance.
"Giving a low-income woman the opportunity to move with her children to a less impoverished neighborhood appears to lower her risk of diabetes and extreme obesity," says co-author Dr. Stacy Tessler Lindau.
"These results highlight the great importance of learning more about what specific aspects of the social or physical environment reduce the risk of diabetes and obesity; for example, greater access to grocery stores, more opportunities for physical activity, or feelings of greater safety and reduced psychological stress," Ludwig says.
— by Harrison Wein, Ph.D.
Related Links