You are here
August 13, 2019
Aspirin use may be widespread despite new guidelines
At a Glance
A study suggests that millions of U.S. adults may take a daily aspirin for cardiovascular disease prevention without any clear benefit.
The findings suggest that people speak with their health care providers before taking aspirin daily.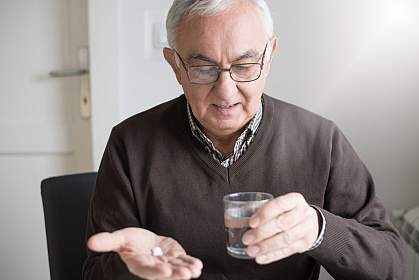 RgStudio / E+ via Getty Images
Heart and vascular, or cardiovascular, diseases include conditions such as coronary heart disease, heart attacks, high blood pressure, and stroke. Cardiovascular diseases are the leading causes of death and disability in older adults nationwide.
In the past, experts recommended taking a low-dose daily aspirin for preventing cardiovascular disease. It helps thin the blood to prevent blood clots. Studies have shown that aspirin can help some people prevent a second heart attack or stroke. However, taking aspirin also comes with a higher risk of bleeding.
In certain groups of people, recent research has found few benefits and an increased risk of bleeding from daily aspirin use. In response, the American Heart Association and American College of Cardiology updated their guidelines last March. They no longer recommend aspirin for cardiovascular disease prevention in adults aged 70 and older or for those with a higher risk of bleeding, like those with stomach (peptic) ulcers.
To find out how many people in the United States take aspirin for cardiovascular disease prevention, Drs. Colin O'Brien, Stephen Juraschek, and Christina C. Wee at Beth Israel Deaconess Medical Center and Harvard University analyzed data from a large survey designed to reflect the U.S. adult population. Juraschek's work was supported by NIH's National Heart, Lung, and Blood Institute (NHLBI). Results were published online on July 23, 2019, in the Annals of Internal Medicine.
The survey asked over 14,000 men and women who were 40 years old and older whether they've ever been prescribed a daily low-dose aspirin by their health care provider or whether they choose to take a daily aspirin on their own for heart disease prevention.
Of the people who didn't have cardiovascular disease, about 23% were taking a daily aspirin for prevention. Nearly 23% of these took a daily aspirin without a health care provider recommendation. Nearly half of the survey participants who were 70 years or older and did not have heart disease reported daily aspirin use. A quarter of people who had a history of stomach ulcers, but not cardiovascular disease, also used aspirin.
These findings suggest that, nationwide, about 29 million people who don't have cardiovascular disease take aspirin daily for prevention—and 6.6 million do so without a health care provider recommendation.
"Our findings suggest that a substantial portion of adults may be taking aspirin without their physician's advice and potentially without their knowledge," Wee says.
"Our findings show a tremendous need for health care practitioners to ask their patients about ongoing aspirin use and to advise them about the importance of balancing the benefits and harms, especially among older adults and those with prior peptic ulcer disease," says O'Brien.
—by Tianna Hicklin, Ph.D.
Related Links
References: Prevalence of Aspirin Use for Primary Prevention of Cardiovascular Disease in the United States: Results From the 2017 National Health Interview Survey. O'Brien CW, Juraschek SP, Wee CC. Ann Intern Med. 2019 Jul 23. doi: 10.7326/M19-0953. [Epub ahead of print] No abstract available. PMID: 31330542.
Funding: NIH's National Heart, Lung, and Blood Institute (NHLBI).