You are here
March 8, 2010
Best Treatment Differs for Kids With Asthma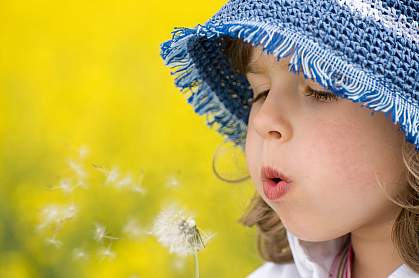 Most children who have trouble controlling their asthma with low-dose inhaled corticosteroids show improvement by increasing the dose or adding another medication, a new study finds. But the best option differs for each child.
Asthma affects nearly 7 million children nationwide. It's a leading cause of hospitalization and school absenteeism. Symptoms often include wheezing, shortness of breath, chest tightness and coughing. While there's no cure for asthma, most children can control their symptoms with medications.
For children with mild to moderate asthma, low daily doses of inhaled corticosteroids are often tried first. If these don't work, guidelines from NIH's National Heart, Lung and Blood Institute (NHLBI) suggest that physicians use 1 of 3 methods: add a long-acting beta-agonist (LABA), add a leukotriene receptor antagonist or double the dosage of inhaled corticosteroid. However, these recommendations are based on studies of adults.
To get data for children, researchers conducted a multi-site clinical trial to compare the 3 step-up treatments in youths, ages 6 to 18. All the children had mild to moderate asthma that was not well-controlled by low-dose corticosteroids alone. The research was supported by NHLBI as well as NIH's National Center for Research Resources (NCRR) and National Institute of Allergy and Infectious Diseases (NIAID).
As described in the March 2, 2010, online edition of the New England Journal of Medicine, the children were assigned to receive each of the 3 add-on treatments in random order, each for a 16-week interval. All 3 study intervals were completed by 157 participants, with an additional 8 children completing 2 intervals. At the end of each interval, researchers assessed lung function and other measures of asthma control.
The scientists found that 98% of the children responded differently to the 3 treatments. Nearly half of the children had the best response to the addition of LABA. About a quarter of the children responded best to the addition of leukotriene receptor antagonist, and a similar number responded best to doubling the dosage of inhaled corticosteroids.
The study also identified characteristics that raise the likelihood of one treatment working better than another. For example, African-Americans were equally likely to respond best to adding LABA or boosting inhaled corticosteroids, and least likely to respond best to adding leukotriene receptor antagonist. For white participants, adding LABA was most likely to give the best response and increasing inhaled corticosteroids the least. Age, gender, allergies and other factors did not seem to predict which drug would work best for a child.
Although LABA seemed to offer the best overall performance, some studies suggest that it may raise the risk of severely worsened asthma symptoms, leading to hospitalization and, in rare cases, death. The U.S. Food and Drug Administration now recommends that LABAs never be used alone in treating asthma, and that they be used for the shortest time possible to achieve asthma control.
"This study underscores the fact that individuals respond differently to different therapies," says the paper's lead author, Dr. Robert F. Lemanske, Jr., of the University of Wisconsin Hospital-Madison. "Childhood asthma treatment is not one-size-fits-all."
Related Links