You are here
October 18, 2022
Bionic pancreas simplifies management of type 1 diabetes
At a Glance
A bionic pancreas managed blood glucose levels in people with type 1 diabetes better and with less user input than existing methods.
Such a device could make managing blood glucose easier and improve quality of life for people with type 1 diabetes.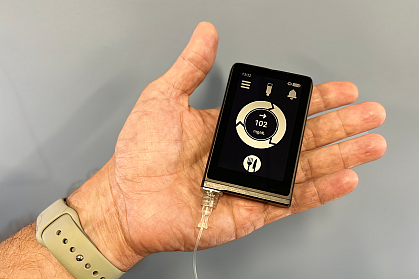 Beta Bionics
If you have type 1 diabetes, your body doesn't make insulin, and glucose builds up in your blood. Maintaining a healthy blood glucose level can be challenging.
Automated insulin delivery systems have been developed to make the job easier. Such systems track blood glucose and deliver insulin as needed. But most systems on the market still need considerable user input. Various parameters need to be entered when setting up the device and may need periodic updating by a health care provider. At mealtimes, the user may have to enter the amount of carbohydrates consumed to determine the proper insulin dose. They may also need to manually adjust insulin doses to manage episodes of high or low blood glucose.
An NIH-funded research team led by Dr. Steven Russell at Massachusetts General Hospital developed an automated insulin delivery system that requires less user input than commercially available systems. This device, known as a bionic pancreas, only needs the user's body weight upon setup. The user still needs to enter meals, but with an estimate of carbohydrate amount (more, less, or the same as typical). All other aspects of insulin delivery are completely automated.
The researchers tested the bionic pancreas in a randomized trial in 16 clinical centers nationwide. More than 300 participants with type 1 diabetes enrolled in the trial during the first half of 2021. Participants included both adults and children, ranging in age from 6 to 79 years.
About two-thirds of the participants were assigned at random to use the bionic pancreas. The others used their usual insulin delivery method, which could include a commercially available automated insulin delivery system. All participants used continuous glucose monitoring during the 13-week trial period. Results appeared in the New England Journal of Medicine on September 29, 2022.
The team focused on glycated hemoglobin, a measure of long-term blood glucose control. Participants using the bionic pancreas saw a significant decrease in glycated hemoglobin over the 13-week study period, from 7.9% to 7.3%. Meanwhile, the average glycated hemoglobin in the standard-care group did not change. Participants using the bionic pancreas spent 11% more time in the target blood glucose range than the standard-care group. This equated to 2.6 more hours per day on average in the target blood glucose range.
The researchers also examined the relative safety of the bionic pancreas. No episodes of diabetic ketoacidosis, a life-threatening complication of diabetes, occurred in either study group. There was also no significant difference in the rate of severe hypoglycemia (low blood sugar) between the groups.
"Our observation that this system can safely improve glucose control to the degree we found, and do so despite requiring much less input from users and their health care providers, has important implications for children and adults living with diabetes," Russell says. The bionic pancreas could make day-to-day management of type 1 diabetes easier, leading to better quality of life.
"While we continue to search for a cure for type 1 diabetes, devices like the bionic pancreas can allow people to worry less about their blood-glucose levels and focus more on living their fullest, healthiest lives," says NIDDK Director Dr. Griffin Rogers.
Related Links
References: Multicenter, Randomized Trial of a Bionic Pancreas in Type 1 Diabetes. Bionic Pancreas Research Group, Russell SJ, Beck RW, Damiano ER, El-Khatib FH, Ruedy KJ, Balliro CA, Li Z, Calhoun P, Wadwa RP, Buckingham B, Zhou K, Daniels M, Raskin P, White PC, Lynch J, Pettus J, Hirsch IB, Goland R, Buse JB, Kruger D, Mauras N, Muir A, McGill JB, Cogen F, Weissberg-Benchell J, Sherwood JS, Castellanos LE, Hillard MA, Tuffaha M, Putman MS, Sands MY, Forlenza G, Slover R, Messer LH, Cobry E, Shah VN, Polsky S, Lal R, Ekhlaspour L, Hughes MS, Basina M, Hatipoglu B, Olansky L, Bhangoo A, Forghani N, Kashmiri H, Sutton F, Choudhary A, Penn J, Jafri R, Rayas M, Escaname E, Kerr C, Favela-Prezas R, Boeder S, Trikudanathan S, Williams KM, Leibel N, Kirkman MS, Bergamo K, Klein KR, Dostou JM, Machineni S, Young LA, Diner JC, Bhan A, Jones JK, Benson M, Bird K, Englert K, Permuy J, Cossen K, Felner E, Salam M, Silverstein JM, Adamson S, Cedeno A, Meighan S, Dauber A. N Engl J Med. 2022 Sep 29;387(13):1161-1172. doi: 10.1056/NEJMoa2205225. PMID: 36170500.
Funding: NIH's National Institute of Diabetes and Digestive and Kidney Diseases (NIDDK); Novo Nordisk; Beta Bionics.