You are here
August 26, 2013
Blood Markers May Signal Suicide Risk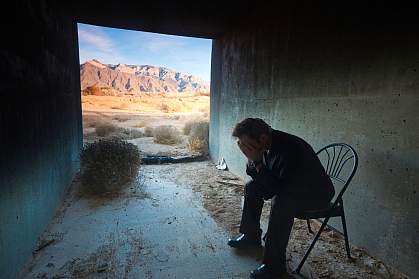 Scientists identified signs in blood that might help doctors identify people with suicidal feelings and thoughts. The discovery could lead to more effective interventions.
Suicide is the 10th leading cause of death nationwide and the 3rd leading cause of death among adolescents. It can be prevented when a person at risk is identified. But people at risk don't always share their thoughts about suicide with others. They might fear stigma or want to avoid attempts to thwart their plans, such as a hospitalization.
Research shows that suicide risk is higher in older men and among people who have certain mental disorders, including schizophrenia and bipolar disorder. However, there are currently no precise, objective tools to identify which individuals are at greatest risk for suicidal thoughts and actions. A measurable indicator, or biomarker, that could help doctors assess and track changes in suicidal risk could save thousands of lives.
To look for biomarkers of suicide risk, a research team led by Dr. Alexander B. Niculescu III examined gene expression — the levels at which genes are turned on and off — in the blood of men with bipolar disorder. The study was funded by an NIH Director's New Innovator Award and the U.S. Department of Veterans Affairs.
The scientists interviewed 75 bipolar men and collected blood samples at an initial visit. The men were followed for up to 3 years, with additional interviews and blood samples drawn every 3 to 6 months. The researchers extracted RNA from the samples and analyzed the expression of more than 40,000 genes using microarray chips. The results appeared online on August 20, 2013, in Molecular Psychiatry.
During the testing period, 9 of the men switched from a low state of suicidal thoughts to a high state. The researchers identified 246 genes that had significantly different expression between the low and high suicidal states. They then used genetic databases and an approach called convergent functional genomics to tease out 41 biomarkers in the blood that might be most relevant to suicide.
The scientists next obtained blood samples of people who'd recently completed suicide from the local coroner's office. They found that 13 of the 41 top-scoring biomarkers showed a significant change in these samples, and 6 of them survived stringent statistical tests.
The researchers then looked at the blood from 42 patients with bipolar disorder and 46 with schizophrenia. They found that higher expression of 4 of the 6 genes — SAT1, PTEN, MARCKS and MAP3K3 — marked bipolar patients who were later hospitalized because of suicidal thoughts or behavior. A similar but weaker pattern was seen among the patients with schizophrenia.
This study suggests that these 4 genes might serve as markers to help identify people at risk for suicide. The predictions were further improved by combining simple clinical measures of anxiety and mood with the biomarker data. These results will now need to be confirmed in larger studies and in different types of at-risk populations.
The findings also provide insights into the genetic pathways that might be associated with suicide risk. Several of the identified genes, for example, are modulated by the circadian clock; others are involved in the stress response. Future studies will examine the connections of these and other pathways to suicide.
"There are people who will not reveal they are having suicidal thoughts when you ask them, who then commit it and there's nothing you can do about it," Niculescu says. "We need better ways to identify, intervene and prevent these tragic cases."
— by Harrison Wein, Ph.D.
Related Links
References: Mol Psychiatry. 2013 Aug 20. doi: 10.1038/mp.2013.95. [Epub ahead of print]. PMID: 23958961.
Funding: NIH Director's New Innovator Award and the U.S. Department of Veterans Affairs.