You are here
July 28, 2006
Blood Test Predicts Complication of Sickle Cell Disease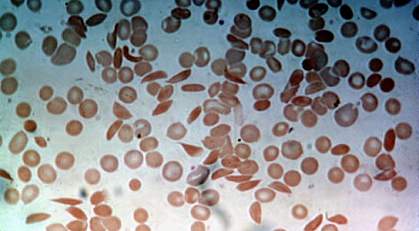 NIH's Warren Grant Magnuson Clinical Cente
A hormone detected in a simple blood test can identify patients with sickle cell disease who have developed a life-threatening complication called pulmonary hypertension, according to new research by scientists with NIH's National Heart, Lung, and Blood Institute (NHLBI). The hormone is also a clear predictor of death in adults with sickle cell disease. This test may one day help doctors identify patients for earlier treatment.
Sickle cell anemia is one of the most common genetic blood disorders in the U.S. About 30% of sickle cell patients have pulmonary hypertension, in which there is constant high blood pressure in the arteries that supply the lungs. This pressure leads to narrowed arteries, causing the heart to work harder to pump blood and often leading to heart failure. Currently, echocardiograms and other heart tests are used to diagnose pulmonary hypertension, but there hasn't been a blood test to help detect the condition.
Previous research has found that higher levels of a hormone called brain natriuretic peptide (BNP) are associated with greater pressure in the pulmonary arteries of patients with pulmonary hypertension. Lead scientist Dr. Roberto Machado and his colleagues theorized that BNP levels might reflect the severity of pulmonary hypertension in sickle cell patients. They began by measuring BNP levels in 230 patients with sickle cell disease enrolled in the NIH Pulmonary Hypertension Screening Study. They also did echocardiograms and other measurements of heart function to confirm pulmonary hypertension. Forty-five healthy people — all African-American, since the disease is more prevalent in this group — were recruited for comparison.
In the July 19 issue of the Journal of the American Medical Association, the scientists reported that high blood levels of BNP in patients with sickle cell disease independently predicted mortality, significantly increasing the risk of death. The team also found that those who had high BNP levels had a 78% chance of having pulmonary hypertension identified by echocardiogram.
The team then measured BNP levels in 121 stored blood samples from patients who had been enrolled in a sickle cell drug treatment study that began in 1996, before it was known that pulmonary hypertension was a common complication of sickle cell disease. They found that 30% of the patients in that study had high BNP levels. These patients had a threefold higher risk of death than those without pulmonary hypertension.
Machado commented, "There is great benefit to screening sickle cell patients with both echocardiography and blood BNP. By combining these tests, we hope to identify patients who can be treated more intensely to improve the management of their disease and hopefully their survival." He added that NHLBI is currently studying treatments for patients with sickle cell disease and pulmonary hypertension.
Related Links