You are here
August 18, 2020
Blood tests show promise for early Alzheimer's diagnosis
At a Glance
Two studies found that levels of a protein called ptau217 in the blood were associated with damage to the brain caused by Alzheimer's disease.
With further development, blood tests using the protein may be able to help diagnose disease before symptoms develop.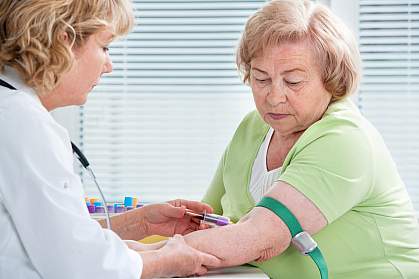 AlexRaths / iStock / Getty Images Plus
With the aging of the U.S. population, the incidence of Alzheimer's disease continues to rise. The disease is currently the most common cause of dementia in older adults.
Brain changes associated with Alzheimer's include abnormal clumps (amyloid-β plaques), tangled bundles of fibers (tau tangles), and the eventual death of nerve cells. These changes can lead to a progressive decline in memory and thinking skills.
Treatments don't yet exist to slow or reverse Alzheimer's disease progression. Researchers are working to test new therapies in clinical trials. But no blood tests can currently diagnose Alzheimer's before symptoms develop. This complicates studies of early treatments or preventive strategies.
PET imaging and tests that use cerebrospinal fluid (CSF) can be used to identify Alzheimer's before dementia develops. But PET imaging is expensive, and collecting CSF is invasive. Recent research found that measurements of a substance in the blood called ptau181 showed promise as an Alzheimer's test.
Scientists have been examining whether another form of the tau protein, called ptau217, can also serve as an early marker of Alzheimer's development. Both are found in the tau tangles that accumulate in the brain and can spill into the bloodstream. Two new studies tested different ways of measuring ptau217 in blood samples. The research teams were funded in part by NIH's National Institute on Aging (NIA), National Institute of Neurological Disorders and Stroke (NINDS), and Office of the Director (OD).
In the first study, researchers led by Dr. Oskar Hansson from Lund University in Sweden tested blood samples from three studies comprising about 1,400 people. These included people with known Alzheimer's and other dementias, as well as those without cognitive problems. The researchers used antibodies produced by the immune system to detect tau proteins in the samples. Results were published on July 28, 2020, in JAMA.
The team found that ptau217 measurements were almost 90% accurate at distinguishing people who later had Alzheimer's damage found in their brains after death. Blood measurements of ptau217 were also about 90% accurate at distinguishing people who later developed symptoms of dementia. In both study groups, ptau217 was better than ptau181—and as good as PET imaging and CSF testing—at pinpointing Alzheimer's development.
Finally, the team tested ptau217 in samples from people who carry a genetic mutation that causes early-onset Alzheimer's. Levels of ptau217 correlated with those who later developed the disease, up to 20 years before symptoms were seen.
In the other study, a team led by Drs. Nicolas Barthélemy and Randall Bateman from Washington University in St. Louis tested a method that used mass spectrometry to measure ptau217 in the blood of 126 volunteers. The technique they developed can measure extremely small amounts of ptau217 in the blood. Results were published on July 28, 2020, in the Journal of Experimental Medicine.
In tests of the first 36 participants, measurements of both ptau217 and ptau181 in the blood predicted with more than 90% accuracy which participants had Alzheimer's changes seen by PET imaging. Tests of another 92 participants used even smaller samples of blood. In these tests, only levels of ptau217 accurately identified people whose brains showed Alzheimer's damage on imaging tests.
"This is just an exploratory study, but we think phosphorylated tau 217 is a promising target for an early diagnostic test," Barthélemy says.
Further research is needed to test the accuracy of ptau217 measurements in larger, racially and ethnically diverse populations. More studies are also needed to understand how levels of ptau217 change during disease development.
—by Sharon Reynolds
Related Links
References: Discriminative Accuracy of Plasma Phospho-tau217 for Alzheimer Disease vs Other Neurodegenerative Disorders. Palmqvist S, Janelidze S, Quiroz YT, Zetterberg H, Lopera F, Stomrud E, Su Y, Chen Y, Serrano GE, Leuzy A, Mattsson-Carlgren N, Strandberg O, Smith R, Villegas A, Sepulveda-Falla D, Chai X, Proctor NK, Beach TG, Blennow K, Dage JL, Reiman EM, Hansson O. JAMA. 2020 Jul 28. doi: 10.1001/jama.2020.12134. Online ahead of print. PMID: 32722745.

Blood plasma phosphorylated-tau isoforms track CNS change in Alzheimer's disease. Barthélemy NR, Horie K, Sato C, Bateman RJ. J Exp Med. 2020 Nov 2;217(11):e20200861. doi: 10.1084/jem.20200861. PMID: 32725127.

Funding: NIH's National Institute on Aging (NIA), National Institute of Neurological Disorders and Stroke (NINDS), and Office of the Director (OD); Swedish Research Council; Knut and Alice Wallenberg Foundation; Region Skåne; Marianne and Marcus Wallenberg Foundation; Lund University; Swedish Alzheimer Foundation; Swedish Brain Foundation; Parkinson Foundation of Sweden; Parkinson Research Foundation; Skåne University Hospital Foundation; Greta and Johan Kock Foundation; Swedish Federal Government Agreement Concerning Cooperation on Medical Education and Research; Alzheimer's Association; Massachusetts General Hospital Executive Committee on Research; Arizona Department of Health Services; Michael J. Fox Foundation for Parkinson's Research; Banner Alzheimer's Foundation; Sun Health Foundation; State of Arizona; Eli Lilly and Company; Rainwater Charitable Foundation; Tau SILK Consortium; Coins for Alzheimer's Research Trust.