You are here
October 7, 2015
Breast Cancer Tumor Test to Tailor Treatments
At a Glance
A gene expression-based tumor test successfully identified women with a certain breast cancer type who didn't need to undergo chemotherapy.
The findings suggest that gene testing can augment traditional clinical assessments in guiding treatment choices.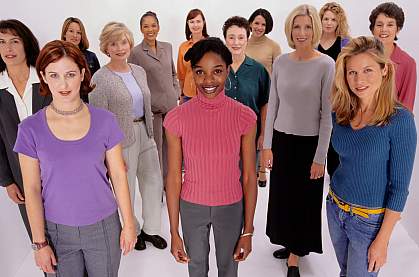 Ryan McVay/Photodisc/Thinkstock
Breast cancer is the second most common cancer in U.S. women (after skin cancer). Many women with early-stage breast cancer are advised to receive chemotherapy in addition to radiation and hormonal therapy. However, it isn't necessary to treat all breast cancer with chemotherapy, which can also be costly, toxic, and inconvenient.
An international team of researchers has been exploring ways to identify which tumors would be the most likely to benefit from chemotherapy. From April 2006 to October 2010, the scientists enrolled more than 10,000 women from around the world in a large clinical trial sponsored by NIH's National Cancer Institute (NCI).The women, ages 18 to 75, had recently been diagnosed with a specific type of breast cancer: hormone-receptor positive, human epidermal growth factor receptor type 2 (HER2) negative that hadn't spread to the lymph nodes.
Many women with this type of breast cancer can likely be adequately treated with hormone therapy alone. However, it's been difficult to identify the women who could safely avoid adjuvant chemotherapy, which is given after the primary therapy to reduce the risk of metastases and thus increase the chance of long-term cancer-free survival.
The scientists explored the ability of a diagnostic gene test, the Oncotype DX Recurrence Score (Genomic Health, Inc.), to predict which women could safely avoid receiving chemotherapy. The test had previously been found, using retrospective analyses (which look back at past events), to help predict the usefulness of chemotherapy and the likelihood of distant breast cancer recurrence. The test works by analyzing RNA from tumor samples for the presence of 21 genes. Based on the results, tumors are graded on a scale of 0 to 100, with higher scores indicating a greater risk of recurrence.
This prospective study (looking forward, following the women over time) was led by Dr. Joseph A. Sparano of Montefiore Einstein Center for Cancer Care and Albert Einstein College of Medicine. Results were published online on September 28, 2015, in the New England Journal of Medicine.
The team found that 1,626 of the women (16%) had a recurrence score of 0 to 10, indicating a very low risk of recurrence. These women were assigned to receive standard hormone therapy such as tamoxifen or aromatase inhibitors, but didn't undergo chemotherapy. At 5 years of follow-up, their risk of recurrence of breast cancer at a distant site was less than 1%, and the risk of any recurrence was less than 2%. The women had an overall survival rate of 98%.
These results show that the Oncotype DX test can clearly identify women with an early stage of this type of breast cancer who can safely avoid chemotherapy. However, nearly 70% of the participants had a mid-range score of 11 to 25. These women were randomly assigned to receive endocrine therapy plus chemotherapy or endocrine therapy alone, and are still being monitored. Scientists continue to work on other diagnostic gene test as well.
—by Carol Torgan, Ph.D.
Related Links
References: Prospective Validation of a 21-Gene Expression Assay in Breast Cancer. Sparano JA, Gray RJ, Makower DF, Pritchard KI, Albain KS, Hayes DF, Geyer CE Jr, Dees EC, Perez EA, Olson JA, Zujewski J, Lively T, Badve SS, Saphner TJ, Wagner LI, Whelan TJ, Ellis MJ, Paik S, Wood WC, Ravdin P, Keane MM, Gomez Moreno HL, Reddy PS, Goggins TF, Mayer IA, Brufsky AM, Toppmeyer DL, Kaklamani VG, Atkins JN, Berenberg JL, Sledge GW. N Engl J Med. 2015 Sep 27. [Epub ahead of print]. PMID: 26412349.
Funding: NIH's National Cancer Institute (NCI), Canadian Cancer Society Research Institute, Breast Cancer Research Foundation, and Susan G. Komen.