You are here
March 17, 2008
Brief Personal Counseling May Help Maintain Weight Loss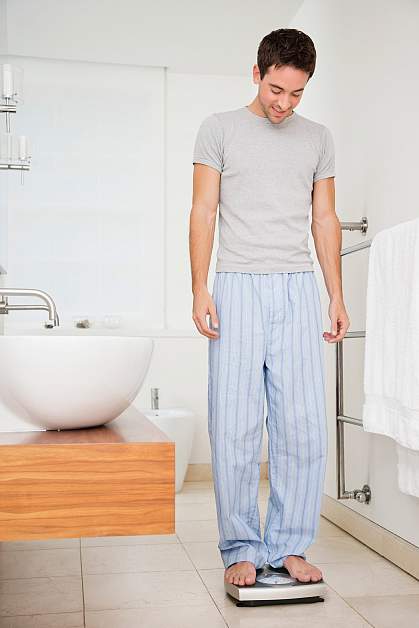 Losing weight can be a struggle, but keeping it off can feel like a losing battle. Now a large clinical study shows that monthly personal counseling—usually just 10-15 minutes by phone—can help people who've lost weight keep much of it off for over 2 years. A web-based program also showed modest success in helping people keep lost pounds at bay.
Excess weight is a significant public health problem. Nearly two-thirds of U.S. adults are overweight or obese. This excess weight is the nation's second-leading cause of preventable death. Extra pounds can lead to increased blood pressure, cholesterol and diabetes—all risk factors for cardiovascular disease. Weight loss can reduce these risk factors, but keeping that lost weight off is notoriously difficult.
A multi-site team of scientists, led by Dr. Laura Svetkey of Duke University, decided to compare the success rates of 3 relatively low-cost approaches to maintaining weight loss. Their study, called the Weight Loss Maintenance Trial, is funded by NIH's National Heart, Lung and Blood Institute (NHLBI). It's the largest and longest-lasting trial to date that's tested different strategies for weight-loss maintenance.
As reported in the March 12, 2008, issue of the Journal of the American Medical Association, the study initially enrolled 1,685 overweight or obese adults who had high blood pressure, high cholesterol or both.
After a 6-month weight-loss program, 1,032 of the participants had lost an average of nearly 19 pounds. They were then randomly assigned to 1 of 3 approaches for maintaining their weight loss: monthly personal counseling on diet and physical activity; an interactive web-based program that provided similar information; or self-directed maintenance, where participants received little input from study staff.
The personal counseling sessions included monthly 5- to 15-minute telephone conversations with a health and weight-loss coach. Participants and counselors also had in-person meetings 3 times each year, lasting up to an hour. The web-based program provided advice similar to the personal counseling but involved no personal contact. It also included interactive features that allowed people to set personal goals and to graph weight and other data over time.
After 2.5 years of trying to maintain their weight loss, the participants who had personal counseling had the most success. At the end of the study, they retained an average weight loss of 9.2 pounds. At the 18 and 24 month checkups, the web group had retained more weight loss than the self-directed group, but by the end of the study, their numbers were statistically similar: an average of 7.3 pounds for the web group and 6.4 pounds for the self-directed one.
"Most people in the study regained at least some of the weight they initially lost," said Dr. Svetkey. "However, both the personal counseling and the web-based program modestly alleviated weight re-gain for up to 2 years, with the personal counseling ultimately proving to be the most beneficial by the end of the 2.5 year study."
Other studies suggest that even minor weight loss can have significant health benefits, the researchers note. They recommend that future studies try to refine and improve the success rates of these relatively low-cost and potentially wide-reaching approaches to maintaining weight loss.
Related Links