You are here
April 2, 2012
Bypass Surgery Shows Advantage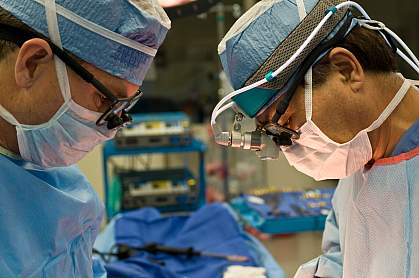 Older adults who received bypass surgery to open blocked coronary arteries had better long-term survival rates than those who had angioplasty. The new findings will help patients and their health care providers decide which approach is best for them.
Coronary heart disease affects about 14 million men and women nationwide. It's most common in people over 65. The disease is caused by a waxy substance called plaque that accumulates inside the arteries supplying blood to the heart muscle. When these arteries become narrowed or clogged by plaque, the reduced or blocked blood flow can cause chest pain, heart attack, heart failure or erratic heart beats. Each year, more than half a million Americans die from coronary heart disease.
Coronary artery bypass graft (CABG), also called bypass surgery, is the most common type of heart surgery in the United States. A healthy artery or vein from elsewhere in the patient's body is used to bypass the blocked coronary artery and improve the blood supply to the heart. CABG lowers the risk of heart attacks, and patients can remain symptom-free for as long as 10 to 15 years. However, the procedure has risks of infection, bleeding, reaction to anesthesia, long recovery time and sometimes stroke.
Percutaneous coronary intervention (PCI), also called angioplasty, is another common procedure that is less invasive. A thin tube (catheter) with a balloon at its tip is used to open blocked arteries. A stent, or small mesh tube, is then usually placed in the opened arteries to allow blood flow to continue into the heart muscle. Serious complications are rare. However, side-effects such as bleeding or discomfort at the site of the catheter can occur. In rare cases, there is blood vessel damage, allergic reaction or kidney damage.
Investigators at the American College of Cardiology Foundation and the Society of Thoracic Surgeons set out to compare the effectiveness of these techniques in older adults with stable coronary heart disease. Led by Dr. William Weintraub of Christiana Care Health System, they analyzed data from 644 U.S. hospitals on more than 86,000 older adults who underwent CABG and over 103,000 who underwent PCI. The average age in both groups was 74, and the procedures were performed between 2004 and 2007. Follow-up ranged from 1 to 5 years, with an average of 2.72 years. The study was funded by NIH's National Heart, Lung and Blood Institute (NHLBI). It appeared in the March 27, 2012, online edition of the New England Journal of Medicine.
The investigators found no difference in mortality rates between the groups 1 year after treatment. However, at 4 years, there was lower mortality with CABG than with PCI (16.4% versus 20.8%). This was seen across multiple subgroups based on sex, age, diabetes, prior heart attack history and other factors. For example, among the patients with insulin-dependent diabetes, those who received CABG had a 28% higher chance of survival after 4 years than those who underwent PCI.
"In the United States, cardiologists perform over a million revascularization procedures a year to open blocked arteries. This study provides comprehensive, large-scale, national data to help doctors and patients decide between these 2 treatments," says NHLBI Acting Director Dr. Susan B. Shurin.
Related Links
References: N Engl J Med. 2012 Mar 27. [Epub ahead of print]