You are here
November 22, 2010
Campus and Community Can Reduce College Drinking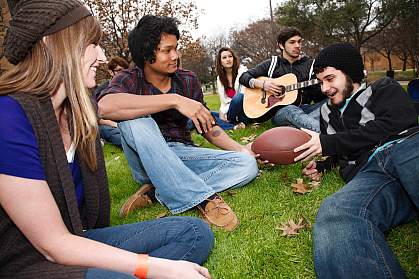 Harmful alcohol use drops among college students when universities and surrounding communities target the places off-campus where drinking occurs, a new study shows. Similar strategies may help counter the problems of excess drinking on campuses nationwide.
More than 1,800 alcohol-related deaths occur among college students each year. Alcohol is also responsible for nearly 600,000 unintentional injuries and about 700,000 assaults each year among college students. Many research groups have developed and tested alcohol interventions that target individuals on college campuses. Fewer studies have looked at environmental prevention strategies, which employ a broader community approach.
To investigate, Dr. Robert Saltz and his colleagues at the Pacific Institute for Research and Evaluation in Berkeley, California, enlisted the help of 14 large public universities in California. Primary funding for the research came from NIH's National Institute on Alcohol Abuse and Alcoholism (NIAAA).
Half the schools were randomly assigned to implement community-based interventions for 2 years. The other 7 were monitored for comparison. The interventions included drunken driving checkpoints and stepped-up police enforcement of laws for disturbing the peace. Schools were asked to push for local ordnances to fine party hosts for certain alcohol-related violations. Laws prohibiting alcohol sales to minors were also more strongly enforced. The new efforts were publicized in the local media and at events.
About 20,000 online student surveys were completed over 4 consecutive fall semesters, with the last 2 years including the interventions. The students were asked about where they drank, whether they had gotten drunk, and whether they engaged in binge drinking.
As reported in the December 2010 issue of the American Journal of Preventive Medicine, students at the intervention universities were significantly less likely to drink to intoxication at off-campus parties, bars and restaurants. Compared to control schools, intervention schools saw an estimated 6,000 fewer cases of intoxication per university at off-campus parties and about 4,000 fewer cases of intoxication at bars and restaurants during the fall semester.
Overall, universities that implemented their programs with the most intensity saw the greatest reductions. These efforts included heavy publicity and highly visible enforcement.
"These findings should give college administrators and surrounding communities some degree of optimism that student drinking is amenable to a combination of well-chosen, evidence-based universal prevention strategies," says Saltz. "Here, one set of alcohol control strategies was found to be effective, but other combinations may work as well, or even better."
Related Links