You are here
April 25, 2011
Cancer Burden Shifts for HIV-Infected Population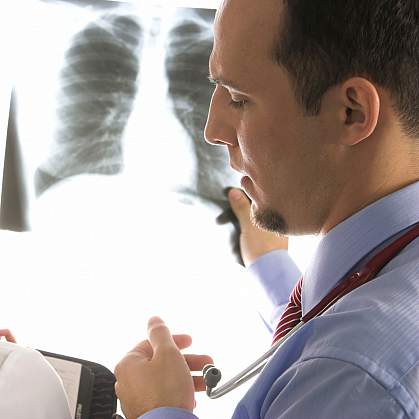 The distribution of cancers among people living with HIV and AIDS in the United States has undergone a dramatic shift. A new study shows that certain cancers long associated with AIDS progression have declined, while other cancers are on the rise. The finding points to the need for better strategies to reduce these emerging types of cancer.
It's long been known that HIV-infected people are at risk for certain cancers, in part because the virus weakens the immune system. These cancers include Kaposi sarcoma, non-Hodgkin lymphoma and invasive cervical cancer. Compared to the general population, for example, HIV-infected patients have more than a 3,000-fold increased risk of Kaposi sarcoma and a 77-fold increased risk of non-Hodgkin lymphoma. The presence of these "AIDS-defining" cancers is one criteria used by the U.S. Centers for Disease Control and Prevention (CDC) to diagnose progression to AIDS.
In the mid-1990s, the advent of highly active antiretroviral therapy (HAART) caused survival rates to soar among people infected with HIV. HAART led to improved immune function and a decline in AIDS-defining cancers. With longer lives, though, this population became at greater risk for cancers more typically associated with aging.
To take a closer look at the shifting distribution of cancer, researchers from the CDC and NIH's National Cancer Institute (NCI) collaborated to estimate the annual number of cancers in the HIV-infected population. They drew on data from NCI's HIV/AIDS Cancer Match Study and from CDC surveillance data. They focused on time periods before (1991-1995), immediately after (1996-2000) and at least 5 years after (2001-2005) the introduction of HAART.
As reported in the April 20, 2011, Journal of the National Cancer Institute, the scientists found that the U.S. AIDS population expanded fourfold between 1991 and 2005. This increase was largely due to a growing number of affected people age 40 and older.
During that period, cases of AIDS-defining cancers dropped threefold, from 34,000 cases in 1991-1995 to about 10,000 cases in 2001-2005. In contrast, the total number of all other cancers tripled, from around 3,000 in the earlier period to 10,000 in the latter. In fact, each year since 2003, less than half the cancers in the AIDS population have been AIDS-defining cancers.
Some of the non-AIDS-defining cancers that escalated included anal, liver and lung cancers, as well as Hodgkin lymphoma. Many are triggered by viruses often seen as co-infections with HIV. Anal cancer can arise from human papillomavirus (HPV). Liver cancer can be caused by hepatitis B and C viruses. Smoking is the major cause of lung cancer.
"The changing number and types of cancer for people with HIV/AIDS highlights the need for research focusing on the specific cancer prevention needs of this population, including smoking cessation, treatment of hepatitis B and C viral infections and prevention and screening for HPV-related cancers," says NCI's Dr. Eric A. Engels, the study's senior investigator.
Related Links