You are here
July 11, 2011
Certain Foods Linked to Long-Term Weight Gain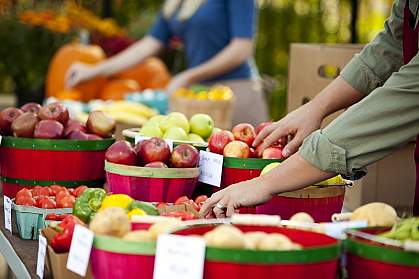 Munching more unprocessed plant foods may help keep the middle-aged bulge away, a new study suggests. On the other hand, meat, french fries and sugar-sweetened drinks can help pack on the pounds. The findings suggest that the types of food you choose, not just calories, are important for avoiding age-related weight gain.
Weight gain results from an imbalance between how much energy you take in and how much you expend. Even small amounts of excess weight can increase your risk for disorders such as diabetes, cardiovascular disease, metabolic syndrome and cancer.
A research team at the Harvard School of Public Health, led by Dr. Dariush Mozaffarian and Dr. Frank Hu, sought to gain insights into the changes in people's lifestyles that lead to gradual, long-term weight gain. Their work was partially funded by NIH's National Institute of Diabetes and Digestive and Kidney Diseases (NIDDK), National Heart, Lung and Blood Institute (NHLBI) and National Cancer Institute (NCI).
The team followed the lifestyle and dietary habits of 3 large groups of health professionals, totaling over 120,000 people, for 12 to 20 years. Participants completed a biennial survey detailing their physical activity, television habits, alcohol use, sleep duration and diet. Their weight was measured every 4 years. The study appeared in the June 23, 2011, issue of the New England Journal of Medicine.
The researchers found several general lifestyle changes linked to weight gain over a 4-year period. Participants who increased their physical activity gained less weight than those who didn't. However, only increases in activity during the period produced this result; absolute levels of physical activity weren't associated with weight change. People who slept for less than 6 hours a day or more than 8 hours gained more weight. Increases in TV-watching led to an average gain of about a third of a pound for every hour of TV watching per day.
Food choices also affected weight. Potato chips, sugar-sweetened drinks, processed meats and unprocessed red meat were each linked to weight gain of about a pound or more. Eating more french fries led to an average gain of over 3 pounds. Eating more refined grains and sweets or desserts led to about half a pound of weight gain. By contrast, eating more vegetables, whole grains, fruits, nuts and yogurt was linked to reductions in weight over a 4-year period. Yogurt led the pack, with an average of 0.82 pounds of weight lost.
The researchers suggest that highly processed foods may not satisfy hunger as well as less processed, higher fiber foods, causing a higher total intake of calories. "The idea that there are no 'good' or 'bad' foods is a myth that needs to be debunked," Hu says.
This was an observational study, in which people were asked to recall the foods they ate. While the findings are compelling, future controlled studies will be needed to confirm whether eating particular foods can affect long-term weight gain more than simply counting calories.
— by Allison Bierly, Ph.D.
Related Links