You are here
August 25, 2014
Chikungunya Vaccine Shows Promise
At a Glance
An experimental chikungunya vaccine prompted an immune response in all 25 volunteers in an early-stage clinical trial.
An effective vaccine could prevent future outbreaks of the disease, which was recently reported in the continental United States.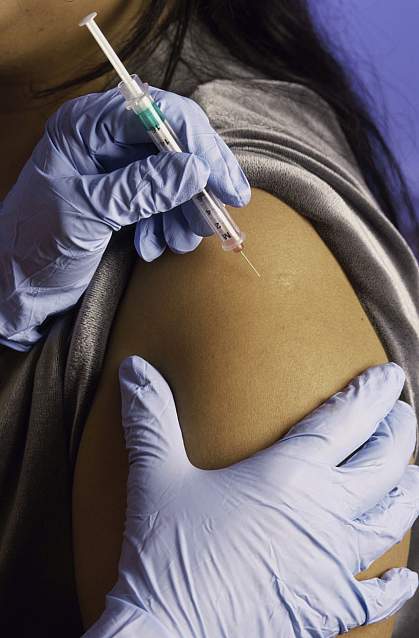 Chikungunya virus is transmitted to people by mosquitoes. The most common symptoms of an infection are fever and joint pain. Other symptoms may include headache, muscle pain, joint swelling, or rash. The disease was first identified in East Africa in the early 1950s. Outbreaks have since occurred in Asia, Europe, and other areas.
In late 2013, the virus was found for the first time in the Americas, on islands in the Caribbean. As of August 8, 2014, more than 570,000 confirmed or suspected cases had been reported throughout the Americas. The first 2 locally acquired infections were detected in Florida in mid-July.
There are currently no vaccines or specific treatments for chikungunya. In 2010, scientists at NIH's National Institute of Allergy and Infectious Diseases (NIAID) and colleagues tested an experimental chikungunya vaccine in nonhuman primates. They found that all the vaccinated animals were protected from infection by the virus.
Whereas traditional vaccines are typically made from either killed viruses or weakened live viruses, the experimental vaccine is a virus-like particle (VLP) vaccine. These vaccines contain outer shell proteins of the virus but lack components the virus needs to replicate. Because they contain no viral genetic material, VLPs can't become active viruses, and don't need to be produced under high-level biocontainment conditions.
The researchers, led by NIAID's Dr. Julie E. Ledgerwood, enrolled 25 healthy adults in an early-stage clinical trial. The volunteers received 3 injections over 20 weeks at 1 of 3 different vaccine dosages (10, 20, or 40 micrograms). Antibody production (a measure of immune system response) was measured at multiple time points following each injection. The trial was completed by all but 2 volunteers, who left the study for personal reasons unrelated to the study. The study appeared online on August 14, 2014, in the Lancet.
Chikungunya-neutralizing antibodies were detected in all volunteers following the second injection, with a significant boost of antibodies following the third injection. The antibodies persisted in all volunteers, even those who received the lowest dosage, for at least 11 months after the final vaccination.
"The candidate vaccine prompted a robust immunological response in recipients and was very well tolerated," Ledgerwood says. "Notably, the levels of neutralizing antibody produced in response to the experimental vaccine were comparable to those seen in 2 patients who had recovered from a chikungunya virus infection acquired elsewhere."
The species of mosquito that spread chikungunya virus are found in parts of the continental United States. An effective vaccine would help prevent the illness from gaining a foothold here.
The researchers plan to continue working on the vaccine. They note that the candidate vaccine was formulated without an adjuvant—a substance that helps to provoke an immune response. An adjuvant might help to bring similar results at lower dosages.
Related Links
References: Safety and tolerability of chikungunya virus-like particle vaccine in healthy adults: a phase 1 dose-escalation trial. Chang LJ, Dowd KA, Mendoza FH, Saunders JG, Sitar S, Plummer SH, Yamshchikov G, Sarwar UN, Hu Z, Enama ME, Bailer RT, Koup RA, Schwartz RM, Akahata W, Nabel GJ, Mascola JR, Pierson TC, Graham BS, Ledgerwood JE; the VRC 311 Study Team. Lancet. 2014 Aug 14. pii: S0140-6736(14)61185-5. doi: 10.1016/S0140-6736(14)61185-5. [Epub ahead of print]. PMID: 25132507.
Funding: NIH's National Institute of Allergy and Infectious Diseases (NIAID).