You are here
March 5, 2007
Children Near Greenery and Groceries Less Likely to be Fat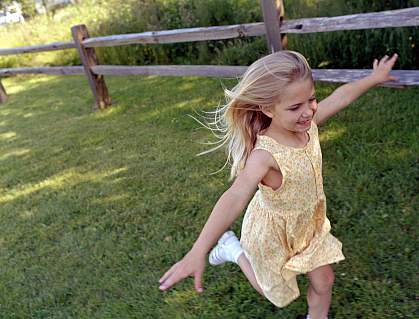 Where a child lives — the greenery of the landscape, the distance to supermarkets and the population density — is related to the risk for being overweight, according to a recent study.
The findings, reported in the March/April 2007 issue of the American Journal of Health Promotion, suggest that access to green spaces likely encourages physical activity and that access to major food stores may enable healthier diets. The study was led by Dr. Gilbert C. Liu of Indiana University School of Medicine and supported by NIH's National Institute of Diabetes and Digestive and Kidney Diseases (NIDDK).
Previous research has found relationships between community design and weight or physical activity, mostly in adults. This new study is unique in that it focuses on a large number of children and draws on a wide variety of data.
Liu and colleagues used Census data from 2000 to identify six urban and three suburban townships to study, based on population densities, in Marion County, Indiana. The scientists then evaluated medical record data from 7,334 county children, ages 3 to 18, who underwent routine well-child evaluations in 2000. Children with a body mass index (a ratio of weight to height) above the 85th percentile were deemed "at risk" for being overweight.
To measure neighborhood vegetation, the researchers analyzed maps obtained via NASA's earth-monitoring Landsat satellite in July 2000. Each child's proximity to green spaces and to food retail locations — including large supermarkets, smaller grocery stores, fast-food chains and convenience stores — was calculated using geographic information systems.
After accounting for socioeconomic and demographic differences, the researchers found that children in urban townships had less risk for being overweight if their neighborhood had more greenery. Those in suburban regions were less likely to have excess weight if they lived closer to major supermarkets, which often stock a variety of fruits, vegetables and other healthy foods. Although previous research has found that adults living closer to fast-food chains and convenience stores are at greater risk for being overweight, the current study found no evidence that the same holds true for children.
"We seem to be losing the battle to prevent childhood obesity by dealing with diet and exercise in individual children," said Liu. "As a pediatrician, I hope this study will encourage neighborhood organizations, community activists and others to bring more opportunities for physical activities and healthy food choices to the places where children live."
— by Vicki Contie
Related Links