You are here
February 9, 2021
Combination therapy for methamphetamine use disorder
At a Glance
A combination of two medications helped some people with heavy methamphetamine use to quit.
Methamphetamine overdose deaths increased almost 5-fold between 2011-2018, highlighting the need for new therapies.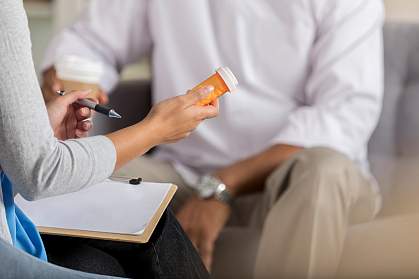 SDI Productions / E+ via Getty Images
The current epidemic of opioid overdose deaths has held the headlines for over a decade. But the use of other illegal drugs has also been rising. Of particular concern is methamphetamine—a powerful, highly addictive stimulant that affects the central nervous system.
Methamphetamine has become another leading cause of overdose death in the U.S., particularly in the Midwest and West. No medications have yet been approved by the FDA to help people who use methamphetamine quit.
Researchers have begun testing drugs approved for other substance use disorders to treat people with methamphetamine addiction. Examples include naltrexone—which is used for the treatment of opioid use disorder—and bupropion, which helps people quit smoking.
Both treatments have shown some effectiveness when used alone to treat methamphetamine addiction. A research team led by Dr. Madhukar Trivedi at the University of Texas Southwestern Medical Center launched a clinical trial to see if a combination of the two might help more people quit.
The team enrolled more than 400 adults with moderate or severe methamphetamine use disorder. Participants were randomly assigned to receive either naltrexone and bupropion or placebo treatments for up to 12 weeks. The study was funded in part by NIH's National Institute on Drug Abuse (NIDA). Results were published on January 14, 2021, in the New England Journal of Medicine.
The researchers found that people receiving the two drugs were more likely to respond to treatment. Response was defined as having at least three out of four urine samples taken during the study testing negative for methamphetamine.
Overall, 13.6% of people who received the drugs responded to treatment, compared to only 2.5% who received the placebos. Side effects of the treatment were mild or moderate. These included nausea, vomiting, and abnormal sweating.
The number of people able to quit was still relatively modest. Combining these medications with existing behavioral treatments may prove more effective.
The need for better treatments for methamphetamine use disorder was highlighted by another recent study from a NIDA research team that was published on January 20, 2021, in JAMA Psychiatry.
In that study, researchers led by Dr. Beth Han and NIDA Director Dr. Nora D. Volkow examined methamphetamine overdose deaths in the U.S. between 2011 and 2018. They found that such deaths rose nearly 5-fold during that time among adults aged 25 to 54.
Large increases were seen among both men and women, and for all races. However, deaths rose the most among American Indian or Alaska Native men and women.
"The opioid crisis and resulting overdose deaths in the United States are now well known, but what is less recognized is that there is a growing crisis of overdose deaths involving methamphetamine and other stimulants," Volkow says. "This advance demonstrates that medical treatment for methamphetamine use disorder can help improve patient outcomes."
Related Links
References: Bupropion and Naltrexone in Methamphetamine Use Disorder. Trivedi MH, Walker R, Ling W, Dela Cruz A, Sharma G, Carmody T, Ghitza UE, Wahle A, Kim M, Shores-Wilson K, Sparenborg S, Coffin P, Schmitz J, Wiest K, Bart G, Sonne SC, Wakhlu S, Rush AJ, Nunes EV, Shoptaw S. N Engl J Med. 2021 Jan 14;384(2):140-153. doi: 10.1056/NEJMoa2020214. PMID: 33497547.

Methamphetamine Overdose Deaths in the US by Sex and Race and Ethnicity. Han B, Cotto J, Etz K, Einstein EB, Compton WM, Volkow ND. JAMA Psychiatry. 2021 Jan 20. doi: 10.1001/jamapsychiatry.2020.4321. Online ahead of print. PMID: 33471025. 
Funding: NIH's National Institute on Drug Abuse (NIDA); U.S. Department of Health and Human Services.